Announcing: Project Triathlon at 50 Series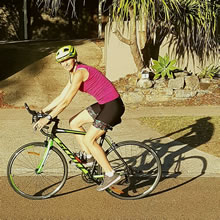 Earlier in the year I rashly posted my goals for 2017 on Facebook saying:
"the goal that SCARES me most is learning to swim freestyle so I can train for, and complete, a triathlon."
My current preferred swimming stroke is granny laps – a gentle breast stroke with head above water. I have bad memories of childhood swimming lessons in stinky, yellow-tinged pools in the England, but I'm ready to tackle learning to swim properly, hit the lovely open air pool in Noosa and JOIN SWIM SQUAD. Eeeeek!
I'll be embarassed (those squad swimmers are super fit), uncomfy (I don't like getting water in my ears!) and puffed out (apparently swimming is way more tiring than running and swim squad lasts 90 minutes!!) But I'm ready. Swimming freestyle's the goal – or front crawl as we called it back at school swim lessons.
Things quickly escalated… as they do
Shortly after setting this intention, I heard about a free eight week Noosa triathlon training program for women.
So I signed up. It seemed like it was meant to be. While I'd dragging my heels and hadn't been to the pool once since I'd posted on Facebook, the universe was conspiring to make me follow through and offering me free swimming lessons with bonus biking and running coaching too.
Why do I want to train for a triathlon?
My main goals are:
1. Keep improving my fitness
2. Stay healthy mentally and physically
3. Avoid boredom
I've been running seriously for almost two years now and taken on some major challenges. I achieved my goal of running 5km in under 25 minutes, toughening up and learning how to believe in yourself in the process.
Then I went a step further, several steps in fact, and ended up running a half marathon in Laos in a respectable time of 1 hour 58 minutes. That's a huge turn around since my first forays into jogging three years ago. I even enjoy running now (mostly!) but I want to mix things up.
4. Take on a new challenge in the form of learning to swim and cycle like a triathlete, not like a granny.
5. Take up sports I can continue to enjoy at any age (even when I'm a granny!), like swimming and biking because they're gentler on the body than running.
The challenges
The triathlon training hasn't started yet but I've already experienced a few challenges;
1. Swimming with my face in the water – I took an early swimming lesson and I hate putting my head under water. It went okay considering I haven't done freestyle for over three decades but learning to breathe while swimming will be hard. I get hugely out of breath when swimming which is odd because I'm pretty fit and I was swimming slowly using a kickboard and flippers. I think it's caused by anxiety – swimming with my head underwater scares me.
2. The cost – Although the training program is free I need to buy a lot of gear including a bike. I'll cover the equipment needed and costs in another post. Hint: it costs a small fortune to get all the equipment.
3. The organisation – Organising getting all the equipment has taken all my free time. So I feel a bit tired before I've even started the actually training.
4. Time committment and sleep – The training program won't take any longer than the time I currently spend running. I'll cover it in more detail in another post, but basically there's coaching three to four times per week.
However, the training sessions are from 5-6am, so I'm expecting to experience some sleep deprivation. I usually go to bed at 9pm and get up around 5am to go running around 6am. Now I'll have to get up at 4.20am. I just don't think I can go to bed at 8.30pm (because I have three kids and a husband who I need to spend time with and my copywriting work often overlaps into the evening), but if I don't get to bed early I'll accumulate a sleep debt which could make me feel down and prone to depression.
5. Fear of the unknown – I've met the coach but I don't know any of the women yet. So I wonder how patient the coach will be and how young, fit, experienced and confident the other women will be compared to me.
Can a 5o year old woman who can't swim or bike complete a triathlon?
The Noosa Triathlon is in November but the 2017 race is full. I'm wait listed.
Alternatively, I'm aiming to complete a full triathlon (1.5km swim, 49km bike ride, 10km run) in 2018 when I'll be 50. Can I do it? Time will tell and I'd love to have your support and company here as I share the journey, including the highs and lows – inevitable I fear, though I'll be doing my best to dodge them.
Project Triathlon at 50 Series: Stay Tuned for Equipment List and Training Progress
The next post will cover the equipment needed for triathlon training, including a detailed breakdown of exactly what you need and how much everything costs.
Then, for the next eight weeks while the course lasts, I'll post a weekly progress report on the triathlon training.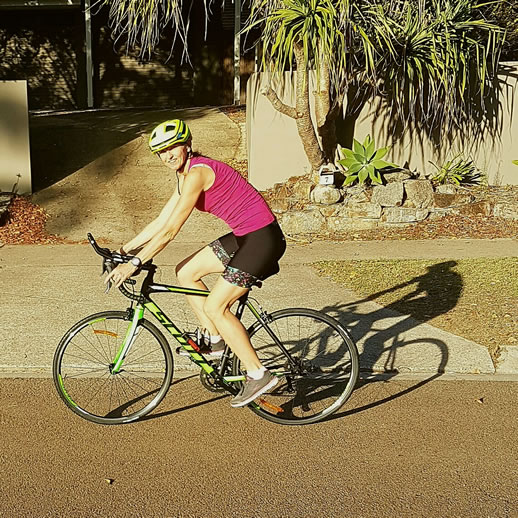 Other posts in the Triathlon Training at 50 Series
Triathlon training Week 5
Get free email updates to follow my adventures and get inspired for your own. Subscribe now – it's free! You'll get a weekly email with links to the lastest update and you can easily subscribe anytime.
Why subscribe? Get In the Hot Spot is a weekly injection of tips to help you be more adventurous, stay fit and have more fun. Sounds good? Click here now for weekly email updates.
Share This Story, Choose Your Platform!