Books

Successful Blogging in 12 Simple Steps
I wrote Successful Blogging in 12 Simple Steps to help other small business owners and writers tap into the power of blogging. It contains everything I know about blogging and wish I'd known before I started my travel blog Get In the Hot Spot in 2009.
It includes everything I've learnt during five years of blogging plus my 18 years of experience writing and designing for the Internet helping business owners and marketing managers promote their products successfully online through my Web design agency Mucho.
Buy Successful Blogging in 12 Simple Steps now to save endless time and frustration. You're worth it. Click here to buy the book as an ebook or audiobook which you can read on most mobile devices including an iPad.
Buy now from Amazon in Kindle or in print or read on to find out more.
Confused about how to set up, write or promote your blog? Or isn't your blog getting results?
Successful Blogging in 12 Simple Steps is the easiest and fastest way to learn about blogging. It's a self-study course you can follow at your own pace which will:
Save you time – get the essential information without being overwhelmed.
Stop costly mistakes – learn how to plan your blog effectively and brief your web designer.
Make learning fun – it's a practical guide for non-technical people.
Get you new readers and subscribers – and keep them coming back.
Help you win new business – because successful blogs turn visitors into customers.
Download the course now by: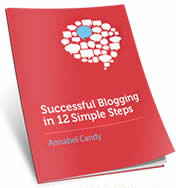 Ebook – as a beautifully laid out PDF in an easy to read and follow format suitable for iPads and other tablet devices.
Kindle – if you have a Kindle reader.
Print – so you can read if offline and complete the exercises in the workbook. Please note if you live in Australia and you'd like a print copy just email me (annabel at getinthehotspot dot com) and I can post it to you directly as that will save you money and save the planet because if you order them from Amazon they're shipped from the USA.
Satisfaction Guaranteed
I guarantee this self-study course will save you time and make your blogging experience more successful and enjoyable. If you're not 100% satisfied there's a 90 day money back guarantee. Please note: to give you time to try the course no returns within the first 30 days.
"If blogging took technical skill, the people making the most money blogging would be tech-heads. But the truth is that good blogging is a combination of a lot of soft skills that are totally not technical. Annabel focuses on the soft skills. The paths that you need a mentor to lead you through because left to one's own devices, a newbie will take so many wrong turns that one is likely to give up before one gets going.

Annabel has a unique mix of web know-how and marketing acumen and she has a track record for advancing her own career creatively and successfully through her own blog. And, this, after all, is what you should be aiming for with your blog: A plan to help you get to the non-blog goals of your life.

Annabel's book shows you how to meet your goals in a smart, sane way. And, bonus. The book is short and fast to read. Most people take 400 pages to say this much about blogging!

If you only read one book about blogging make it this one. "

Penelope Trunk,

Brazen Careerist

USA
"Annabel is the go-to person when it comes to building a successful blog. I've been blogging for close to two years now and have generally read all there is to be read on blogging, yet Annabel impressed me with her in-depth blogging know-how.

For the past few weeks, she has been offering me invaluable and actionable advice on how to successfully pitch guest posts at A-List blogs which have helped me tremendously in nabbing said guest post. Beyond her blogging expertise, what truly touched me is Annabel's selfless and sincere approach towards helping me succeed. It's really a star quality.

If you want to build a top blog, you have to go to Annabel."

Celestine Chua

The Personal Excellence Blog

Singapore
Contents and Course Details

Planning and Set Up

Writing

Promotion

Step 1


Topic & Goals
Define the niche, main aims and
target audience

Step 5


Writing Static Content
Create content for static pages like
About and Contact

Step 9


Blogging & Social Media
Finding new readers and opportunities

Step 2


Branding
Develop a strong, consistent image
for you or your business.

Step 6


Writing Blog Posts
Learn what makes a good blog post and generate post ideas.

Step 10


Online Networking
Connecting with other bloggers and business owners.
Step 3
Planning Your Blog
Create a design brief to focus on
your goals.
Step 7
Writing for the Web
Find out how to format your blog for easy reading online.
Step 11
SEO, Stats & Rating Progress
Search engine optimisation
basics and blog analytics.
Step 4
Blog Set Up
Learn about WordPress so you can
update your blog easily.

Step 8


Reality Check & Add Value
Review your blog and add content readers love.

Step 12


Guest Posting
Identify some ideal host blogs and
submit a post.
Who should read this book?

Small business owners and creative personalities who'll benefit from blogging but aren't techxperts. Imagine if you could reap the opportunities blogging offers without worrying about plug-ins or widgets. Now you can learn how to brief your blog designer so they set up an effective blog framework and you can enjoy writing and promotion.
Techxperts who need help planning and writing a blog. This book will teach you the principles of good screen design, screen reading and how to write for your target audience so you're set for successful blogging.
Bloggers who want to learn how to make their blog get results. Even if you've failed to get many readers or subscribers so far, after following these steps you'll see an increase in readers, subscribers and sales.
What You'll Learn About Blogging
I wrote this book because I want everyone to experience the benefits blogging's brought me including:
increased business and clients
a wider audience for my writing
new confidence
excellent relationships with business owners around the globe.
Do you want to know how I got 1,000 subscribers after 12 months of blogging? That's a realistic number but I hope you can improve on it because I made a lot of mistakes during that first year. I've written this book so you can succeed faster and blog with confidence.
Successful Blogging in 12 Simple Steps will teach you how to plan your blog based around your individual goals and help you come up with an actionable plan you can follow through with.
About the Author, Annabel Candy
I'm a writer with a background in teaching and journalism. In 1996 I got an MA in Design for Interactive Media and have 18 years of experience designing and writing for the Internet.
When I started blogging five years ago I got confused because one blogging expert recommended one thing and another something else. Successful Blogging in 12 Simple Steps is the guide I wish I'd had when I set up my blog. It contains the essential information you need to succeed. After following the steps you'll have:
a clear plan on why you're setting up a blog and the results you want to get from blogging
a strong foundation for your blog
a good design that appeals to readers, either created by you or your web designer
well written content that people want to read.
I wrote Successful Blogging in 12 Simple Steps to:
help new bloggers get off to a flying start.
help intermediate bloggers improve their blogs.
If you do it well blogging's a brilliant way to spread your ideas, set up a new business, position yourself as an expert or launch a new career. But at the moment many people who want to start a blog don't because they think it's too hard or too technical. It's not. Successful Blogging in 12 Simple Steps makes blogging accessible to everyone.
"Annabel cut through all the BS and helped me to see where I was going wrong and helped me get focused. It is not often that you find someone that is as genuine as Annabel. If you are new to blogging or have been there a long time you cannot go wrong turning to her as a resource!"

Randall Meeks

The Phillipines Project

USA
"Annabel's insights have helped me writing kick-ass guest posts, and getting them published on high profile blogs. She's a passionate blogger with great advice – both inspiring and useful."

Mars Dorian

Germany
What you need to do the course
Enthusiasm and a can do attitude
A topic or vague idea of what you want to blog about
At least two hours a week to spend on your blog. I recommend completing at least one step each week to get you into the habit of regular blogging.
A big notebook to keep all your notes in one place.
Basic technical skills so you can update your WordPress blog. Step 4 focuses on WordPress which I recommend you use as your blogging platform. If you do use another blog platform you should still read step 4 to think about what functionality you want on your blog.
How the Course Works
The ebook is delivered as a PDF that you can print out or read on your computer or iPad with an audiobook if you prefer listening. Each step has:
Thinking Point – the essential blogging information
Take Action – to get you on track with your blogging goals
Checklist – so you don't forget anything important.
What you don't get
This book will not teach you about buying domain names and blog hosting (but there is a list of resources at the back where you can find out that kind of stuff if you're not getting a web designer to do it for you.)
This book will not teach you how to monetize your blog or create a passive income. It's written for business owners, sole traders like photographers, graphic designers or anyone who wants to market their services or products online and reach a wider market. If you want to monetize your blog the first step is to learn how to set up, write and promote your blog and that's what Successful Blogging in 12 Simple Steps covers. I recommend books about blog monetization in the resources if that's something you want to get into once you have a well established blog.
"This morning I had the opportunity to spend 1.5 hrs on a Skype call with Annabel Candy from Get In The Hot
Spot – Annabel really knows how to sharpen your focus when it comes to website content and blogging – I've come away with pages of tips, tricks, catchy headlines and an action plan – Thank you Annabel your expert knowledge has helped me tremendously – definitely money well spent!"

Leanne
Berry

The Numbers Game

Australia
"

It's my pleasure to acknowledge your expertise. I've learned so much from you! I especially appreciate your relaxed, humorous, fun style without sacrificing the real know-how.

"

Sandra
Lee
Aways Well Within
USA
Bonus! Free Chapter on Motivation
Because blogging's a long term plan and most bloggers give up after a month or less I've included a chapter on Committing to Blogging and Staying Motivated. I'm totally dedicated to helping other bloggers succeed and this chapter will seal the deal.
Get Started Now
Successful Blogging in 12 Simple Steps is the easiest way to launch your blog (or relaunch it)
and get the results you're hoping for.
Successful Blogging in 12 Simple Steps Packages

Please note the options below mean you're buying the book directly from me which I love. If you prefer you can buy the book on Amazon in kindle or as a print book too. But if you buy using the red buttons below more of the money gets to me, the author. Either way, it's all good and I truly appreciate your support.

Super Hot Consult

Ebook self-study course plus:

Bonus chapter on motivation
Audiobook recording so you can listen to the course while you're out and about
5+ Blog case studies
60 Minute Personal Consultation Package – Get feedback on your progress and answers to your unique questions.
14 days of email support after the consultation.

Consultation package includes:

Review of your topics, goals and design. Before we talk I'll email you a detailed questionnaire to help make sure you're on track, give my best input and help you focus on the all important details.

Blog discovery – I'll review your blog and the competition before we talk so during the consultation I know what help you need most.

1×60-minute Skype (or phone) consultation tailored to provide solutions for your blog.

An MP3 file of the recorded Skype session.

14 days follow up by email in case you have any other questions or need more help or support in the weeks after our talk.

Super Hot

Ebook self-study course plus:

Bonus chapter on motivation
Audiobook recording so you can listen to the course while you're out and about
5+ Blog case studies

Hot

Ebook self-study course plus:

Bonus chapter on motivation
FAQs
Can I pay with PayPal, Credit Card or Debit Card?
Yes. You can pay with PayPal, credit card or debit card using the red buttons above. First choose which package you'd like and click the red button. A new window will then open with your shopping cart. Check the details are correct then click the 'Checkout with PayPal' button. The next screen will give you the option to pay with PayPal or a credit or debit card. Just choose what works best for you.
I'm in the USA and you're in Australia. Will that be a problem for the Skype consultation call?
Not at all. I'll email you a few date and time options so you can choose a time convenient for you. If you're in the USA the best time tends to be late afternoon or evenings your time so as long as you can talk then it will be fine. I've worked with many clients in the USA, Canada and the UK and we've always made it work well for both of us.
I haven't got a blog yet but I'd still like to consult with you about a business idea with a website and blog I'm planning to set up. Is that okay?
Absolutely. It's smart to set clear goals and plan for success and the consultation will help you do that saving you endless wasted time and money. As a bonus if you chose my company Mucho to design your blog and spend at least $2000 we'll deduct the consultation fee from the blog design rate so you get the consultation and my advice free.
Can I consult with you long-term?
Some people like to buy a block of four, five or six hours of private consultations with me and spread them out over a period of weeks or months to get the best possible results. Please email me for more information and rates.
What's the best way to get more readers or traffic to my blog?
Buy the Successful Blogging book now. It's helped hundreds of other people and it will help you too. I guarantee it and am looking forward to helping you achieve your blogging goals.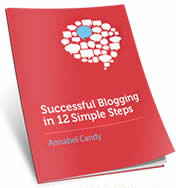 Share This Story, Choose Your Platform!