Project Triathlon at 50: Training Week 7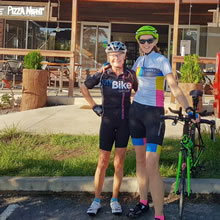 Lazy days, rest and recovery are just as important as hard training sessions. I'm feeling so much better after my "lazy" week last week. I still did heaps of training but far less than usual and I didn't push myself too hard in any training session either.
My body needed that slower pace and, because of the break, I've been feeling more energetic this week and have started enjoying training again. Even swimming which feels miraculous.
If you're training for your first triathlon too I hope my training experiences will help you stay motivated.
My training schedule this week:
Monday: Swim (60 mins) + Gym to Bike (10 minsx2) and Run (5 minsx2) and stretch (5 mins)
Tuesday: Run (60 minutes – Killer steps) + Bike up hill to Noosa Lookout twice (30 mins)
Wednesday: Run (75 mins – speed work 9km) + Swim (60 mins)
Thursday: Bike/Run Brick session (60 mins – alternating between using the stationary bike wind trainer and running laps)
Friday: Swim squad (70 mins)
Saturday: Run (12km)
Sunday: Bike (92km in 4.5 hours including a juice stop)
Stepping things up a notch! Not only have I got the bike, the outfit and the glasses – I've also got the stamina of a real cyclist. Well, I'm getting there. On Sunday I joined an early morning ride to Kin Kin – a 92km round trip. Phew! I'd never have thought it possible and couldn't have managed if I hadn't been guided and encouraged by my amazing biking friends Georgann and Duncan.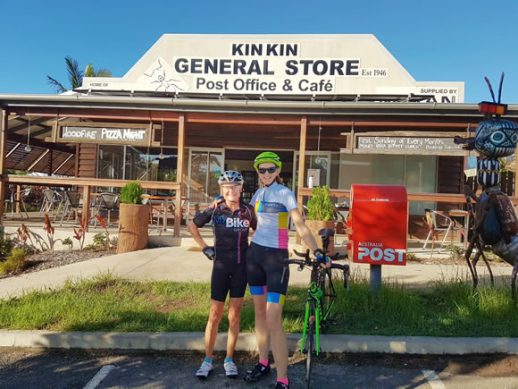 I've only had the bike six weeks and the clip in shoes three weeks so this was a huge stretch. I still have bruises from falling off last Sunday too. But I didn't fall off today. Our average moving speed was 24.7k/h, which isn't too shabby, and, going down the big hill from Cooroy, we clocked 65k/h.
I thought I was going to die tearing down that hill. The wind was buffetting me around, cars were whizzing by perilously close, and when I hit the brakes, that just seemed to make the wobbling situation worse. So I was gobsmacked when another cyclist went whizzing by us. They must have been doing 70k/h with nerves of steel. There's no room for error at those speeds.
Now, in addition to all the gear I also have sore thighs, stiff shoulders and a tender batty! But I'm feeling proud of this achievement. I spent the rest of Sunday recovering!
Here's what I did with Jess in her triathlon training for women beginner course.
Triathlon Training for Beginners – Week 7
Swimming
What a difference a week makes. Still feeling more confident and able to give it my all this week. We practiced sighting using crocodile eyes to peep over the waterline and see where we're going during open water swims.
Swimming Tips
Keep your head down – otherwise you will get a very stifff neck.
Practice swimming on your side with one arm stretched out straight and the other on your side.
Biking
We did laps at our local bike track with a three lap warm up (each lap is about 1km) followed by two laps effort and one lap recovery for 30 mins. A great workout and I followed the other girls to help me get used to going round corners faster. That's still my greatest weakness on the bike.
Biking Tips
On the open road drafting by following right behind another cyclist with just one wheel length betweeen you make it so much easier. It's ideal if you're biking a long way but aren't as fit or confident as the others. It takes some getting used to an instinctively you want to keep a safe stopping distance. Don't, stay within one wheel width and look at the rider in front's back – you can get quite dizzy or hypnotised if you stare at their legs or back wheel.
Running
We tackled the killer steps again and some big hills. That's the best way to improve fitness, running strength and, on the downhills, speed.
Running Tips
Remember progress will be slow and it's fine to alternate running and walking to begin with.
If you find you can't run try powerwalking up hills or take on some steps.
That was it for week seven and there's only one weeks to go before our triathlon event.
More Fitness Inspiration
Read The Long Run: A New York City Firefighter's Triumphant Comeback from Crash Victim to Elite Athlete – an emotional and inspiring memoir about a firefighter and triathlete who has to learn to walk and then run again after a debilitating bike accident.
Other posts in the Triathlon Training at 50 Series
Stay Tuned!
Get free email updates to follow the Project Triathlon at 50 story. I'll share what we do for the whole eight week training program. Thank you in advance for your support.
Share This Story, Choose Your Platform!