What Looks Like French Bread But Isn't?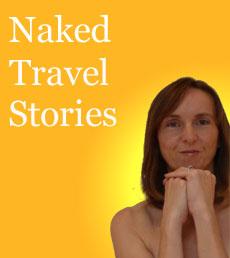 What springs to mind when you think of France?
The Eiffel Tower? Frogs legs? A French man on a bike with a beret on his head and a baguette tucked under one arm?
The French are world famous for their baguettes or french bread aren't they?
Wander past any boulangerie in France and the smell of freshly baked baguettes will entice you inside to buy what Aussies and Kiwis call a french stick.
Crusty on the outside and oh-so-light-and-fluffy on the inside, it's unlikely you'll be able to resist breaking off the end of your baguette and tucking in as you walk along.
So you know what a baguette is don't you? Because it's important for this story. But I warn you, it might change the way you think about France, French men and french bread forever.
I'm a francophile so I studied french in London which was where I met my great friend and most adventurous travel companion Fiona.
She was born one day before me, and we were both tall, independent, and keen travelers.
Because neither of us liked London much, Fiona and I decided to treat ourselves to a weekend in Paris for our 2oth birthday. It became quite a tradition and we looked forward to nothing better than packing a small bag and hitchhiking to Paris in the springtime.
Getting to Paris from London is fine but hitchhiking back out of Paris is a real palaver.
First you have to take a bus north out of the city and get off at the last stop.
Then you need to walk across four lanes of speeding traffic and stick your thumb up from a narrow spot between them, and another four lanes of traffic heading the other way.
It's a terrible place to hitchhike from and to make it worse you have to wait on the wrong side of the road because the four lanes of traffic split into two lanes. The right lane leading still deeper into the suburbs and the left lane the start of the motorway north to Calais.
The traffic is fast and furious, as only Parisian traffic can be, and there's nowhere safe for a car to pull over.
Anyone who wants to pick you up has to do an emergency stop, completely halting all traffic behind them on a narrow underpass right before a tunnel. Cue lots of hooting and angry gesticulations out of car windows.
Even most French drivers avoid this level of danger so you tend to wait a while for a lift there.
Fiona and I arrived early one Monday morning after a lovely weekend sightseeing, wandering round Paris and enjoying several crusty baguettes.
As we stood in the middle of eight lanes of traffic waiting for a ride we noticed a man in a multi-storey car park whistling at us. He was on the other side of four lanes of traffic so didn't pose much of a threat.
We tried to ignore him but couldn't help glancing up at him now and then and wondering what his problem was.
His shrill whistling could easily be heard above the roar of the engines.
It was getting depressing with no sign of anyone stopping for a lift plus we both felt terrible after too many late nights and too much French wine. There wasn't much to say but after a while Fiona asked:
"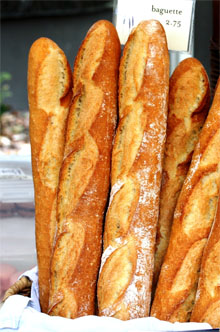 What's that he's holding?"
"I'm not sure." I said "It looks like a baguette."
We looked at each other, then looked back at the man again. He was wearing the kind of blue overalls with buttons down the front that French car mechanics favor. The buttons were all open.
Still he stood there grinning inanely at us across four lanes of traffic slowly stroking something. But what was it? Now we were both staring openly at him trying to make it out.
Suddenly Fiona gasped and clapping her hand over her mouth.
"That's not a baguette." She said. "He's flashing us."
Sure enough closer inspection confirmed that, although reminiscent of a baguette in both size and color, that was most definitely not a loaf of bread in his hand.
Did You Enjoy This Story?
Stay tuned for more Naked Travel Stories.
I've got plenty more where that came from, but mercifully none of them involve a case of mistaken identity and baguettes.
Fiona and I eventually got a lift and made our way safely back to London. Despite the faux baguette incident we even hitchhiked back to Paris again the next year when more lasting memories were formed. I'll tell you those stories another time.
Subscribe now by email or RSS feed so you don't miss out on more Naked Travel Stories.
Share This Story, Choose Your Platform!