Project Triathlon at 50: Training Week 4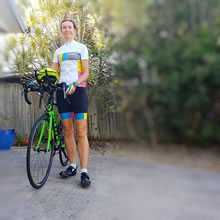 I'm feeling inspired after reading Iron War yet also terrified about what I've signed up for. My attitude towards triathlon has been I'd like to try it and, although, I can't swim or bike how hard can it be? That's a typical attitude from someone who has no idea what's involved.
Now I've actually started training and discovered that it's very hard I'm terrified. I don't know how I'm going to swim 750m and I'm sure I'll instantly be an hour behind everyone else after the swim leg.
I asked coach Jess when she's going to teach us how to rest during our swim leg and she says we can't rest. We have to keep swimming. I'm not good enough at freestyle breathing so I'll have to alternate freestyle and breast stroke to recover from the freestyle.
Someone recommended Aqua Diva swimwear to me this week but I pointed out that Aqua Dunce would be more appropriate  for me. Sometimes I still can't swim one length of the 25m pool and when I do I am heavily out of breath and need to take at least 10 seconds to recover.
I went looking for a challenge and got it.
The swimming sessions in particular leave me feeling exhausted. I've been coming home and having a nap at 8.30am after the kids have gone to school. Of course this only works when I'm working from home and I have to stick to 20 minutes but sleep is essential for recovery after exercise and muscle development.
So make sure you're getting enough sleep if you're training hard, especially if you're getting up early in the morning.
My training schedule this week:
Monday: Swim (60 mins) + Gym Induction (45 mins learning how to use pool gym so I can do some strengthening exercises to improve my running, swimming and biking. I need to build upper boday strength for swimming but my arms are like spaghetti.)
Tuesday: Run (90 mins) + Aqua Deep class focusing on strength and toning (40 mins)
Wednesday: Run (75 mins – 3km speed work and strengthening) + Swim Squad (60 mins)
Thursday: Bike (75 mins Brick session combining biking with running)
Friday: Swim squad (60 mins)
Saturday: Run (16km slow including 650m wading across Lake Weyba which was good thigh strengthening)
Sunday: Bike (50km in 133mins) We cid the Noosa triathlon bike course which is quite hilly plus a bit extra. Average speed 22.8km/hour – I'm aiming to build up to an average speed of 30kph – topspeed 41kph – exciting)
Here's what I did with Jess in her triathlon training for women beginner course.
Triathlon Training for Beginners – Week 3
Swimming
The distance and pace has drastically picked up. Every now and then I really think I get swimming freestyle. But then coach Jess or the swim squad coach gives me a tip and I realise that I really have no idea how to tie all the different elements of freestyle techique together.
I'm particularly bad at the beginning of each session when I've forgotten how to breathe and get out of breath. I also struggle at the end of the session when I'm tired. But, in a one hour session, somewhere between 10 mins and 30 mins I feel okay.
Swimming Tips
Count how many strokes it takes you to cover one 50m lap and time it too. This will give you a baseline time and something you can work on improving. For me it was 46 strokes in 32 seconds. I am gasping for air after one lap though so covering any type of distance will be a huge challenge.
Take time to really stretch the arm after it enters the water, glide and reach as far forward as you can.
Biking
We used the turbo trainer which simulates stationary biking. With no wind factor it got very hot and I was sweating buckets! Focusing on keeping a cadence of 90 and sprinting off the bike as this was a brick session which combined biking and running. We did some hard pedalling followed by a 400m or 800m lap. This was easily the hardest session we've done outside the pool.
Biking Tips
Keep your tyres pumped up to 100 PSI front and back and pump them up before every ride.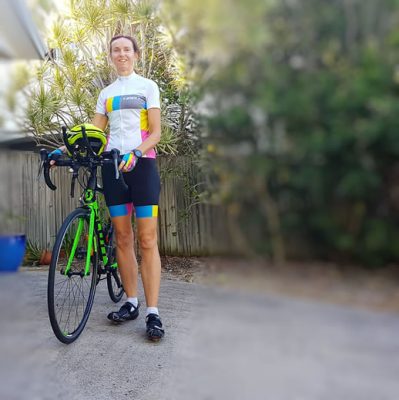 Running
We did three short 3km intervals today and focused mainly on strength again.
Running Tips
Dynamic stretch ideas for before you run: walking lunges, walking tilt (lowering the body parallel with the group and raising the back leg), zombie walk (hold arms level with shoulders and lift leg towards fingertips).
Strengthening exercises for running: side lunges, squats, tilt without walking (raising one leg behind and trying to touch toes as you bend down – a real test of balance), core strength exercises including bicycling legs, plank, and Russian twist.
Phew! Another tiring week. What will week 5 hold?
Other posts in the Triathlon Training at 50 Series
Stay Tuned!
Get free email updates to follow the Project Triathlon at 50 story. I'll share what we do for the whole eight week training program. Thank you in advance for your support.
Share This Story, Choose Your Platform!