Project Triathlon at 50: Training Week 1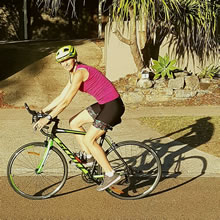 After two years of running, I needed a new challenge and set my intention to learn to swim freestyle. I secretly want to be able to cycle properly too, so when a free triathlon training course for women came up in my hometown of Noosa, the timing was perfect.
In case you missed it, you might want to find out how Project Triathlon at 50 began. Once I'd got all the necessary triathlon equipment, including  a new bike, I was ready to get started.
The eight week triathlon training for women program I'm doing is run by Jess Flemming of Multisport Consultants. She's a professional athlete with an impressive track record for multi-sport racing, especially for Ironman triathlons where they swim 2.4 miles, bike 112 miles (180.25 km) and then run a marathon (26.22 miles or 42.20 km) without a break.
She's completed that course in nine hours 38 minutes and says she gets "super excited" before racing. She is clearly super fit, incredibly focused and hard working, with an superhuman ability to push through pain. She must be a bit crazy too!
Jess now has the the hard task of turning me from non-swimmer and non-biker into a triathlete. She's got her work cut out. We both do.
I'll give a breakdown of what we covered in each week of our triathlon training starting here.
Triathlon Training for Beginners – Week 1
Swimming
This is my weakest point. I hate putting my head under water and don't know how to swim freestyle. The breathing is hard but I can make the length of a 25m pool if I go fast enough.
The other women all seem to be confident in the water and I'm definitely the worst of what seems to be a bunch of excellent swimmers. Some are not as fit as me but they know how to swim.
We used fins and a kickboard to practice technique. There are drills galore where we do things like swim with our hands in a fist to improve strength or with our fingers pointed to help us get the correct arm placement.
The drills are hard and I've decided that the way freestyle is taught is to make you do heaps of other things that are away harder so when you try freestyle again it seems easy in comparison.
I was tired and sore afterwards, especially my arms and shoulders so I can tell that swimming will make my upper body stronger. That has to be a good thing as my arms are usually like spaghetti.
Swimming Tips
Watch a few YouTube videos to help learn the theory of breathing techniques;
Join a swim squad and committ to practicing three times a week. Even if you are the worst swimmer there it's the only way to learn.
Biking
I don't have clip in bike shoes yet so the biking session wasn't too hard for me. We concentrated on learning how to stop without falling over and how to change gears. We didn't cycle too far or too fast and the gentle introduction was much appreciated.
Some women are more confident than others but there's a good team spirit and we all help each other out. I also arrange to meet some of the other women later in the week for more practice.
Biking Tips
Get your bike fitted by an expert, especially if you buy a second hand bike. It will make your biking safer, comfier and faster.
Use the balls of your feet to push down on the pedals for maximum power.
Running
I've never been sporty or athletic so it's amazing to write that, after two years of putting in a lot of effort, running has become my sport. I still don't like sweating or getting out of breath but I knew that I'd be able to keep up with most of the other women.
Our running session focused on stretching to avoid injury and running form. We only ran 3km which was easy for me and I enjoyed the focus on form and learning some new stretches as my hips do get quite sore from too much running.
Running Tips
Practice dynamic stretching before you run.
Do static stretching after you run.
Keep your arms bent and hands loose as if you're holding a note between thumb and forefinger.
I did lots of extra running and biking and one swim squad session in my own time. I want to make the most of the tri coaching from a pro and learn as much as I can in a short time.
Week one's over and it really wasn't too bad! What would week two bring?
Other posts in the Triathlon Training at 50 Series
Other posts in the Triathlon Training at 50 Series
Triathlon training Week 5
Get free email updates to follow the Project Triathlon at 50 story. I'll share what we do for the whole eight week training program. Thank you in advance for your support.
Share This Story, Choose Your Platform!