Running a Half Marathon in Luang Prabang: Exhaustion to Elation in 21 Kilometers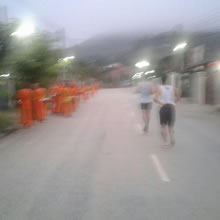 We set off in the dark and we're still running when another misty morning settles over Luang Prabang, the ancient royal capital and spiritual center of Laos. It's hot, muggy and smoky from the fires locals use to cook food and burn rubbish. I feel like rubbish; hot, sweat-soaked and gasping for breath.
Every now and then, I purse my lips and blow all the air out, hoping it will allow me to take in a lungful of oxygen-rich air. My body needs it but there's no relief. Running like this hurts and the only way to escape the pain is to stop. That's not an option for me. My pace is slowing but I'll never stop. "Just keep running" is my mantra. Just keep running.
I started running two years ago and have been training for 12 weeks to run this Half Marathon. It's a 21km (14 mile) course and I've been running around 70km each week in preparation for today.
It's a charity fundraiser for the Lao Friend's Children's Hospital in Luang Prabang; I've been flown here from Australia to run and cover the story by Accor Hotels and Scoot. With support from friends, family, blog readers and colleagues we've raised over US$600 (more than $800 Australian dollars) for the hospital and I'm honored to be here.
To me, this trip is the perfect combination of travelling in style, a world-class destination, social awareness and meeting personal goals. It's my first Half Marathon and I'm hoping to finish in under two hours.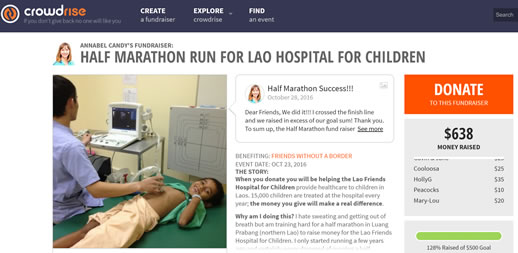 Physically I'm fit enough to achieve that goal. I've trained hard. But mentally I struggle with running. I've never been sporty and have always avoided heavy exercise. Maybe I've got hypothermosis, a phobia of excessive sweating which is linked to social anxiety. Maybe the shortness of breath running causes feels like a panic attack. Or maybe I'm just lazy.
Whatever the reason, the most common thoughts that spring to mind when I'm running are: "I hate this!", "Just stop!" and "You're useless!" I try to practice mindfulness and not buy into these thoughts. They are just thoughts and my mantra valiantly tries to drown them out. Just keep running. Just keep running.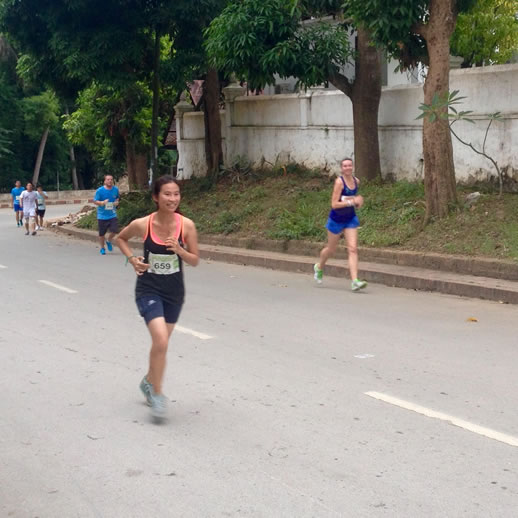 There are people everywhere; driving cars, pickups, scooters and bicycles; walking to market, with two swaying baskets dangling from a pole balanced on one shoulder; volunteering at water stops, handing out bottles, which I grab two at a time, greedily slugging one and pouring the other over my head to cool my fiery face. It doesn't work.
There are monks too, streaming out of the temples where they live, walking purposefully down the street collecting alms from local women. Luang Prabang is a Buddhist spiritual center and this ceremony has been taking place for hundreds of years. The monk's bright orange robes and impassive faces contrast starkly with the muted morning colors of Luang Prabang and the fierce concentration in the faces of runners from around the globe. Yet we are all here for a reason.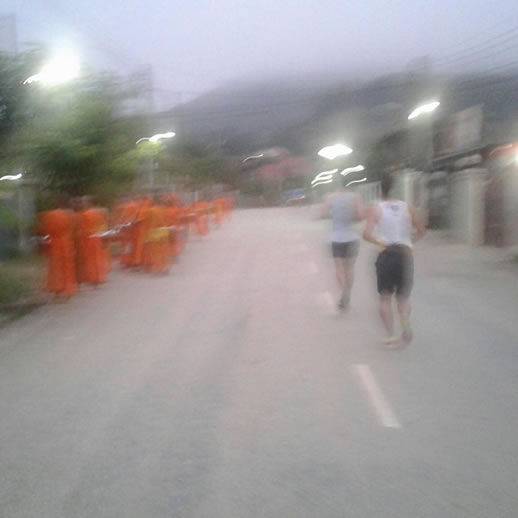 The event covers three distances of 21km, 14km and 7km, with around 800 runners in total. We come in all shapes, ages and sizes. I pass people who are slow, shuffling or walking and cheer on those who overtake me. "Well done," I gasp, as they pass by. Some runners have the physique of professional athletes; small, tight power-packed bodies. I spot a few lean, rangy types who look as if they usually compete at much longer distances.
Some runners make running look effortless, striding out, arms pumping, eyes locked on the horizon, but I know they feel pain too. We all do. But we just keep on running.
I've done everything possible to prepare for this run and give myself the best chance of achieving my sub-two hours goal; I've taken caffeine pills, reputed to improve running performance; I've been slurping special energy-giving gels for athletes; I've set my Garmin sports watch to alert me anytime I'm running too slowly or too fast. After about 7km the watch vibrates constantly, and every time I glance down at the screen it reads "slow".
Although I know I'm going too slowly, I no longer care. I'm here, I'm running and the pain isn't too bad. Certainly not enough to make me stop. I feel like I'm running well and I've conveniently forgotten about my goal. I try to enjoy the race, smile at the boss-eyed, scraggle-haired dogs roaming the course and just keep running.
I have no idea how much time has passed, but I'm counting down the kilometers and, with only three kilometers to go, I look at my watch. I've been running for one hour and 45 minutes. My mind feels as sluggish as my legs, but it dawns on me that it's not too late to achieve my goal. If I step up the pace I could still squeak across the finish line in under two hours.
A young man runs by me at speed. He's clearly saved his energy for the last few kilometers and I wish I could go as fast as him. But I overtake a woman I've been following for hours. I'm too tired to speak to her and she's too tired to keep up with me. There's a traffic problem ahead, but I don't slow down. I just hold up my hand in what I hope is a universal stop sign and weave through the pickup and bikes. I've become one of those rude, impatient runners I used to scorn.
Up ahead, the young man who raced by me earlier is walking, head down. "Come on," I say as I run by. "We're nearly there." He shakes his head and carries on walking. Sometimes you just can't run anymore but, right now, I can and I do. Just keep running. Just keep running.
With 300 meters to go and the finish line in sight I pick up the pace, swerving at the last minute as I realise the 21km runners are supposed to come over the finish line on the right hand side. There are crowds of people. Cameras. Noise.
Someone places a shiny green ribbon with medal over my head. I'm smiling madly, hysterically, even as tears rise to my eyes. My travel companion comes to congratulate me and I sit down in an empty chair, physically and emotionally spent. Laughing and crying at the same time.
There's music pumping out of speakers and other, similarly elated people all around. I want to dance. I want to take a thousand photos. I want to sit down. The sun is shining now, light blazing on a temple's golden roof.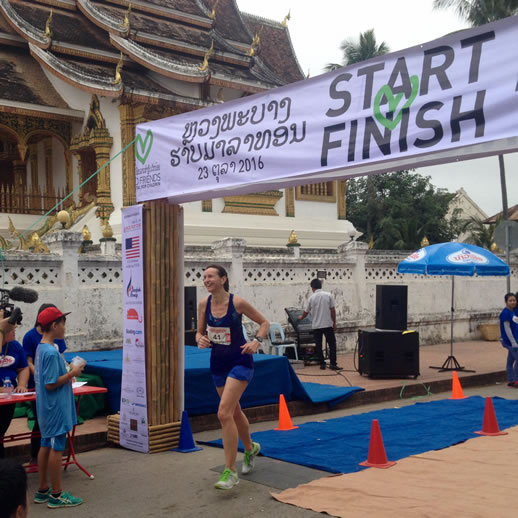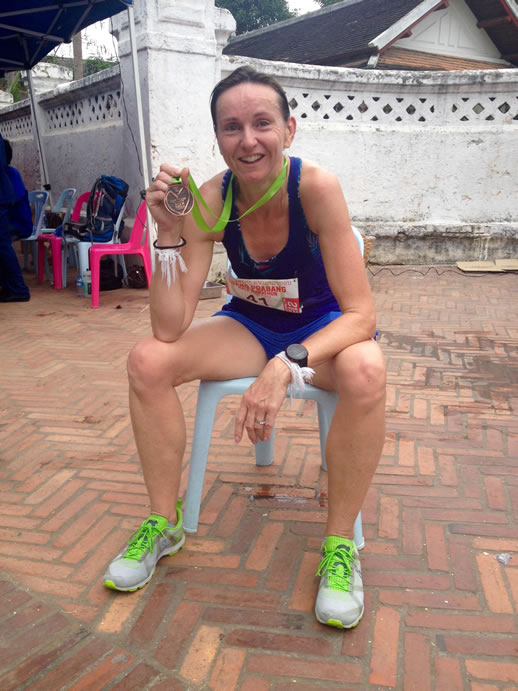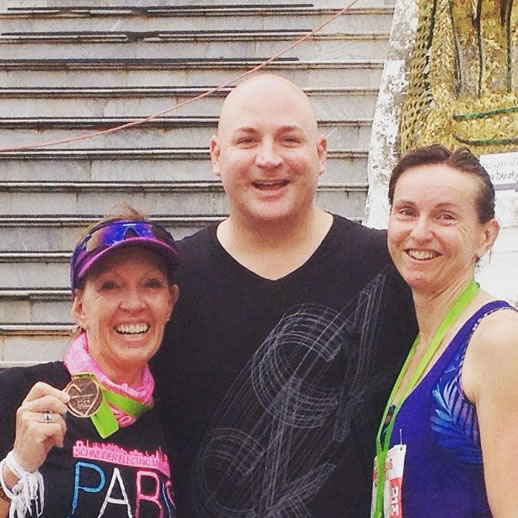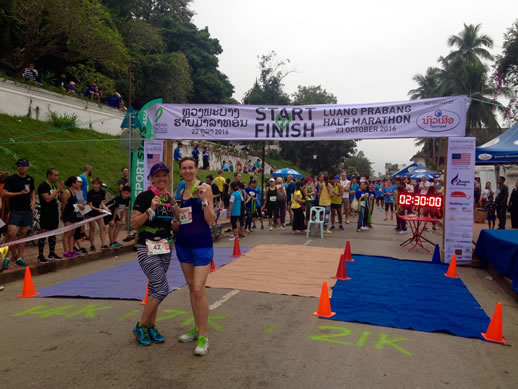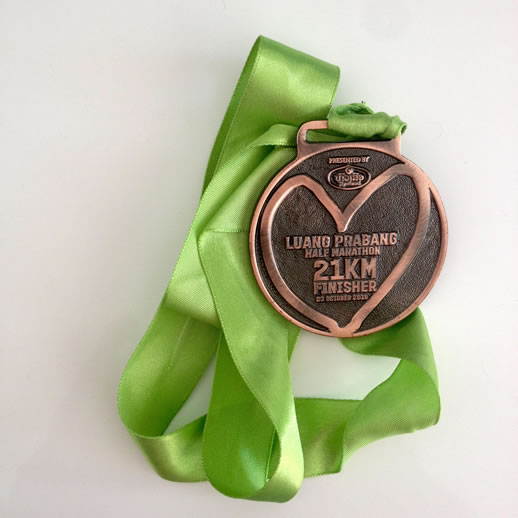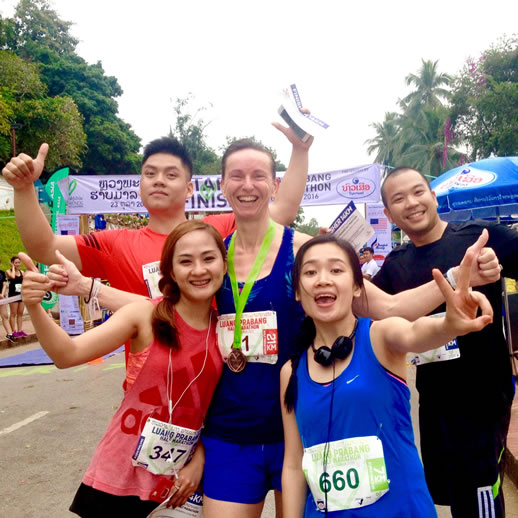 Travel Tips for Luang Prabang
I was a guest of Accor Hotels and Scoot during this trip. The Luang Prabang Half Marathon and Lao Friends Children's Hospital is sponsored by the stunning local Sofitel Hotel just outside Luang Prabang. Located in a quiet residential quarter, and protected as a UNESCO World Heritage Site,  Sofitel Luang Prabang is the perfect place to escape the heat and bustle of the town.
I stayed nearby in the smallest Accor Hotel in the world. The boutique, MGallery branded Sofitel, 3 Nagas Hotel is right in the center of town, within easy walking distance of the Mekong River, the Nam Kahn River and many of Luang Prabang's most beautiful temples. Every morning at dawn the monks pass right outside the hotel collecting alms from the locals as they have done for hundreds of years.
The 3 Nagas is a beautifully renovated French colonial building with historic royal ties and gorgeous dark wood furniture including, in my room, a four poster bed. There's a restaurant and icecreamerie on site along with a pretty garden where you can relax. Shops, restaurants and riverside bars are all easy to walk to.
The Half Marathon event, including shorter distances, takes place every October in Luang Prabang as a fundraiser for the Lao Children's Hospital. The event is becoming increasingly popular and hotels get book out well in advance. So get in early if you'd like to stay at the Sofitel or the 3 Nagas when you visit.
Want More Travel and Wellbeing Inspiration?
Stay tuned for more travel stories, ideas and inspiration including more stories from my recent trip to Thailand and Laos. Get free email updates from Get In the Hot Spot – a weekly injection of tips to help you be more adventurous and have more fun. Click here now for free updates.
Share This Story, Choose Your Platform!