Project Triathlon at 50: Equipment Needed and Costs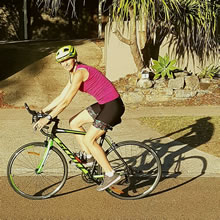 A free eight week triathlon training program for Noosa women convinced me to stop thinking about doing a triathlon and go for it.
I can't swim freestyle and didn't own a suitable bike, but this seemed like the perfect time to learn. How hard can it be? I thought, and signed up on the spot. Find our more about the triathlon training at 50 project.
Then I started trying to get hold of everything I needed including the major cost, what triathletes call a road bike and what I call a racer, in other words a bike with curly handle bars.
With only a week to go until the tri training started, I was dashing around like a mad thing trying to get hold of everything needed. I ended up buying a few things I don't need yet but might do in the future.
Here's a list of everything you need as well as the cost of the equipment I bought and, at the end, a grand total. It's a shocking figure which I'm trying to justify like this:
I never spend much on my fitness apart from running gear. I've never joined a gym and rarely pay for classes.
I hope that if I complete a triathlon I can raise funds as I did running the Half Marathon for Lao Children's Hospital. Then the money I've spent will end up going to a charity.
Finally, if you already have a road bike, or can borrow or hire one, you won't have such a huge cost to outlay at the beginning as I did. In that case your triathlon costs will be significantly lower.
Biking
Scott Speedster 40 2017 road bike, frame size 54 in black with lime green accents – $1,099
I looked for a second hand bike, hoping to spend about $500 but there was nothing suitable. Places like the Gumtree website, with free classified advertisements, are brilliant for finding second hand bikes, and many of the other items you need for a tri, if you have time and can watchlist items you're looking for. You can even buy cars there if you need a new one to transport your bike to a triathlon.
Sadly, I needed to buy a bike fast and there wasn't anything on Gumtree in the right size for me, so I had to buy new.
I ended up going way over budget but hopefully having a new bike will reduce costs in the longrun. I like this bike a lot but I'm diappointed it's not red. This was the entry level bike so I've got to embrace the green and black design.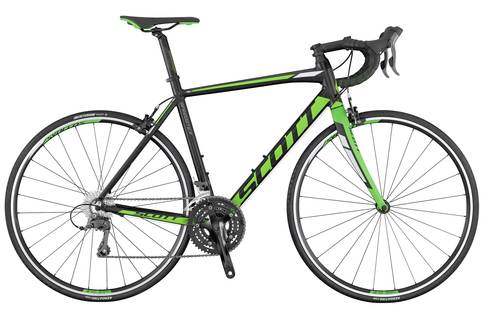 Bike accessories – $340
The bike came with a bell but nothing else – you even have to buy pedals! Then there are other essentials including a tyre repair kit because if you get a flat tyre during a race you need to know how to fix it and you need a water bottle carrier too. I also needed lights because it's dark at 5am when we start training.
The price was heavily reduced because I was buying so much gear and the accessories include:
Water carrier (I already have a bottle that fits it);
Tiny bike pump;
Carry bag with inner tube and allen keys;
Pedals which are normal on one side and designed for clip on biking shoes on the other side. I don't have clip in shoes but if I do get some at least I won't have to spend another $120 on new pedals;
Lights – front and rear. I upgraded to an extra bright front light with USB charging;
Tri bars – these stick straight out in front and are for resting on during long, straight races. I didn't to buy them yet as I need to concentrate on steering and not falling off at the moment.
Bike fitting;
Six week service.
Smith bike helmet – Lime green Overtake Smith helmet made from tough, lightweight materials with plenty of ventilation to keep me cool. Bought second hand in Noosa Tri Club garage sale from pro triathlete Luke Mackenzie for $40. They cost $250 new and come with a lifetime guarantee so this seems like a good deal. And maybe some of Luke's magic will rub off on me…
Bike clothes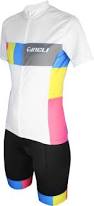 Honestly, I've always sneered at cyclists who wear matching outfits and hobble into cafes in funny-lookig velcro shoes. Now I'm one of them.
It was pointed out to me that I need special biking shorts with chamois padding to avoid unpleasant chaffing. I also wanted to get gloves to protect my hands from blistering and incase of accidents.
Then looking online I found a special Tineli combo price on shorts, gloves and a top which was only slightly more expensive than shorts and gloves alone, and is called Candy. I had to buy it.
I like that Tineli is a New Zealand brand (I'm have a Kiwi passport even though I was born in England and live in Australia), there are minimal logos and the top is white, making me highly visible on the roads. I definitely hope the padded shorts lining will help me avoid any chaffing!
Running
I already had everything needed including crop tops, shorts, vest tops and trainers. I used Aldi trainers for years and set many personal bests in a pair of $15 Aldi shoes. When I started running more I started getting sore feet so I bought some Asics trainers which cost $250 (ouch) and some Cloud Runners for racing (on sale at $170) which I love.
I get a lot of my basic running gear from Big W and Aldi but I also like Lorna Jane running gear for comfort and style. It costs twice the price but it lasts well.
Swimming
Flippers, kickboard and swimming goggles: $70 at Big W
Swimming cap: I had one knocking round the house which the kids must have got free from somewhere.
Hive bikini: Chlorine resistant on sale for $30
Pool membership: $16 per week which includes as much squad training as I can handle as well as gym membership in the unlikely event I have time for that.
Tri Suit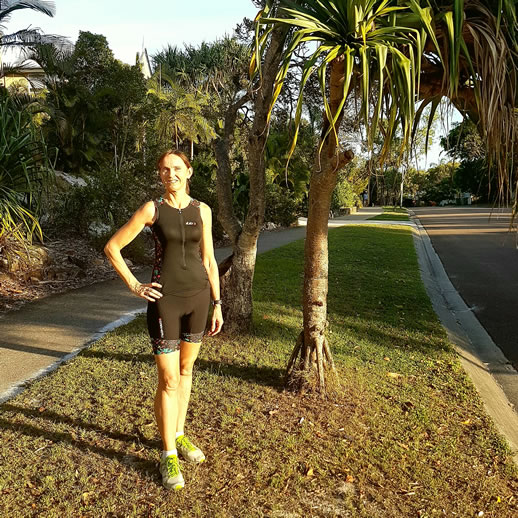 Tri suit for competing in – I don't need one quite yet but I will one day so I couldn't resist buying one I love second hand one the Noosa Tri Club garage sale for $50.
It's two piece, rather than the traditional all in one, which can make you look as if you've been stuffed in a sausage skin. It's mainly flattering black but it has a cute confetti design in bright colors and and is relatively logo free so I won't look as if I think you're competing in the Tour de France.
Tri Club Membership
One of the prerequisites for joining the free trialthlon training course was becoming a member of the Noosa and Queensland Tri Club for insurance purposes. The $190 cost means I've got medical insurance in case of accidents and I can also compete in small club tri training events.
TOTAL COST: $1,850 plus pool membership of $16 per week. 
Just reading that figure gives me a panic attack but, compared to annual cost of gym membership of $780 a year, it's not too bad. It also made me clear out some old things I'd been hanging onto for too long, including three surf boards and some home and garden items we didn't use anymore, to sell on Gumtree. Everything sold fast so that helped defray the costs.
It is a huge investment that and a big expense but the good part is that I am invested. I can't give up now! Or can I?
Update
But wait, there's more! Here's the other equipment I've bought since I started triathlon training
Clipless bike shoes – $170 – I chose Northwave tri bike shoes. They're black which seemed more practical than the more popular colour of white. Tri bike shoes are the ones to get if you're specifically training for a tri as they are faster to get on (only one velcro tab) and they're comfy to wear sockless and with wet feet so you can get them on fast after your swim. My Northwave tri bike shoes are Italian leather shoes – one of the most expensive pairs of shoes I've ever bought. You can find tri bike shoes cheaper online but you need to try them on, get the cleat screwed on and have them propertly fitted in a bike shop.
Easy clip pedals – $80 So your bike shoes can clip in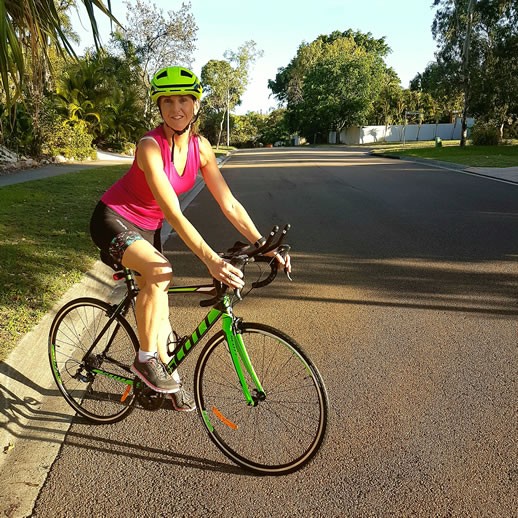 Want to know more about why I'm learning to swim, bike and try a tri?
See the Tri at 50 series announcment for all the details.
Follow my Triathlon at 50 Training Adventure
For the next eight weeks, while the free women's Noosa Triathlon training course lasts, I'll post a weekly progress report detailing what we did, what went right and what didn't – along with my triathlon training tips for women aged 50.
Get free email updates to follow the Project Triathlon at 50 story. It's free and you can easily subscribe anytime. Thank you. It's great to have you on the Hot Spot team.
Share This Story, Choose Your Platform!