What it Feels Like to Challenge Yourself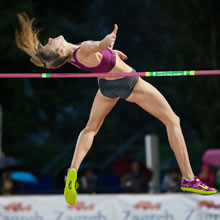 Eight weeks ago I completed my first five kilometer (3.1 miles) timed run in 33 minutes and two seconds (33:02).
Before that I'd been only been running once a week for 18 months but had finally managed to complete a solo seven kilometer in just under an hour.
With my non-sporty, exercise-shy background I thought that meant I was super fit and not bad at running at all.
But being invited to join a parkrun 5 km timed running event changed that.
After my first parkrun I was emailed my results which I thought were good, but I also saw results for every runner at my local event including their age, gender and running time. There were some incredibly fit people way older than me and some young men who ran 5 km in under 20 minutes.
I knew I could never catch up with people like that, but I also knew I could run 5 km faster than 33 minutes if I tried. Then the parkrun newsletter came including a story about parkrun 60-65 year old female record holder Rosemary Roediger who runs 5 km in 20 minutes. What incredible inspiration! Rosemary suddenly made my running efforts seem rather pathetic.
"Well if Rosemary can run 5 km in 20 minutes at aged 60+ I should be able to at 47," I thought, and immediately set myself a goal of running 5 km in 20 minutes.
That shows how little I knew about running.
With no running experience apart from that weekly jog I had no idea how hard it is to run 5 km in 20 minutes, or how long it would take to attain that goal. I was blissfully ignorant but determined to give it a go.
I was inspired and ready for a challenge.

So I googled "How to run faster" and started training myself, running three times a week and learning about things I'd never heard of before like strides (alternating slow and fast running), fartlek (similar to strides) and pace.
I devised a training program which included hill runs and sprinting. I soon pulled a hamstring but committed to the Saturday morning parkruns and improving my running time anyway.
Progress was slow and running hurt. On week three of my running program, when I ran 5 km in a painful 28 minutes 58 seconds, I reset my goal to 5 km in 25 minutes. Even that seemed unattainable.
Why it's Good to Challenge Yourself
Now I'm up to week eight in my crazy speed running plan. I haven't achieved my goal of running 5 km in 25 minutes yet and I don't know if I ever will but I haven't given up either.
Now I want to share my progress with you regardless of the outcome because, whether I reach that goal or not, there's not doubt that by taking on this challenge I'm radically fitter now than I was eight weeks ago when I ran that first 5 km parkrun.
Here's a break down of my progress over the last seven weeks showing my time for running 5 km as recorded by parkrun:
Week 1. 33:02
Week 2. 30:25 (-37 seconds)
Week 3. 28:58 (-27 seconds)
Week 4. 28:13 (-45 seconds)
Week 5. 29:07 (no progress – that hurt too)
Week 6. 27:34 (-37 seconds)
Week 7. 27:16 (-18 seconds)
Week 8. 27:9 (-7 seconds)
What I've Learnt About How to Challenge Yourself
1. Challenging yourself is hard
Every single week I have to challenge myself to improve my running. The pain levels are comparable to natural childbirth although thankfully the agony doesn't last as long.
2. It's a psychological battle
The whole time I'm running my mind is telling me "I hate this", "I want to stop", "I can't do this anymore." Overcoming that negative voice in my head is the greatest challenge.
3. Getting out of your comfort zone takes time
Even after eight events I've only ever run all the way once on week six. Every other parkrun I've walked part of the way or multiple times. Even on my current personal best I walked three times. I love walking!
4. You need encouragement to challenge yourself
People are very kind. I've had so much encouragement and help from other parkrun participants who've paced me and run with me. People who've already taken on challenges are generous in sharing their hard won knowledge. I've never met such a giving group of people before as I have at parkrun.
5. There's only so much you can do alone
After week five, when my time went backwards, I joined a running group called the Lazy Runners. I'm the only lazy one there. We train three times a week at 6am, running anywhere from 5-12km with drills like hill training, sprint training and more.
Being part of that group has helped me keep challenging myself when I'd naturally have stopped and called my progress good enough.
6. Physical challenges aren't just about fitness
Speed, technique, breathing, what you eat and even what you wear are all factors that affect running times. I'm playing with listening to different types of music and learning how to breathe to give my body the oxygen it needs.
Any worthy challenge you take on will challenge you body, mind and soul.
7. Challenging yourself takes courage
It takes guts to challange yourself and run outside your comfort zone because you look like terrible, all sweaty and red-faced, and you're out there in public.
I set myself this challenge to improve my fitness, running speed and endurance or strength, all of which would make me healthier and stronger. I've worked harder, trained more intensely and extended myself physically, more than ever before. I'm physically fitter and stronger now with more energy for all areas of my life.
This challenge fueled my passion for health, for being outdoors and for personal growth. But the greatest reward isn't completing a 5 km run in 25 minutes but feeling the sense of achievement that comes when you challenge yourself.
Challenge yourself does hurt, as you push your way through limits, but you also learn what you're capable of.
You learn to be patient, persevere and respect your body. You learn that growth always involves pain. You learn not to just chase the goal but to enjoy the challenge.
parkrun update!
parkrun week 9 – June 30 2015: I set a new personal best at the Kawana parkrun of 26 minutes and 39 seconds so I'm still getting fitter and faster. It's still a challenge though!
Many many thanks to all the support and encouragement from other parkrun runners, to Tim who writes the parkrun  newsletter and to the amazing parkrun community. I couldn't have taken on and stuck to this challenge without you. Happy running to you all!
Are you a parkrun runner? Share your story below in the comments – we'd love to hear from you. 
One Healthy Move Weekly Challenge
Are you ready for a challenge? Set yourself a healthy or fitness goal and achieve it using my tips above.
You could pick a walking or running challenge, climb a mountain, try a new form exercise (see 52 exercises if you need ideas) or pick any challenge of your choice.
It doesn't need to be climbing Mount Everest or running crazy fast. Pick something that will challenge YOU and commit to it, whether it's a one off experience like trying cardio tennis or something that you'll need to train for like a 5km fun run or an obstacle race.
Get More Free Stories and Inspiration!
This story is part of the One Healthy Move series to help you stay healthy in midlife and beyond so you're ever ready for adventure.
Subscribe now by email so you don't miss out. It's free, you can opt out anytime and your details will be kept private and never sold. You have my word for it.
Share This Story, Choose Your Platform!