Speaking and Training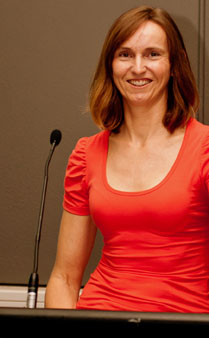 Looking for a speaker or trainer at your next business event? I'd love to help.
I've spoken at conferences, events and business meetings throughout Australia and overseas including:
Zimbabwe Trade and Travel Fair 2013;
Social Media Tourism Symposium 2013;
Digital Parents Conference Sydney 2013;
Walkley Media Conference 2011;
Sunshine Coast Destination Limited 2011;
The Creative Collective 2011;
Reality Bites Literary Festival 2010 and 2011;
Sunshine Coast Creative Alliance 2011;
Numerous business groups.
I'm equally comfortable speaking to a handful of people or addressing 500 delegates. I've honed my speaking skills at Toastmasters and am most often requested as a speaker in Australia and internationally on the following topics:
Reputation Marketing;
Digital Strategy;
Copywriting;
Social Media for Fun, Fame and Fortune;
Successful Blogging;
Entrepreneurship in a Digital Age;
Blogging and Social Media for Small Business Marketing;
Unlocking Opportunities Online;
Creating Content for the Internet;
Blogging for Creative Personalities.
I'm happy to discuss tailored talks, training or workshops to suit your audience, their needs and existing knowledge.
As well as engaging and entertaining your audience I'll teach them how to tap into the power of Internet marketing and send them away with actionable tips they can use to succeed online.
I'm a qualified and experienced teacher and my key concern is to facilitate workshops that are fun, informative and inspiring.
Speaker Bio
Annabel Candy is a digital strategist, web designer and web copywriter with an MA in Design for Interactive Media and 18 years' experience. Annabel's travel blog Get In the Hot Spot attracts a thriving community of engaged readers from all over the world. Over 175,000 people visit her blog each year with over 14,000 unique readers each month. Her writing, on topics as diverse as business, travel and wellbeing, has featured on some of the most popular blogs on the Internet including the Huffington Post, Gadling and Copyblogger as well as in print in Australian Traveller, Senior Traveller and Escape Magazine for the Sydney Sunday Telegraph. Annabel is the author of Successful Blogging in 12 Simple Steps and is passionate about helping small business owners and marketing managers tap into the power of the Internet.
Find Out More or Book Annabel as a Speaker or for Training
As a popular travel blogger and busy entrepreneur I tend to get booked up for speaking and training in advance. To find out more about engaging me for speaking, training or workshops please contact me now to avoid disappointment.
Email me today (annabel at GetIntheHotSpot dot com) to find out more or to organise a time to talk about how I can best help you.
Share This Story, Choose Your Platform!