Project Triathlon at 50: Training Week 2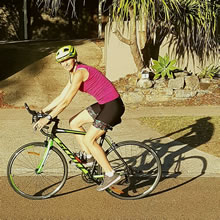 The excitement of the new is already over and the 5am starts three times a week are taking their toll. I've been feeling tired and even the ginseng and supplements can't shift it.
Noticing that the triathlon training wasn't as strenous as what the distances I usually run each week and desperate to improve my poor biking and swimming fast I trained 12 hours this week. That's probably too much for this middle-aged mama.
It's a hard balance because I don't want to lose my running fitness but I know I need to swim and bike regularly too because those are my weaknesses.
My training schedule looked like this:
Monday: Swim (60 mins) + Run (45 mins)
Tuesday: Bike (60 mins) + Toning (50 mins)
Wednesday: Run (75 mins hilly) + Ocean swim (40 mins with flippers – went 1.km but spent lots of time on my back as I can only do 6 breaths in a row in freesyle)
Thursday: Run (45 mins) + Bike (30 mins)
Friday: Swim squad (60 mins)
Saturday: Run (60 mins)
Sunday: Bike (32km which took 90 minutes)
Here's what I did with Jess in her triathlon training for women beginner course.
Triathlon Training for Beginners – Week 2
Swimming
There are four laps for our group of women and I'm in a lane with two others who are also not confident with their swimming. I'm the slowest but I manage keep up and feel proud when Jess says I'm doing great.
Unfortunately, I keep comparing myself to other people and wondering how I'll ever manage to swim 1.5km in freestyle without stopping. I still think I'd be better off just sticking to breast stroke which is well in my comfort zone with head above the water.
I think I should get some base times for myself swimming breast stroke and freestyle so I can track my progress week by week and see that I am improving, if only incrementally.
Swimming Tips
Get a chlorine-proof bikini or one piece for squad training in the pool – I still love my Hive bikinis and they're  practical for real swimming;
Slow down and think about what you're doing – I tend to go to fast so I can get to the end of the pool and breathe normally again as soon as posssible.
Biking
Even though I've got my new bike I've noticed that I'm a lot slower than most of the other women. I'm pretty confident with the gears but avoid speed on the downhill sections and around corners. I'm terrified of falling off and breaking a bone.
Biking Tips
Safety first – Bike lights are crucial if you're riding at night and will make you more visible in the day time too.
Spinner are grinners – In other words it's better to be in an easy gear and move your legs fast than to struggle along in a hard gear.
Running
This week we run three sets of one kilometer. I manage to keep up with the women who are faster runners although I'm at the back. It's not too stenuous and we do some strengthening exercises afterwards including walking lunges, step ups on a bench and push ups followed by some stretches.
Running Tips
Start slowly to avoid getting injured. See my running for beginners over 40 guide for more on this.
Get a fitness tracker (I use a Garmin Forerunner 235) so you can track your resting heart rate  and see how your fitness and running improves over time.
Phew! All in all a very tiring week. I hope to have a restful Sunday so I can attack week 3 in earnest.
Other posts in the Triathlon Training at 50 Series
Stay Tuned!
Get free email updates to follow the Project Triathlon at 50 story. I'll share what we do for the whole eight week training program. Thank you in advance for your support.
Share This Story, Choose Your Platform!