Best and Worst Things About Living in Queensland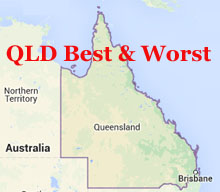 Thinking of moving to or visiting Queensland? Want to know the good, the bad and the bits that Tourism Queensland won't tell you?!
*This post was written in 2014 but I'm reposting it as it's a fun topic which continues to generate lots of interest and comments.
When I first moved to Queensland in 2009 I wrote about the Best and Worst Things About Living in Australia so it's about time we discussed the pros and cons of living in Queensland too.
I'd love it if you can help out and pitch in some of your ideas by leaving a comment.
Best Things About Living in Queensland
• The weather – I moved here so we could swim in the sea all year round and although I don't do that you could (at least on the Sunshine Coast where we don't get saltwater crocs or killer jellyfish). The climate is lovely for thin-skinned people like me who can't stand the cold. Except in January and February (like now) when we cook. I am literally melting as I write this.
• The produce – We have tropical fruits all year round and a huge selection of fruit and veggies on sale in the supermarkets, markets and greengrocers. I eat papaya for breakfast all year round and we enjoy seasonal fruit and vegetables as they become available. At the moment you can get 10 mangoes for $15 from roadside stalls, the watermelon are $1.49 per kilo (about $8 for a huge specimen) and lychees are $5 for a big box.
• Casual attire is the go – Think jandals (you may call them flipflops or thongs), shorts and sundresses. Dressing is easy, comfy and fun.
• Fitness and sports culture – I'm not sure if it's because the climate is mild but the Queenslanders are a sporty bunch and I join them at 6am for regular walks, swim, runs and sessions on the killer steps. I like that there are a lot of people who want to look after themselves and stay fit. The local swimming pool facility in my hometown of Noosa is gorgeous with three outdoor heated pools and room for the fitness fanatics as well as the casual swimmers like me and the kids who just want to have fun.
• Prawns – I love all seafood but it's quite expensive here in Australia compared to New Zealand prices. Apart from the prawns which are very reasonably priced and can often be found on special at the supermarket. Sadly prawns are ecological so make sure you buy Australian prawns and look our for those that are Marine Stewardship Council certified.
• Kid friendly – It's a laid-back lifestyle here in Queensland so you can wear what you like and take your kids anywhere.
• The Hinterland – When you think Queensland you might think beaches, Great Barrier Reef and water play but the hinterland is gorgeous too. I love the Bunya Mountains, the Gold Coast hinterland and a few special areas of the Noosa hinterland.
Worst  Things About Living in Queensland
• Over-regulation – There are too many laws here and some of them are silly like the one that says it's illegal to leave your car unlocked because you are inciting crime. Personally I think I'm big enough to decide for myself when to lock my car and wear a bike helmet or not. Free trade is dead here and starting a business is hard because you have to jump through a thousand hoops to get started.
• Unpopular with the rest of Australia – Queensland has a bad reputation just about everywhere else in Australia. They call us Queenslanders 'banana benders' which makes me laugh.
• It's huge – so big lots of Queenslanders have never even visited its most famous landmark the Great Barrier Reef and while I dream of visiting the northern tip of Queensland and Cape York it would take days to drive there.
• Harsh sun – We Queenslanders are all in danger of getting skin cancer, though probably no more so than in the rest of Australia and NZ. I wear sunscreen on my face every single day but the wrinkles are still developing nicely.
• Sexism – A friend of mine complains about seedy TV and radio ads which I've happily missed because I don't watch TV or listen to the radio. But I have noticed that women are viewed as sex objects half the time. Even at local events like lighting the Christmas tree on Hastings Street in Noosa, Santa is accompanied by sexy young women helpers in red mini skirts and low cut tops. Bad Santa, he should get that sorted out.
• Mono-cultural  – I've written about racism in Australia before so I won't go there again but in Queensland one of the things I do note is it's very much a white area, especially where I live. I know there are plenty of indigenous Australians in Queensland but sadly I don't see them much and most of the immigrants are Caucasian like me.
• No daylight savings – Unlike the rest of Australia Queensland stubbornly refuses to change their clocks in summer so it gets like at 4.30am which is too early for my liking.
• Creepy crawlies and more – We have cockroaches, cane toads, snakes, jellyfish and all kinds of other creepy crawlies but you get used to that.
• Creepy crawlies and more
And there's one more thing which I'm not sure if to put on the best or worst list. Queenslanders are incredibly proud of their state. They support their football team furiously, they chant "Queenslander" at sporting events and they emblazon it on their caps and T-shirts. Sometimes I think it's a bit much.
But then again Queensland is a pretty special place and, as the hard-core Queenslanders say, it's "beautiful one day, perfect the next."
Well, the benefits and good things about living in Queensland far outweigh the drawbacks and for us, it's the right balance for a happy lifestyle.
What do you think are the best and worst things about living in or visiting Queensland?
Share This Story, Choose Your Platform!