Project Triathlon at 50: Training Week 8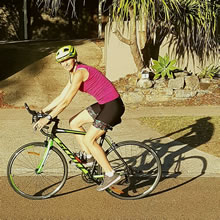 This week I'll be able to test the results of my training in a sprint triathlon. It's not a proper triathlon, just a training event organised by the Noosa Triathlon Club but I'll be completing a sprint triathlon which, with a 750m swim, 20km bike and 5km run is half the distance of the olympic triahtlon I hope to participate in but far enough to be challenging.
This week I aimed to consolidate my training but not push myself too hard in preparation for the event. I also tried to eat lots of carbohydrates, especially after training sessions, to help my muscles take on enough fuel to complete the event.
My training schedule looked like this:
Monday: Swim (60 mins) + Run (30 mins)
Tuesday: Bike (60 mins) + Toning (30 mins)
Wednesday: Run (75 mins hilly) + Swim squad (60 mins)
Thursday: Bike session (50 mins on the windtrainer)
Friday: Swim squad (60 mins)
Saturday: Day off tapering for the event
Sunday: Sprint triathlon (750m swim, 20km bike and 5km run which took about 90 minutes)
Here's what I did with Jess in her triathlon training for women beginner course.
Triathlon Training for Beginners – Week 8
Swimming
Jess was away so we trained with her mother-in-law Jan Croft who's an inspiration. At 73 she still competes in masters swimming events and takes my regular swim squad training sessions.
Jan's swim squad sessions include a good mix of freestyle with and without fins, drills and kicking. I find the constant change makes the session fly by.
Swimming Tips
I read in a running book that no amount of technique will help as much as practice. Although swimming is more technical it's also true with swimming. In order to use the right technique and develop the mental and physical coordination nothing beats practice.
Celebrate your improvements – no matter how small. This is the final week of my swim challenge where I did one hour of swimming three times a week for eight weeks. I'm still one of the slowest swimmers and am constantly overtaken by people 30 years older than me but I have improved. The panicking has dwindled and my fitness has improved. It's strange that being fit from running didn't really help with my swimming but I'm sure the resilience I've learnt through running and the willingness to keep trying despite pain helped see me through.
Biking
I'm still trying to improve my bike skills so I spent another session on the track trying to brake less on the downhill stretch and tackle the corner faster.
Biking Tips
When cornering countersteer before entering the corner. This means that you very slightly turn your handle bars the opposite way to the corner to then allow you to turn and lean into the corner easily.
Get two drink bottles on your bike – you'll need them for longer rides and to carry a sports drink like Gatorarde
Running
This week we did more hills and steps. Fastest way to increase your fitness and strength.
Running Tips
Find some running friends who you have to keep up with.
Force yourself to push a little bit harder each time and especially at the end of a run when you're tired.
Finish strong with a sprint at the end of your run just to show yourself that even when you think you're totally spent you can keep going and even go faster.
My First Triathlon Training Event
Sprint distance: 750m swim, 20km bike and 5km run
Time taken: About 90 mins which I was very happy with. The only leg I have a true time for is the 5km run which I did in 25 mins 24 seconds.
Event description: This was a Pink Triathlon training event for women only. There were about 30 of us and the majority were beginners like me although we were lucky to have a few experienced triathletes in the mix too. Some women did the super sprint distance (half the sprint) but I wanted to test myself as much as possible so chose to do the longest course available.
Race preparation: I arrived an hour early to get everything set up. I had time to do some stretching and ease prerace nerves with some deep breathing. Then I got my transition area set up.
Nutrition: I ate half a banana an hour before the race. About 15 minutes before kick off I had two No-Doz caffeine pills (they help me stay focused) and one energy gel. I had Gatorade sports drink to drink on my bike leg.
Support team: I was very lucky to because some running friends came to cheer me on. It was lovely to see familiar, friendly faces
Swim:  Ooops! I missed the start because I was in the loo doing a last minute wee. So everyone got a one minute lead on me. I went off as fast as I could to try to catch up and did so quite easily. I then relaxed and did a combination of freestyle, backstroke and breaststroke. I was feeling quite panicky so needed to keep my head out of the water.
Once I'd been round the buoy for the turn around I felt better. I wasn't the last and managed to overtake a few more people. I relaxed and even started to enjoy the swim. Finally I could see my friends on the bank and managed to run ashore hunched over like a crab.
Bike: I was slow in transition. Someone who came out of the water after me biked off before me. I put socks on and took my time chatting with coach Jess and my friend Sue. I had a good drink of Gatorade too which Jess said I could have drunk on the bike, not in transition.
Finally I pedalled off. I was nervous about the bike ride because it involved a lot of roundabouts and traffic. My legs hurt and although I felt as if I was going flat out I was disappointed to be overtaken about 3km from the end. I think biking is the one area I have potential to improve on hugely. I enjoy it but can't work out how people overtake me when our legs seem to be going at the same pace. I need someone to follow.
An experienced triathlete friend and mentor, Georgann, recomended I get a speedo in the bike and cycle to a certain pace. That's probably the best advice for me. More triathlon equipment needed though!
Run: I was thrilled to start running. I hadn't drowned in the swim or fallen off my bike and went sprinting off. First of all I wanted to catch the women who'd whizzed by me on the bike. That didn't take long. The course was totally flat and four legs of 1.25km which meant there were plenty of people to pass and the legs were short and manageable. I even put on a sprint for the last 400m and overtook a few more people which felt great.
Overall result: I didn't come last or embarass myself – except for missing the start! My total time was around 1.5 hours which I was thrilled about. I had a good race. It was doable and even fun but I can see the next step up doubling the distances for the Olympic triathlon distance will be a big stretch.
I'm up for it though. I've got the bug, I like the training (even the swimming in a horrible way) and I've met lots of new fit friends of all ages.
Sadly I don't have an entry for the Noosa Triathlon this year. I'm on the wait list for the big event in November but if I don't get in I'll have to wait until next year which was my original plan anyway. But now I've started I want to finish it.
Hopefully a place will open up for me and I'll get to test my training, my courage and my endurance in the full distance event and on a real course with thousands of athletes. Bring it on!
Thank You
Many thanks to everyone who has supported me in this exercise, especially:
Coach Jess at Multisports Consultants who's been training me on for eight weeks in the women's triathlon training for beginners program;
Noosa Council for providing triathlon training free of charge;
Coach Georgann who's been patiently taking me out on ever-lengthening bike rides and answering endless questions about everything from what to eat before and during training to what undies to wear under bike shorts! In case you're wondering none!
Coach Sue who's been running with me for years and always believes in me, even when I'm at my laziest.
Coach Corallea with her boundless energy, encouragment and amazing Wednesday running group.
All my friends at parkrun who've inspired me to keep running and keep trying to get stronger and faster.
My mum for making me spinach and mushroom quiche to refuel after the event.
My family – husband Rich and our three gorgeous Candy kids.
My readers and followers on social media – as with many other journey's I've taken since I started blogging you've made me determined to stick with it and keep going, especially during the hardest times.
I hope you can all lead an active life, enjoy many adventures and to constantly push yourself to achieve new goals. We are so fortunate to have strong, healthy bodies. Let's use them.
Other posts in the Triathlon Training at 50 Series
Triathlon training Week 5
Stay Tuned!
Get free email updates to follow the Project Triathlon at 50 story. I'll share what we do for the whole eight week training program. Thank you in advance for your support.
Share This Story, Choose Your Platform!