52 Exercises: #11 Stand Up Paddle-Boarding (and a Confession About Depression)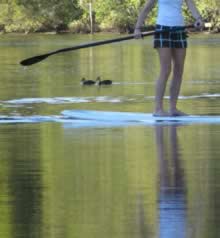 Still aching from Cage Fitness but feeling low I decide to press on with my 52 Exercises quest.
When I started this quest I said it was to challenge myself and have more fun. I said I wanted to stop feeling boring and bored. I talked about how I wanted to fight ageing by challenging myself.
That's all true but it's not the whole truth.
The truth is I've been using exercise to prevent depression since I was first diagnosed with it ten years ago. Regular exercise usually works a treat but something's gone wrong recently and I can feel depression on my heels. It seems to be closing in on me slowly so I'm doing more exercise than ever before to try to beat depression without going back on anti-depressants.
So I lied by omission about why I started the 52 Exercises quest because, although I've written about my depression before, it's not the kind of upbeat topic I like to talk about and I want to protect all of us from painful emotions.
But the truth is exercise is a panacea, a balm, the one thing that's helped me cope with depression in the past and right now I'm holding on to it for dear life.
Today I want to go Outrigger Canoeing but it starts at 5.15am. Even though I get up at 4.45am and leave the house in the dark to pick up my friend Jane, I underestimate how long it will take us to get there and when we arrive the canoes have already left. It's raining as we watch walk onto the jetty and watch the Outrigger women paddle off down the river.
I was hoping to cross the bar of the Noosa River with them and paddle out into the open sea. I'm craving the excitement of a new adventure, the element of danger and unpredictability but it's not going to happen today.
Still all is not lost. Jane has two stand up paddle boards so we take those down to the canals.  The water is dark brown after weeks of rain and smells stagnant. The clear blue water tourists flock to Noosa for has gone but we are here.
We paddle along slowly and I start to relax. Jane gives me tips, telling me to keep my top arm straight, dig the paddle in close to the nose of the board and pull it out when it gets level with my body. I'm so busy trying to improve my stroke I don't hear a speed boat coming by and almost fall off when the wake hits me.
We fall into a gentle rhythm and start to chat, feeling freer out here on the  open water I tell Jane that last month I looked into becoming a paramedic. I love web design and copywriting but I also want an exciting job. I want to help people who urgently need it. Paramedics get to drive the ambulance, zooming through the traffic with lights flashing to save lives at road traffic accidents. They fix people up then dump them at the hospital leaving someone else to do the hard work.
I want to be a hero. I want to help people and save lives but not deal with them for six months recuperation. I want to give them blood and recalibrate their hearts but not find out why they were drink-driving or eating their way to a heart attack in the first place.
I suppose I'm looking for escape, for a quick fix to my depression because I don't want to do the long hard work I had to do last time to fully recover and stay happy.
We paddle along slowly, talking and watching nature. A fish skims the surface and a cormorant swims by.
Beauty is all around us but Jane's got problems too. She's not sure if she and her husband are separating or not but she's ready for whatever happens. Either they've hit rock bottom and can mend their relationship or this is the end of the line and she can move on to the next great thing.
It makes me remember being asked to contribute my ideas to an article in the local newspaper about why Noosa has an even higher divorce rate than the rest of Australia. Another woman proposed it was because the cost of living and housing is high which causes financial stress and marital breakdown. I disagreed, secretly thinking a high cost of living would give people more of a reason for staying married.
My theory was that Noosa is largely a community of expats like Waiheke Island and Costa Rica where I lived before, all seemingly idyllic places that people move to when their marriage is in trouble. People think they can fix their relationship by moving somewhere new but a bad relationship is just as painful even when you live in a tropical paradise.
So often we think we can fix things by moving somewhere new but life still has pain even when you live in a beautiful place.
We paddle for an hour then sit on the bank and talk some more.
Jane talks about how all our problems are a sign that there is something deeply wrong in our society. I don't want to think about that because sometimes it feels like the whole world is in pain. Some are hungry, some struggling with personal issues, others battling ill-health.
Sometimes it feels like everyone is fighting depression, trying to meditate and learning how to be happy. I don't understand why we need help with something that should come naturally.
I know I'm too sensitive and shouldn't think about all that stuff right now. When I went to see a therapist for depression years ago she said my sensitivity switch was on high and that things that normally wouldn't affect me were making me emotional because I was over-sensitive.
I feel sad but I can't let myself cry for the same reason I don't drink right now. If I do I might never be able to stop.
My arms ache even more after the stand up paddle-boarding but the pains in my body are a welcome distraction from the pain in my heart.
It's not raining now but the water is still murky brown. It will take a while to settle but I know one day it will be clear and blue again.
How do you get through dark days? 
Stand Up Paddle-Boarding Exercise Review
Cost: $0 – I borrowed a board and have my own at home but you can hire a stand up paddle board for about $20 an hour. The photo here was taken four years ago when we first bought our board for around $800.
Time Exercising: 60 minutes.
Average Heart Rate: 91 bpm (beats per minute).
Peak Heart Rate: 121 bpm.
Calories Burned: 146 calories.
Fun Factor: 5/10
Fear Factor: 6/10
Post-exercise Glow: 4/10.
Check out more of the 52 Exercise quest here .
Thank You for Reading
If you're enjoying Get In the Hot Spot and 52 Exercises please take a moment to share this post on Facebook, Twitter, by email or any way you please. You can use the handy buttons below. I really appreciate that. Thank you.
Get the weekly newsletter – If you'd like email updates from Get In the Hot Spot click here to subscribe now. You won't get an email every time I update the blog but I'll email you weekly with the best stories.
Let's stay in touch – I'd love if you circle me on Google+. Thank you.
Share This Story, Choose Your Platform!