You're Never Too Old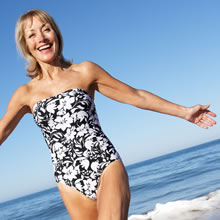 "You are never too old to set another goal or to dream a new dream."
C. S. Lewis
Do you ever wonder if you're too old to wear that dress, hat or bikini? You're not! You're never too old to do anything. If you're willing to try that is.
Aye, there's the rub. You have to be willing to try, and risk looking like a fool. You have to be prepared to give something a go try and not care about what anyone else thinks. You have to risk trying something out and, probably getting it wrong at first, but at least having a crack.
If you're not convinced that age isn't an issue then check out Later Bloomer. It's an inspirational blog by my bloggy friend Debra Eve and it's dedicated to sharing stories about people who've achieved amazing things in their later years. Much later in some cases.
You might not be that old yet but if you're in the middle years like me (I'll be turning 48 this year!), this is the time to try new things because if you don't do it now you may never. Now that's what really scares me.
Every time you stick to your routine, choose the safe path and avoid taking a risk you make it harder to do in the future.
Risk taking is like anything. You have to practice doing it regularly to get comfy with it. Although in truth risk-taking never feels comfy. That's the thing about risk. It brings up hard feelings and emotions.
You will feel butterflies in your stomach, possibly a herd of rampaging elephants. Your heart may clench into a tight fist at the mere thought of what you want to do. Your instincts may tell you to run far, far away.
But if you can learn to live with those feelings and accept them as a normal reaction to risk then you can reach for your dreams despite those tricky feelings.
Moving towards your goals and dreams despite the discomfort gets easier with practic. So the more risks you take the less the butterflies will bother you.
Trust me. If you want to set and reach a goal like losing weight, taking up running, hosting a party in a penthouse or getting a job that will pay for your travels you CAN do it. No matter what your age.
If you want to achieve a travel dream like moving to Central America, visiting Paris, taking an African safari or taking a helicopter to the Pyrenees you CAN make it happen. In my experience travel gets better as you get older so there's even more to enjoy. Bonus!
Maybe you need to set a quest, set a health goal or make travel plans to get started.
Now is the time to overcome anxiety, challenge yourself and get comfy with discomfort before it's too late.
This year I plan to fulfill my quest to run 5km in 25 minutes, complete my Graduate Diploma in Teaching and Learning, start another course to take me closer to my longterm dream of aid work and, of course fit in at least one epic travel adventure.
Needless to say I'll also  be striving to grow our web design business, hang out with the Candy kids and stay sane by practicing mindfulness every day.
How about you?
Now you know that you're never too old to achieve your dreams and goals what are you going to do?
Leave a comment sharing your dream or goal below as the first step in making a commitment to it. I dare you. 
——————————————————————-
Are you a travel lover and adventure seeker?
Get free email updates from Get In the Hot Spot – it's a weekly injection of tips to help you be more adventurous and have more fun. Sounds good? Click here now to get a weekly email update.
——————————————————————-
Share This Story, Choose Your Platform!