The Happiness of Pursuit & Why You Need a Quest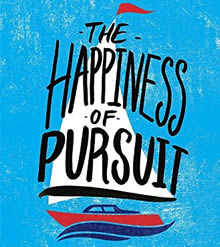 Have You Got a Quest? Last year I completed the 52 Exercises Quest, doing a different exercise every week and blogging about it for one year.
I felt pretty good when I succeeded but that's nothing compared to Chris Guillebeau who completed a quest to visit all 193 countries in the world. Imagine that!
I enjoyed my quest and grew through it, as did Guillebeau. He believes that quests and adventures bring meaning to our lives and so do I. Now Guillebeau has written a book all about it called The Happiness of Pursuit which I loved.
The book weaves Guillebeau's travel quest with stories of many other people who have taken on quests. Just like Chris visiting every country in the world, others have achieved the unimaginable by setting themselves a quest such as sailing the world alone, reading the Encyclopedia Britannica in one year, walking across an entire country, completing the MIT computer science curricula in one year or giving $10 every day to a different non-profit three-year.
I keep telling my computer addicted teen son about Steve Kamb who turned his love of quest-based video games into a personal life quest, setting himself goals like a James Bond weekend where he rented a tuxedo and checked into a luxury casino resort in Montecarlo. For every dare he set and completed he awarded himself points and promoted himself to higher levels in his real life quest game.
You need to read the book yourself for the adventure stories and free spirits it will introduce you to. But it's only right for you if you're the kind of person who needs a quest. I think I am!
Would having a quest make you happier or more fulflilled? Here's a checklist to find out. This is an excerpt from the book and the more you're inclined to answer "yes", the more you are likely to enjoy a quest of your own.
Do you like making and checking things off?
Have you always enjoyed setting goals?
Do you feel motivated by making progress towards goal?
Do you enjoy planning?*
Do you have a hoppy passion that not everyone understands?
Do you ever find yourself daydreaming or imagining a different kind of life?
Do you spend a lot of time thinking about your hobby of passion?
* Research shows that we enjoy planning a vacation as much as taking a vacation. Anticipation is a powerful source.
Well, it's obvious I need a quest! I'd give a hearty yes to all of those questions and am currently looking for a new quest of my own.
How about you? Do you need to quest? Or have you already got one?
Disclaimer: I count Chris Guillebeau as one of my blogging friends although we have only met once at a blogging conference in 2012. It was a thrill – for me anyway!
I'm a big fan of Chris's blog, writing, business courses and travel hacking program so my views may be a bit biased. He sent me a review copy of the book but I only wrote about it here because I genuinely enjoyed it and recommend it.
You can find out  more about The Happiness of Pursuit book on Amazon. I hope you enjoy it  as much as I did.
Share This Story, Choose Your Platform!