Catalunya Experience: Secret Travel Diary Day 3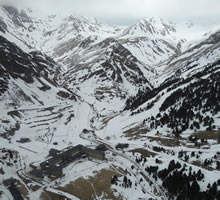 Jet lag has me in its grips. Sleep comes fast but doesn't last. I wake in the night, my brain spinning with the excitement of the day and still wondering what the Catalunya Experience team have in store for me next.
I write my diary then try to sleep again with no luck. At 6am I decide to get up to see the sunrise but sunrise in Montseratt in February isn't until 6.50am.
———————-
Have you seen  my Catalunya Experience episode yet? It showed on TV3 in Catalonia on October 28th. You can watch it here now.
———————-
I doze some more and wake up just in time to catch the sunrise then gloatingly post my photo on Instagram.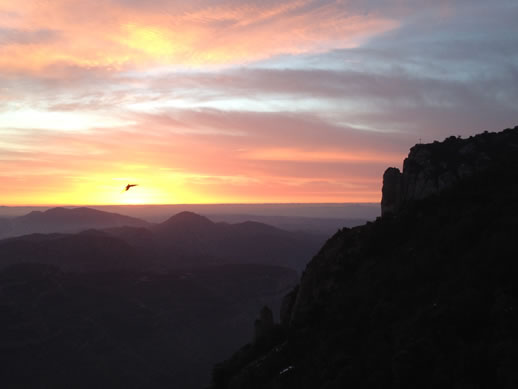 See my amazing Catalunya Experience and Catalunya Experience Day 1 and Day 2 if you haven't already.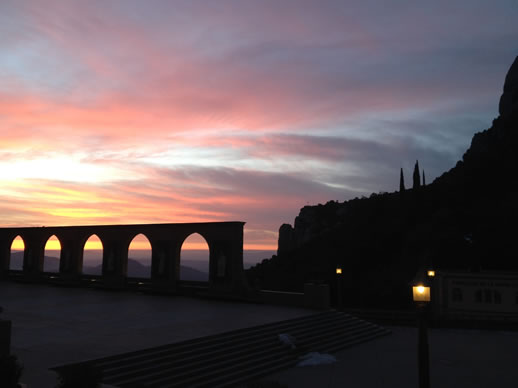 Ivana won't tell me what the plans are today but she gives me some clothes to wear and a special pair of hiking boots.
Dressed up in my new clothes I feel like an imposter but I'm warm and snug. I already know from experience that no matter what we do, it won't happen fast and there will be a lot of waiting around.
But breakfast with the film crew is fast and furious then we rush to catch the rack train.
I pretend not to notice the outdoor types who board it with us carrying lengths of thick rope and helmets.
As the train sets off the monastery shrinks below us and I notice how it's tightly nestled into the cliff. It's a sunny day and the view is spectacular.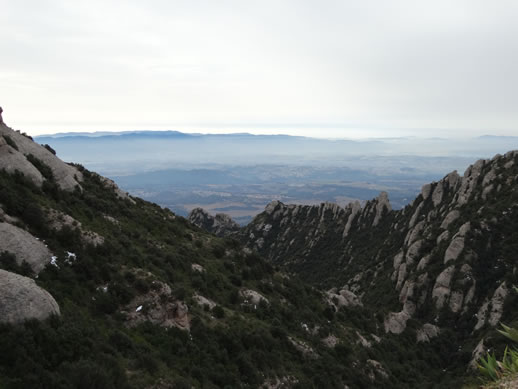 At the top Ivana and I have to wait in the station while everyone else gets out. There's a little robin outside on a wall. Then a cat jumps up and the robin flies away. Soon two rack train workers come to pet the cat.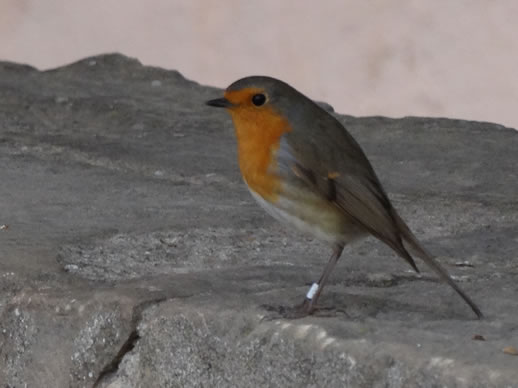 Finally we're allowed out of the station.
We take a short walk up the mountain while we wait for the team to get set up. Another cat appears, a tabby, he is friendly and we stroke him.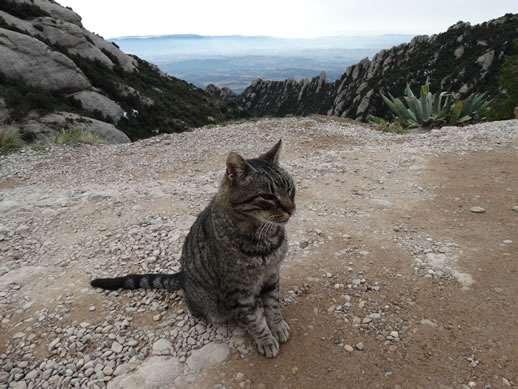 Then we start on the path to the highest peak of Monserrat, Saint Jeroni. We are joined by a mountain guide who talks to us about the plants and the mountain. It start-stop-start-stop with the camera filming.
We have to maintain the same positions, the same clothes, take the same shots from different angles.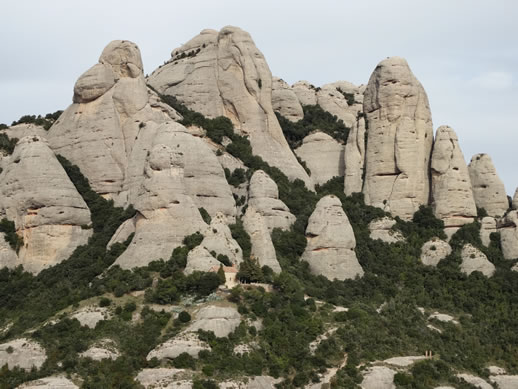 In all we do two 20 minute walks but it takes three hours. Not that it matters because we're well on the mountain, I'm dressed very warmly and it's a beautiful day. We spot small churches and hermitages on the mountain side.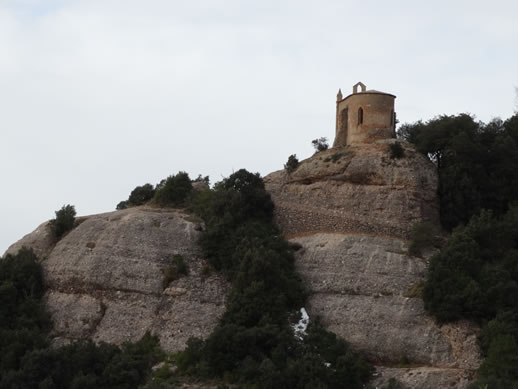 We round a corner and there, surprise surprise, is the climbing team. The ropes are set up against a huge cliffs on the left of the path. They say it's an easy climb, with a rating of four where nine is the hardest possible climb but it looks pretty hard to me.
We get into harnesses, cat shoes and clip on to the rope with locking carabiners so we can't fall. A wily Catalan outdoor guide will hold my rope and keep me safe on the mountain.
Meanwhile one of the cameraman climbs halfway up the mountain to film us. I'm impressed.
It's a long hard climb. I can't resist looking back down to see the view. Clinging onto the rockface over 1,000m up I'm feeling nervous. The strength needed to hold on is phenomenal.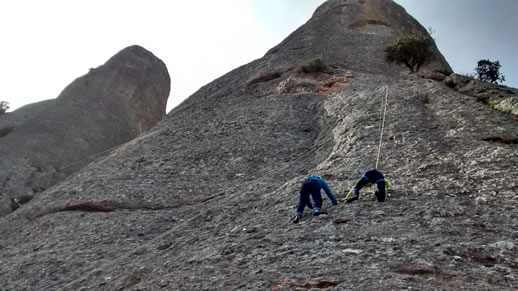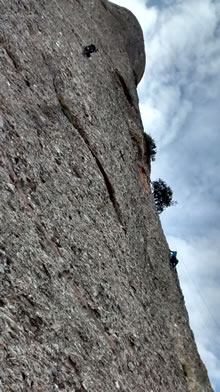 Where only about three meters away from the top when I get stuck. Spreadeagled against the rock I can't move up or down. Slowly, slowly I follow the instructions to lean backwards and start walking back down the cliff. Finally I'm safely back on terra firma.
We did it! Belated Ivana and I hug and high-five each other and our guides. But we're running late, it's time to rush back down the mountain.
We walked 10 minutes back to the rack train and zoom slowly back down. We're running late so there's no time for a big lunch.
We grab a sandwich then get in the car and start driving back down the mountain. I love this place I could happily spend a week walking on Montserrat but we're on a tight schedule. It's time to say goodbye to Monseratt.  Or so I think.
Just 10 minutes down the road we pull off and there, in front of us, is a helicopter.
I'm thrilled. I've never been in a helicopter before, it was one of the things I mentioned to the Catalunya Experience team before coming to Catalonia. But now I'll get to travel by helicopter and fly around amazing Monseratt.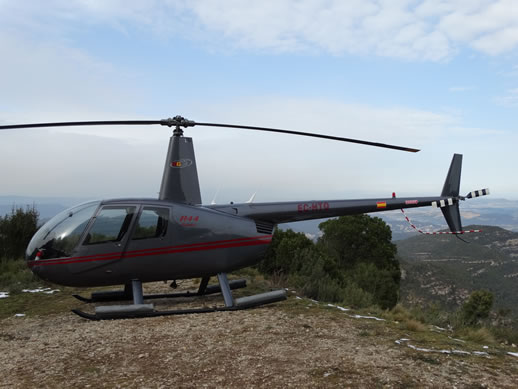 Xavi, the director comes with us brandishing a big camera. There's also a GoPro camera setup inside the helicopter to capture mine and Ivana's every moment. We put on headsets, check the sound, and take off.
It's a perfect day for travel by helicopter and such a smooth trip. Up, up, up we go, high above the peaks looking down on little crosses, hermitages and all the 900 needles of Montserrat. It's stunning.
Then we soar between two peaked sets of needles, and I feel as if we're in a video game. I want to do it again but the helicopter is moving away, leaving the mountain behind us.
I guess the helicopter ride is over but we keep going. Although we are travelling fast, Catalonia moves slowly, seamlessly beneath us, its hills, farmhouses, fields and woods laid out like a carpet.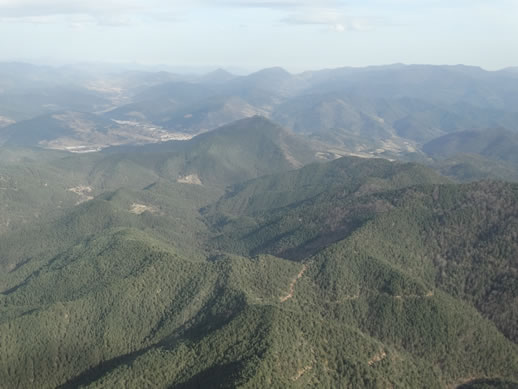 Ivana asks if I know where we going but I don't.
"Well," she says, "look at the Compass."
We're heading north.
"I don't know," I say. "Maybe to the Pyrenees?"
That's where I'd like to be going but of course my Catalunya Experience itinerary is top secret. They want to surprise me and I don't want to get too excited.
But then I noticed that directly ahead of us are snowcapped mountains and we're heading directly for them.
"Are we going to the Pyrenees?" I ask.
"Yes," says Ivana, "it looks like it."
Then I start to cry. I've always wanted to visit the Pyrenees. I have always wanted to fly in a helicopter. And now both those dreams are coming true. I'm overwhelmed by joy and the kindness of the Catalunya Experience TV team who've organised this for me.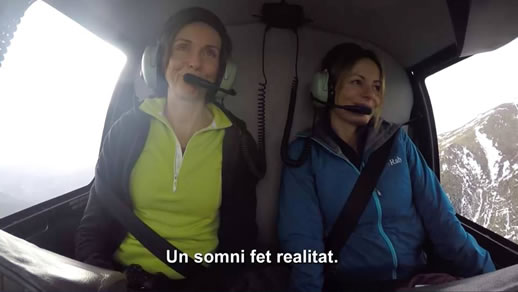 No one's ever planned such an amazing surprise for me in my life and I don't feel as if I deserve it. I'm happy, humbled and very grateful.
I wipe my tears away quickly, embarrassed by the rush of emotions all caught on the GoPro.
Below us a valley opens up with a big grey building and a frozen lake. It's the sanctuary of Vall de Nuria, a latter-day religious centre and a modern ski resort combined.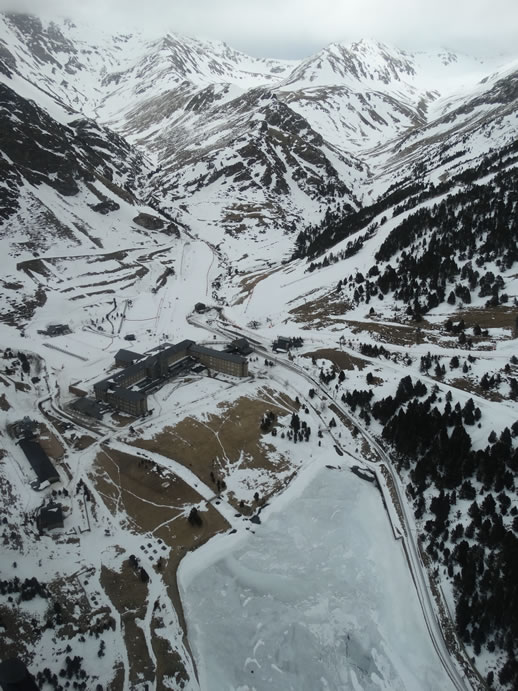 The drones are there to meet us along with some of the cameraman and now filming begins again in earnest. The logistics of organising this trip and filming everything are huge. It really is a big production.
It's cold in the Pyrenees and Ivana and I are freezing but there are scenes that need to be captured.
We walk around outside while the drone film us, and we go into the small chapel for more filming with mountain guide Joan who explains all about the Greek hermit Saint Gils who settled here.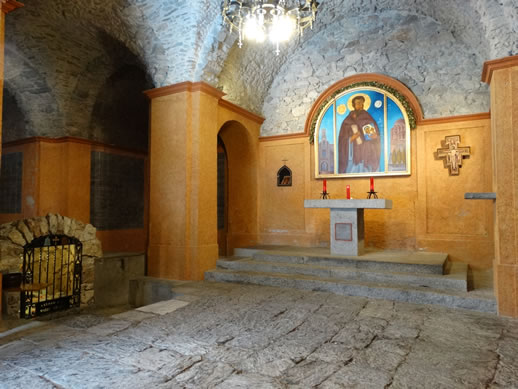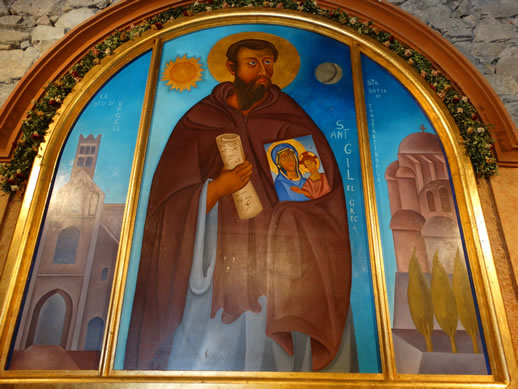 Joan tells us that funds were raised to build the belltower by asking for donations from all girls called Nuria in 1951 and donations came in from all over the world.
Next we visit el Santuari de Núria  a beautiful space which has recently been upgraded to a minor Basilica. Here Joan explains how people come here to stick their head in a cauldron to cure fertility. It's interesting stuff but we're getting tired and cold. We take the same shots again and again, until finally at 9pm filming is finished and we can eat.
I'm almost too tired for food but I grab a bite before retreating to bed. This has been one of the most exciting days of my life and also one of the longest.
I can hardly sleep because my head is buzzing with sweet memories of the helicopter ride, the beauty of being in the Pyrenees and curiosity about what awaits me tomorrow.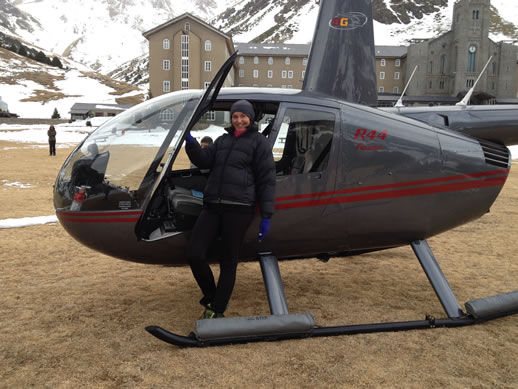 Don't miss more secret travel diary posts about my Catalunya Experience!
Get the free email newsletter – a weekly injection of tips for midlife adventure to help you travel well, feel fabulous and live your dream. Get updates by email now.
———————-
Have you seen  my Catalunya Experience episode yet? It showed on TV3 in Catalonia on October 28th. You can watch it here now.
———————-
Share This Story, Choose Your Platform!