No Plan Travel Plans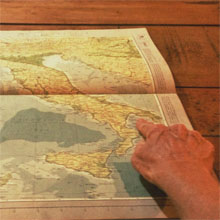 I love travel planning. When I'm organinsing a trip I spend hours on the Internet planning the best route, the best places to stay for the best price, and the bestthings to do that are off the beaten track.
Even when I don't have any travel plans I often spend hours planning imaginary trips or dreaming about where I'll go next.
But I'm trying to live more in the moment and having no travel plans can be good too. It allows you to be spontaneous and take opportunities which come your way like great air fare deals, surprise invitations or sudden urges to hit the road.
I started the year with vague ideas about where I'd like to travel to but no fixed plans although I was secretly hoping a trip to Europe would come up.
I went to visit my family in England in 2011 but what I miss most about living in Europe is France and speaking French. Then since our travels in Central America and living in Costa Rica I have a strong yearning to visit Spain and speak spanish. And I'd love to go to Italy because, although I went there when I was about five (my few memories are a bit hazy), I'm curious to rediscover it now.
I'd settle for anywhere in Europe but Italy was calling my name. Some of my dearest friends love Italy, I love the Mediterranean and the lifestyle, food and pace sounds idyllic. I want to know what Italy is really like.
A certain area of Italy has been on my radar for a few years. Called Puglia it's the 'heel of the boot' on the map of Italy and I'd repeatedly heard and read that it's as beautiful as Umbria or Tuscany but far less touristy. In my mind if I ever visited Italy that's where I'd go.
Then I was surprised to see that Grace Kelly, a reader and blog consultaton client is living in Puglia now so I left her a comment saying Puglia was on my bucket list.
When she replied saying "Great to hear you'll be coming here Annabel!" I felt bad. It was a bit premature. I had no plans to go to Puglia, just a vague dream.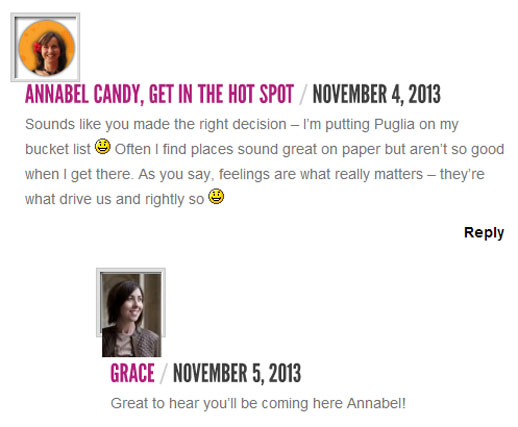 That was in November last year. But then a very strange thing happened. I got an invite to visit Italy on a press trip in Puglia which seemed like it couldn't be a coincidence. I was convinced that surely someone had heard or intuited my wish to go there but apparently it's a coincidence. Although I was dreaming of going to Puglia, the Puglia Promzione didn't know that but they decided to invite me anyway.
So I will soon be winging my way to Puglia from Australia for a 12 day trip with eight sleeps in Italy and a lot of sleeps (or sleeplessness) on various planes. I know it's a crazy trip but it had to be done.
As well as the short press trip tour I'll also be hiring a car and meeting my brother who's flying in from England to hang out with me in a small town called Locorotondo which, by another strange coincidence, is the very place Grace lives so of course we're hoping to meet up.
Suffice to say I can't wait to experience the Italian and Pugliese culture, food and scenery. I'll only get a tiny taste of theier lifestyle in the short time I'm there but I'll be relishing it and can't wait to share photos and stories with you.
To whet your appetite for Italy too here's a photo of the Truli IsAgo where I'll be staying in Locorotondo taken from the Discovery Puglia website who are hosting me there.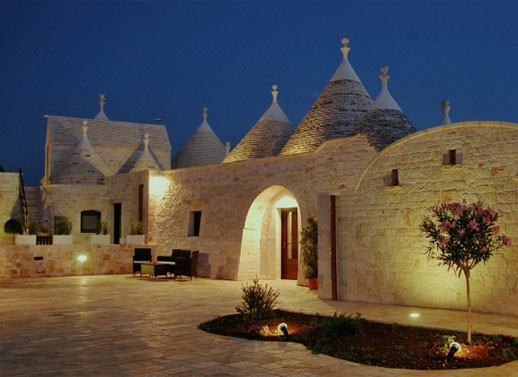 Then no sooner had I said yes to Italy than I got a second invitation which I couldn't turn down. A trip on the ultra posh cruise ship Queen Mary 2. Weighing in at 151,400 tonnes and 345m long, it's largest ship ever to visit Australia and sounds completely OTT. There are ballrooms, chandaliers and dancing men. You have to wear formal wear if you want to go to the ball.
It's certainly not my usual travel style and I've never even been on a cruise before so it's going to be an amazing experience.
Rich gets to go too and we'll only be on board for two nights but I'm already wishing I could do the whole trip and circumnavigate Australia on the Queen Mary 2 in 24 days. That would be incredible but I think my dear friends would get a bit annoyed if I asked them to have the three Candy kids to stay for that long.
Here's an image from the Cunard website showing the Queen Mary 2 in Sydney Harbour where we'll be boarding and setting sail from. I wish the kids were going too as they've love to visit Sydney but that will have to wait for another time. This will be a much needed childfree trip.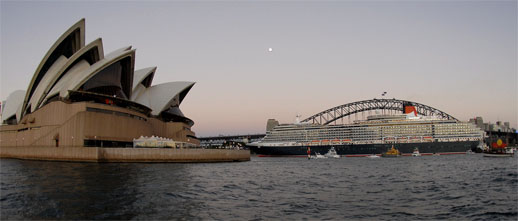 According to my secret sources, on board highlights of the Queen Mary 2 include the impressive 1347-seat three-level Britannia Restaurant, a 1000-seat Royal Theatre,  a spectacular six-storey Grand Lobby, a Veuve Clicquot champagne bar, onboard shopping at Hermes, Chanel and Harrods and the world's only planetarium afloat.
I can't wait to experience a bit of glitz and glamour – it's going to be quite a change from our family camping experience on a farm in rural New South Wales over the new year!
So, as uncomfortable as I was entering the new year with no travel plans, it's all panning out very nicely so far. Sometimes you don't have to make any travel plans because the world has plans for you.
Are you a spontaneous traveler or a planner? 
Share This Story, Choose Your Platform!