28 Hours in Paris: Part 1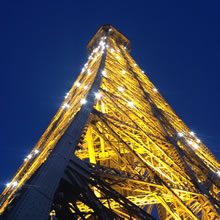 What can you see and do in 28 hours in Paris? Heaps if you have the stamina! But when I visited with Max (14) and Kiara (10) in July the only thing they wanted to do was climb the Eiffel Tower.
City landmarks don't get much more iconic than the Eiffel Tower and for the Candy kids the Eiffel Tower was Paris. But, having lived in Paris for 18 months many moons ago, there were heaps of other beautiful buildings and sights I wanted to share with them.
Visiting the Eiffel Tower was a priority though and it sounded easy until I discovered that the queues to go up the Eiffel Tower in July are two hours long and online bookings were fully booked three months ahead of time. Eeeek. It looked like the Candy kids might be in for a disappointment.
First we caught the metro from Gare du Nord to Châtelet-Les Halles to the Centre Pompidou. It's another iconic Parisian building from a more modern era. We went inside briefly and they wanted to explore more. There are art displays and kids entertainment areas inside.
I'd have loved to take the kids to the roof on the outside escalators you can see in the photo but we didn't have time for any of that. I was in tour guide mode and we a busy itinerary which I planned to stick to!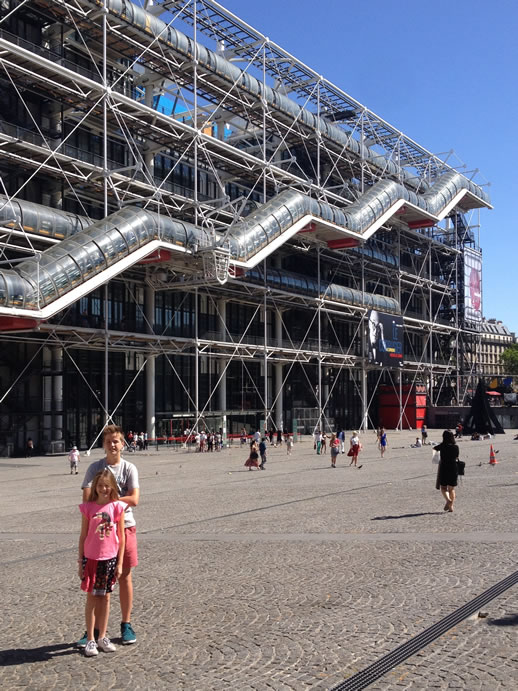 We left the Les Halles area and walked into Le Marais where I used to live. I might be a bit biased but many (including the Jewish and the gay communities who live there) will join me in saying that Le Marais is the best area in Paris.
We found a few secret places there. I couldn't tell you what they were called, we just happened to pass them by.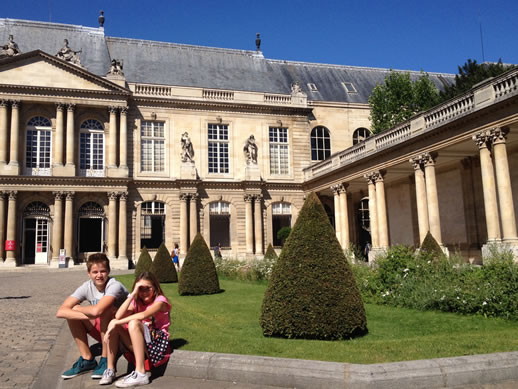 Le Marais is full of interesting, arty, quirky shops as well as bars and restaurants. We didn't have time to stop anywhere but we had to get a photo taken with this arty egg.
And here I am outside my old apartment at 14 Rue Elzévir. I was so lucky to live there with Rich from 1993-1994. But not so lucky there was a dustbin outside ruining my photo opportunity!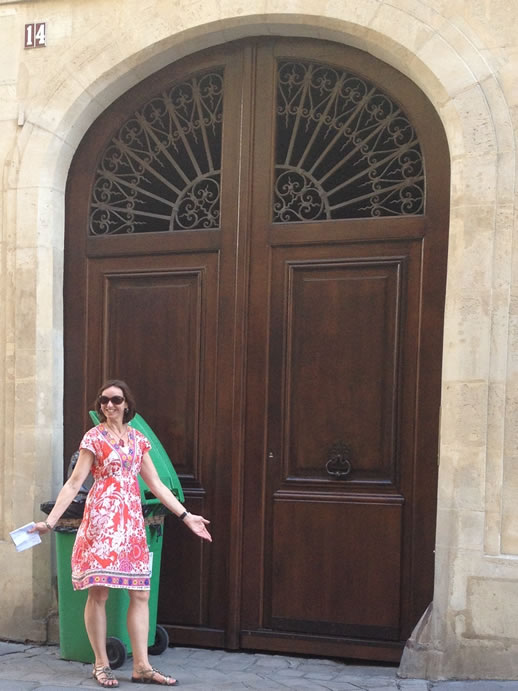 There was more walking to do before I allowed the kids to have a quick sit down and enjoy the symmetrical beauty of the Place des Vosges.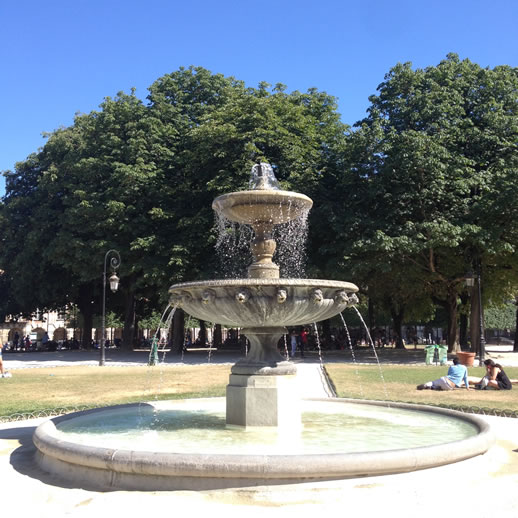 We walked through the covered arcades as we left and browsed the fine art galleries and got to La Place de la Bastille at rush hour. Or maybe the traffic is always that crazy. It's a five lane round about with no marked lanes so there are all kinds of hair-raising manoeuvres taking place.
I let Rich do most of the driving when we lived in Paris and preferred to bike or walk around which still seems like the safest option.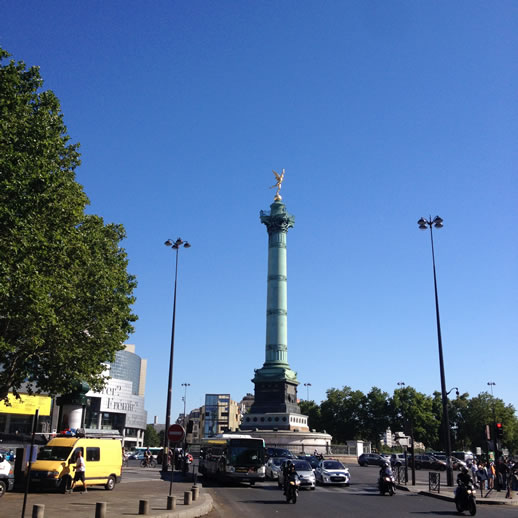 As well as being the historical setting for the French revolution the Bastille is well known for its nightlife which is centered around the Rue de la Roquette and the Rue Oberkampf.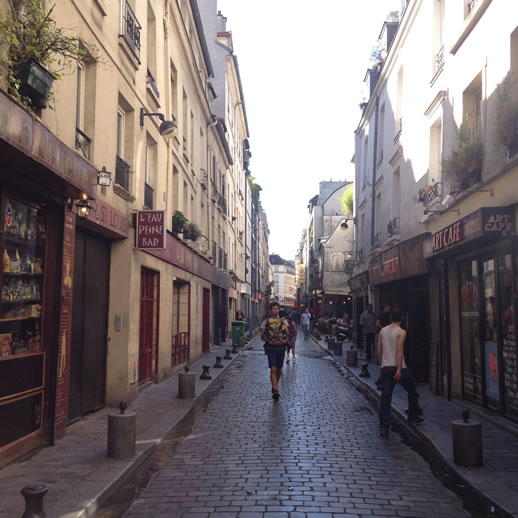 But we weren't going clubbing. We'd come to La Bastille to eat at the Bistrot du Peintre, a typically Parisian bistro with a reasonably priced menu which I'd found online. It looked the part.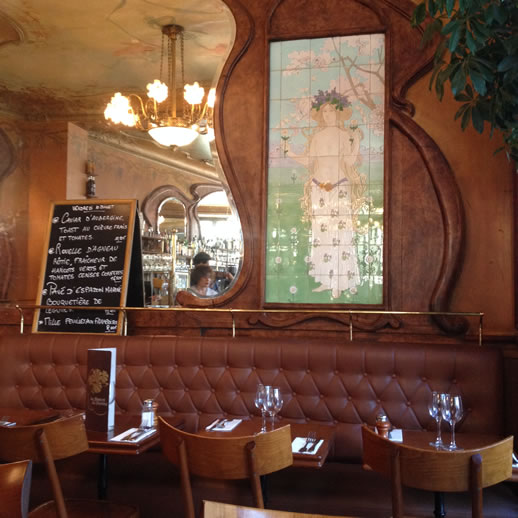 And we enjoyed some local delights including Orangina, razor clams and an artichoke salad.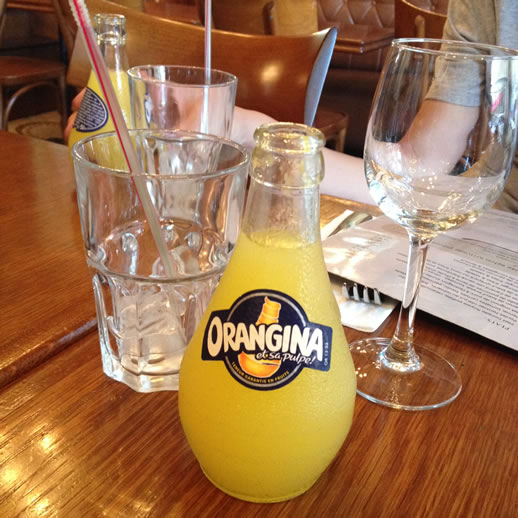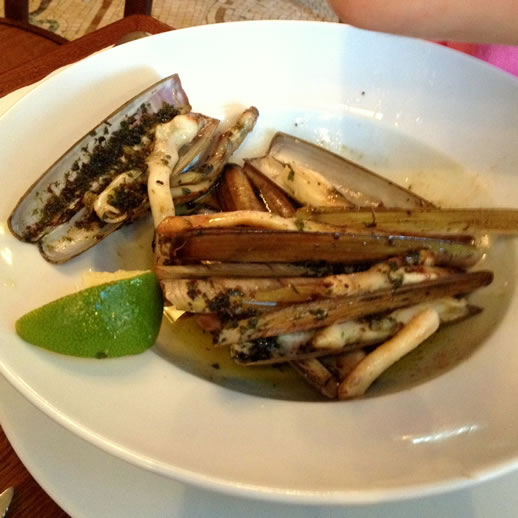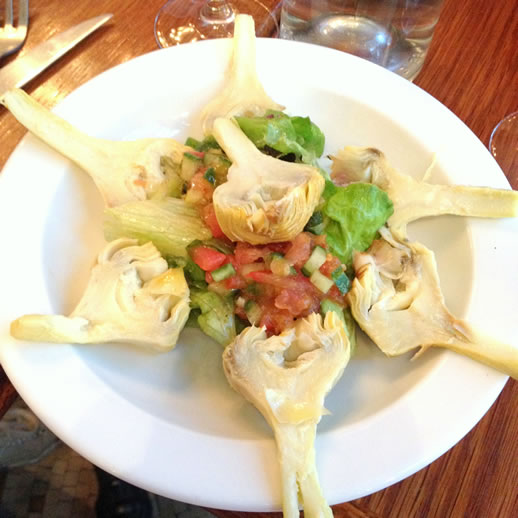 We ate a lot more than that and it was good value although Kiara insisted on having plain pasta for her main course. I was a bit miffed about paying $18 for a bowl of plain pasta but apart from that it was pretty good value.
Next we took another metro from Breguet Sabin under the river to Gare d'Austerlitz. From there we planned to take a boat trip on the River Seine. The Batobus was supposed to leave from Les Jardin des Plantes but they'd changed the dock. So we did some extra walking and found it eventually.
If we hadn't had such a tight schedule we could have stayed at Les Jardin des Plantes where a crowd had gathered to dance by the Seine on a Friday night.
The river banks near Gare d'Austerlitz were a tent city of refugees. I was shocked and saddened to see such destitution right in the center of Paris.
But we were on the tourist trail and didn't linger. Our boat trip under the bridges of the Seine was delightful and finally we spotted what the kids most wanted to see.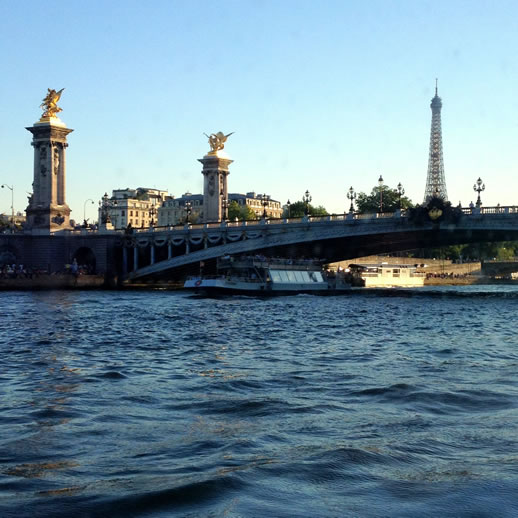 We beheld the Eiffel Tower from all angles.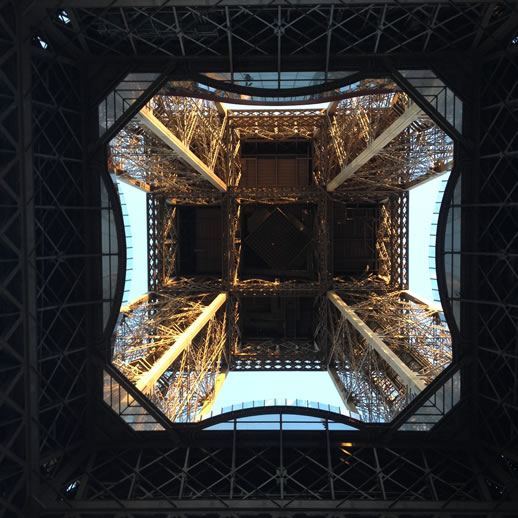 By this time it was 9pm and the queue was only 20 minutes long. So we walked up the stairs, up and up and up to the second level. The top level was closed but the second level was good enough and I loved the late night visit.
We saw Paris by day, enjoyed the sunset from atop the Eiffel Tower and saw it sparkle by night.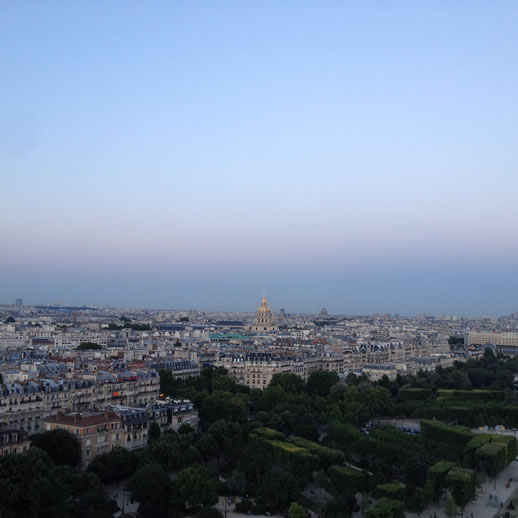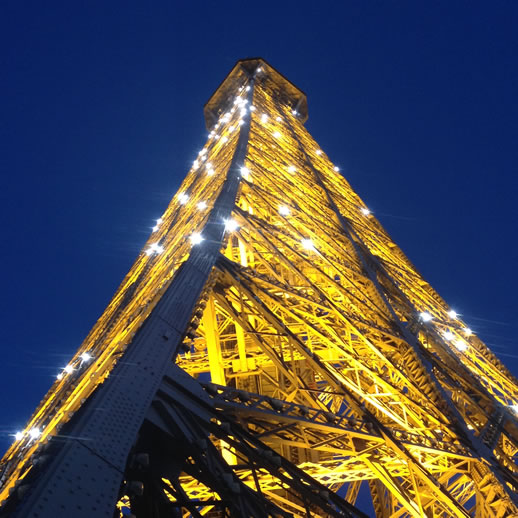 I couldn't get the kids to leave they were loving it so. But as we did leave at about 11pm a huge convoy of one thousand Rollerbladers whizzed by us. The road was closed and they were escorted by a police car. That must be another regular Friday night event in Paris which I'm glad we saw.
By now it was well after my bedtime so we caught the metro back to the lovely Mercure Paris Gare du Nord and flopped into bed. That night we enjoyed a deep and well deserved sleep.
Look how many floors we climbed up the Eiffel Tower. And notice how far we walked! That's 10 miles; but it sounds further when you say 16.7km.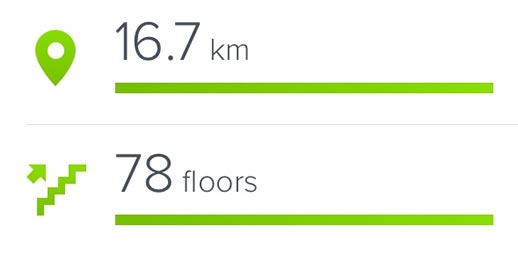 Bravo Max and Kiara. Bravo Paris!
Read Dream on and enjoy more pics in Paris Part 2…
Travel Tips
We took the Eurostar from London to Paris and stayed at the Mercure Paris Gare du Nord was right opposite the train station.
Stay Tuned!
Now you know what we did on day one in Paris maybe you'd like to stay tuned to find out what we got up to on our last day!
Get In the Hot Spot's free newsletter is a weekly injection of tips to help you be more adventurous, have more fun and feel fabulous. Click here now to get free weekly email updates – and find out more about our adventures in Paris and elsewhere.
Share This Story, Choose Your Platform!