5 Reasons Travel Gets Better as You Get Older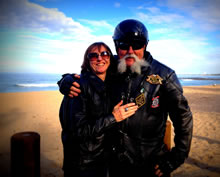 So many travel blogs are by young people for young people. But I want to inspire older people to start travelling or keep traveling and having new adventures here on Get In the Hot Spot and, after reading many travel blogs by young backpackers, I've realized that a lot of their travel experiences don't sound much fun anyway.
When I was young I did some fairly crazy things in order to pursue my love of travel. It's perfectly normal and nothing to be ashamed of.
So many of us older (or advanced travellers as I prefer to call us) may still be stuck in the groove of thinking that travel and adventure are better when you're young but that's not the case at all.
One think I've learnt after 28 years of nomadic living is that, like a fine wine, travel gets better as you get older. Here's why:
1. A more relaxed attitude creates a more relaxed experience
When I was younger I felt that if I didn't travel and see the world right now I'd never be able to. I really thought that life was over once you had kids and settled down into family life.
Thankfully that's not the case. Now I'm 46 years old with a husband, a business, two teenaged sons and a tweenie but travel's still a huge part of my life and always will be and I've got a more relaxed attitude towards travel now.
When I was younger I took on all manner of jobs to pay for travel and put up with all kinds of bad experiences because I was hellbent on seeing, doing and experiencing as much as I could with the least possible money.
I endured many hellish bus trips. The bus trip from Tel Aviv in Israel to the Sinai Penninsular in Dahab was particularly bad. Let's not talk about how distressing it is for fertile young women to be deprived of a toilet for way way longer than modern personal hygiene products are designed to cope for.
Another character building experience was a bus trip in Southern Turkey with such terrible roads, hair pin bends and reckless driving that I sat there weeping and alone, totally convinced I was about to die. Those are just two examples from many many uncomfy,dangerous and just plain miserable bus trips.
Other times I couldn't even afford the bus fare and had to hitchhike instead. That makes for another funny travel story but not an experience I'd wish on any young girl. Spoiler alert! There are perverts around and they prey on young women but not so much older chicks.
Then there are the bedbug, cockroach and rat-infested places you end up staying when you're young. There's a funny travel story about that but it's only funny in retrospect. Not having anywhere to stay at all makes for a funny travel story too but not a relaxing travel experience.
But I digress. The point of this point is that I' m more relaxed now and I enjoy my travels more. I know I can't see and do everything and I enjoy the travel experiences that do come my way more.
Maturity and wisdom make you smarter, more balanced, more responsible and more considered. Which all adds up to a more relaxing travel experience.
2. Less hassle
This may be specific to women because when I was young I got flashed at repeatedly. Most often in France, once while snorkeling in Egypt, another time across a very busy highway.
If I wasn't trying to ignore flashers it felt like there were men hitting on me repeatedly when I traveled. Whether those men are other travelers or locals it gets tiring trying to avoid attention and turning down unwanted advances.
Traveling alone becomes fraught with problems because the sight of a woman alone in a bar or restaurant is so often seen as a sign that she's looking for a man.
When I was young I took self-defense classes. If forced to be out alone after dark I walked in the middle of the road to lessen the possibility of people jumping out on me and clutched keys in my hand to attack my imaginary attackers back.
Now I'm older, wrinklier and have a wedding ring on my hand I never get hassled. It's such a welcome relief and means that I can chat openly with men I meet when travelling, just as I would with women without worrying that they'll get the wrong idea.
For someone who's spent her life hiding in baggy clothes and doing  her utmost to avoid unwanted male attention it's totally liberating to be old and undesirable and makes travel much easier.
3. Less scams
Travel scams abound and you have to get ripped off a few times before you get wise to them. Once you're older and wiser you not only recognize scams quickly but you also get a good radar for scammers. So you're less likely to get ripped off and have bad travel experiences that so often ruin travel.
Scammers tend to avoid older travellers too because they know we'll be onto them and are less likely to fall for their tricks.
4. No need to party
Despite my checkered past as a party animal it's not my natural milieu. I do like to go out to see what the party animals are doing but I'm more of an observer than a true party girl.
These days I can admit that I'm anxious, shy and introverted. I'd much prefer to talk to a small group of people, one on one with someone or just have a quiet evening writing my travel journal or reading a good book.
I spent weeks partying on Ios in Greece, at the Oktober Fest in Germany, in Bangkok, at a full moon party in Koh Panghan. I thought that's what I had to do to be fun, accepted and to fit in with the other travelers.
But I'd have been much happier trawling round ancient ruins, eating local foods or exploring offbeat markets. So I love that no one expects you to want to party when you're older and that it's perfectly acceptable when you're aged 40+ to slope off to your room at 10pm.
You get the best travel photos as dawn and dusk so I want to be up in the morning to make the day last as long as possible when I travel.
5. Confidence to do your own thing
Just as I can now forgo parties when I'm not in the mood I also focus on doing the things I really want to do when I travel. I'd still love to try, see and do everything but I know that life's short so I have to pick and chose what I do, where I go and who I spend time with.
Now I'm older I'm more discerning and more confident about turning down offers that don't set my world on fire. Even "free" press trips.
I'm a people pleaser who hates conflict but I've gained enough confidence now to speak up for myself, tell people what I do and don't want to do and make sure that I get what I want. Hopefully without coming across as a stroppy cow.
That means that when I travel I make sure every moment of every day has something to offer me. Whether it's the solitude to enjoy a special place by myself, the time to just be somewhere without doing anything special or the effort it takes to make sure you get to do something you've always dreamed of.
Looking back there was an element of desperation about the way I traveled when I was young and a lot of underlying anxiety. I'm more self-aware and more contented now and that contentment spills over when I travel.
I don't take anything for granted, I appreciate every moment and find joy in whatever I've chosen to do.
So if you're young and you're not enjoying travel as much as you thought you would don't worry. It gets better. And if you're not so young any more and thinking that travel's a young people's game rethink that.
Travel's great at any age and it just gets better as you get older.
What do you think about travel for older people? Do you think travel's better when you get older?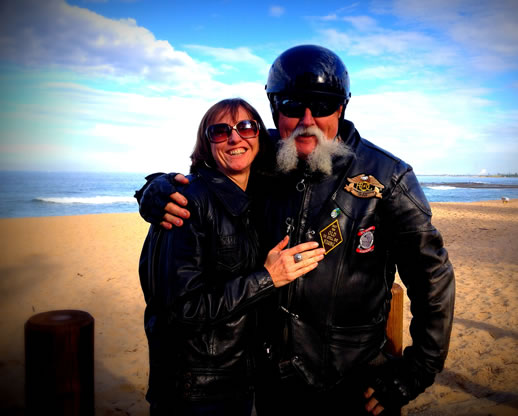 PS. You can read the story behind this photo in Planes, Trains and Biker Boys in Wollongong
Want more travel tips and inspiration?
Stay tuned to Get In the Hot Spot – a travel blog for women aged 40+ who want to enjoy new adventures, have more fun and feel fabulous.
Subscribe now by email for free weekly updates.
Share This Story, Choose Your Platform!