My Body Confidence Boosting Hive Bikini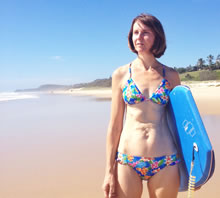 Midlife can be hard at the beach as noted previously in how to make aging less painful on beach vacations.
As someone who's experienced anxiety, depression and low self-esteem I think feeling good about your midlife body is 70% attitude. If you're happy you'll feel good about yourself no matter what you look like, even if you know you need to lose weight.
Ideally we'd all feel great about ourselves irrespective of our appearance, but sadly that's not usually the case.
Thankfully even minimal maintenance can inject a welcome confidence boost and wearing flattering, comfy clothes can literally be life-changing.
I've been in the market for a new bikini because my various bikinis were all getting a bit old. Slightly faded, with the elastic losing it's hold and padded bikini tops that are starting to look lumpy from over-washing, they weren't doing much for my confidence.
So this year I took the plunge and went bikini shopping. It's never fun but I usually buy a bikini in the shops where I can try it on and make sure the fit is right.
This year though I bought my new bikini online because it's a brand I'd been wanting to try and they had a big sale on.
Hive swimwear is a local Noosa brand that is stocked in shops all over Australia and in Europe too but they deliver worldwide from their website.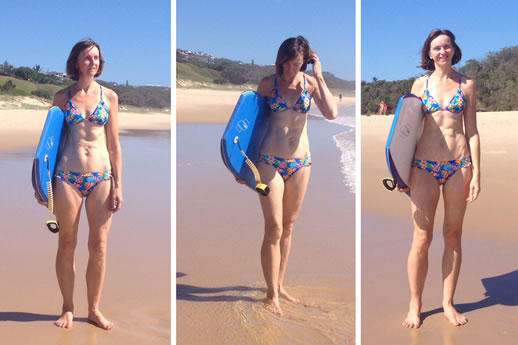 Hive specializes in "swimwear that sticks". In other words it's designed for active wear like surfing or swimming so it will stay in place and keep you modest no matter what you're doing.
Even though I'm sorry to say I haven't been surfing for over a year I live in Noosa by the beach and swim a lot, mostly in the sea but sometimes at the public pool. In the summer holidays my favorite activity is boogey boarding. I love riding the waves when there's a decent swell, and even baby waves are still fun.
But there's nothing worse than boogey-boarding onto the beach with your bikini bottoms round your knees or your bikini top pulled up over (rather than under) your breasts. Not a good look.
Which was why I'd been craving a Hive Bikini.
Hive bikinis cost $48 for a top or bottom. In other words around $96 for a two piece bikini. The good thing is you can mix and match to get the right sized top and bottom.
That's not a bad price (I've paid more for bikinis in the past) but better yet I noticed some Hive bikinis on sale on their website for $15 per  piece which was why I was willing to buy without trying.
I chose size 12 bikini top and size 14 bottoms. Hive bikinis come quite small (I'm usually a size 8-10 top and 12 bottom) but the fit is perfect for me.
Because the bikini top has strings that tie with a bow at the back it's easy to adapt to your size. I like that it doesn't tie behind your neck though because that always makes my neck hurt.
The bottoms are a good fit too. They're not uncomfortably tight but they do stay on in the waves so I can boogey-board for hours without worrying about exposing myself!
You can see how the same bikini looks on the model who fills it out on top. Yes I'm a little bit jealous about that but I like that the same bikini top can fit almost anyone.
I also think my photos are truer to the color – this bikini is nice and bright which is ideal because bikinis usually fade fast since they're in the sun and water a lot.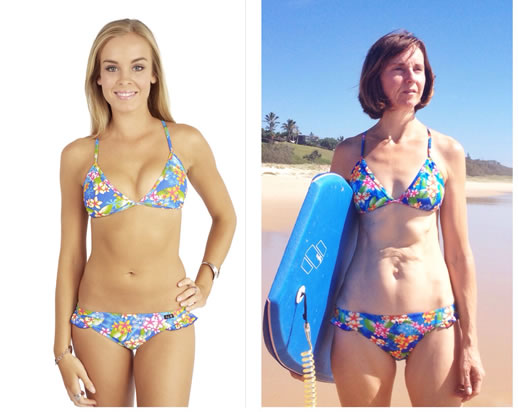 So I rate my new Hive bikini highly for comfort and style and found it flattering too, even though it's designed for active wear. Best of all I feel confident knowing it will stay in place no matter what I'm doing.
In fact I was so pleased with my new Hive bikini that I've since bought two more. One light pink bikini and one bright pink bikini with a crop top that can double as a bra or sports top. It's perfect to wear on a long flight when you don't want to wear a bra with hooks that dig in so it's versatile and perfect for travel.
Buying three new bikinis in a month is a bit OTT but they were all on sale. I expect they'll last me for at least two years and many more happy days at the beach so I think I got a great deal.
Plus they've given me a much needed and utterly priceless beach body confidence boost.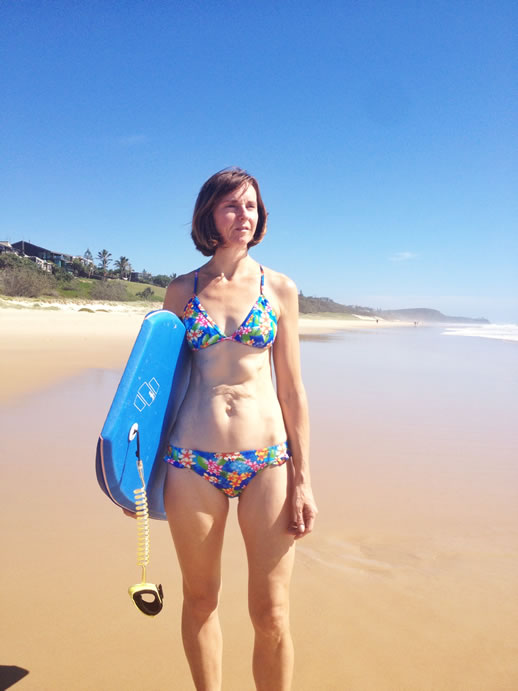 What makes you feel more confident at the beach? Do you find that what you wear helps boost your confidence too?
Never Miss New Stories on Get In the Hot Spot!
Our free newsletter is a weekly injection of tips for midlife adventure to help you travel well, feel fabulous and live your dream. Hit this link now to get updates by email.
Share This Story, Choose Your Platform!