5 Reasons Lazy Holidays Rule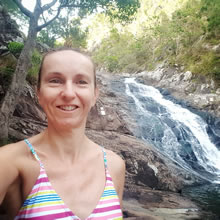 Hello Hot Spotters! It's fabulous to see you here again. This post may be slightly overdue but I'll make no apologies for that because I needed a break. Big time.
Despite the absence of an overseas trip, my vacation was heavenly. I had a lovely, lazy time which was just what I needed. Here's how I know I had a good holiday and here's why a lazy holiday – with no sightseeing or any other activities on the agenda rule.
1. Time to slow down
I went from warp speed to snail's pace overnight. A week of camping just before Christmas helped me slow down instantly.
I loved the enforced digital detox which meant I had time to read books, rather than slave in front of a hot computer screen. I also had time to catch up on about six back issues of The Sun Magazine (dating back to July 2017) which I hadn't had time to read because I was so crazy busy.
Much as I love adventure, sightseeing and getting culture shock, I also love slowing down completely and spending time alone with a good book.
2. A break from the usual routines
Over Christmas and the New Year, I took three weeks off from my triathlon training activities. Rather annoyingly, I'm now so conditioned to early mornings that I failed to have the long lie-ins I dreamed of. However, I loved not having to prepare my exercise kit the night before, rush out of the house as soon as I got up or feel achy and worn out after a strenuous workout.
My mind and body enjoyed a complete rest and basked in the lazy days.
I've started training again now and am enjoying it all the more. The holiday has left me with a more relaxed attitude to training. I entered two triathlons this year – Mooloolaba in March and Noosa in November – so that will keep me fit, but I don't want to push myself too hard. It needs to be fun.
3. Time to play
I played board games with the family (Articulate is a favourite) as well as poker (for fun, not money). I frolicked in Sunshine Coast waterfalls, swam in the sea and messed around in my new garden and pool (pics here).
Freed of all goals and to do lists I had time to do whatever I felt like.
4. Creativity reignited
Although I cook daily, I usually don't have time to be creative in the kitchen anymore. So I enjoyed the extra time over the holidays to experiment with a few new dishes, and cook some old favourites that we haven't eaten for a while because they take too long to prepare.
I also wrote a creative story for fun. That's quite an achievement for a copywriter because, before the holiday, I was at the point where I only wrote if I was getting paid for it. But I love writing funny travel stories so it was good to have the time and energy to do that.
5. Time to reconnect with yourself
However, I'm dreaming of other adventures and especially hiking – or anything that doesn't involve swimming, biking or running! I had time to reassess my priorities and admit that, while I love to exercise and having a boring routine helps me achieve more and feel at my best, I still need time to take on new adventures and challenges.
With that in mind, I'm starting a new group called the Adventure Squad. If that sounds like something that would interest you stay tuned. I'll be back with more details next week.
In the meantime, I wish you all the very best for 2018. Something tells me it's going to be a grand year.
Xox Annabel
Sign Up for FREE Weekly Emails
Stay tuned for more travel stories, wellbeing ideas and inspiration. Get In the Hot Spot's email newsletter is a weekly injection of tips to help you be more adventurous and have more fun.
Click here now for free updates so you never miss new stories.
Share This Story, Choose Your Platform!