How to Stay Motivated for Longterm Challenges
I started training for the Noosa Triathlon nine months ago in February. I couldn't swim or bike and certainly wasn't planning on actually participating in a triathlon in 2017. I had a tri pencilled in as a challenge for 2018, when I'll turn 50. In February, I just wanted to learn how to swim and bike.
But one thing led to another, and I was suddenly signed up to participate in my first triathlon; the Olympic distance Noosa Triathlon which involves a 1.5km swim + 40km bike ride + 10km run.
I chose the Noosa Tri because I live here (see my Noosa Local's Guide if you're after tips), but I had no idea that it's the biggest triathlon event in the world, beating London, New York and Paris for sheer participant numbers.There will be 9,000 of us doing the tri course on 5 November which is ridiculous. Especially for someone who tries to avoid crowds and loves the feeling of freedom you get from running or biking along an empty track.
There will be 9,000 of us swimming, cycling and running around the Noosa Triathlon course on November 5th which is ridiculous. That's 9,000 people who've paid About AU$300 for the pleasure of participating! It's especially ridiculous for someone like me who tries to avoid crowds and loves the feeling of freedom you get from running or biking along an empty track.
I still can't believe it's the biggest triathlon event in the world. Noosa is just a small holiday destination with only about 55,000 residents in a widespread area from the coast to the hinterland. We're a small town, with only two sets of traffic lights, but we've got the biggest triathlon in the world.
It's  intimidating to think of the 9,000 participants and their entourage but I've paid my fee, trained my buns off and I'm nervously excited the big day is drawing near.
My triathlon training program was full on, involving about 12 hours of training each week. Blood, sweat and tears were shed. Mostly sweat, but blood and tears also streamed at times.
So how did I stay motivated through it all? These are my tips on how to stay motivated for a longterm challenge.
1. Break it down into shorter challenges that you can confidently meet
Swimming is my biggest challenge since I hate putting my face in the water and had never learnt to swim freestyle. This is what my ocean swimming used to look like, and this is how I swam laps with my head above water. I hated putting my face in the water to begin with (and I'm still not that keen on it!), but I promised myself that I'd swim three times a week for 12 weeks no matter what.
The no matter what was important, as was the set short time duration. No matter how much I hated swimming, I told myself it would all be over soon. I also gave myself permission to give up swimming freestyle after 12 weeks if I really couldn't face it anymore.
When the 12 weeks was up I treated myself to a week off swimming and then repeated the same challenge.As the
As the triathlon date gets closer I've increased the challenge to daily swims. But again, I just challenge myself to a week of daily swims and give myself permission to stop after one week if it all gets too much. I managed three weeks of daily freestyle swims that way though!
2. Commit to the challenge fully and tell everyone
I paid for membership at the local pool and brought all the gear I needed for swimming and biking. You need to buy a lot of expensive triathlon equipment, especially if you haven't got a bike, and knowing I'd invested thousands of dollars made me determined to stick to it.
I doubled up on the commitment by sharing my challenge on Facebook and here on my blog. Everyone was highly encouraging and, having shared my goal, I felt that I had to go through with it. I couldn't fail and let everyone down.
3. Create new habits
Determined not to miss a day, I created a new habit of going to swimming squad three times a week where I joined the other challenged swimmers in lane zero.
It became a habit that I didn't have to think about. If swim squad was on and I could go, I'd be there. If I couldn't get to the squad then I'd swim by myself.
Habits helped me learn to run too – check out running for beginners over 40 if you need help with that.
4. Find reliable friends or join existing groups
I've been fortunate to hook up with some incredible runners, cyclists and swimmers in my travels as well as other beginners who I met on my triathlon training program. Between them all, I usually find someone to train with and they're all so encouraging. They've helped me achieve things I would never have considered – like cycling 92km!
Once you've committed to meeting someone or joining a regular group it becomes hard to miss a training session. Knowing there's someone to keep me company also helps me enjoy it more.
5. Track your progress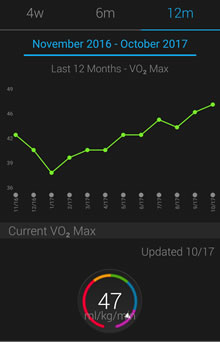 Progress is often slow, to begin with anyway, and can certainly feel that way on a bad day. I use a variety of tools including a Garmin Forerunner 235 watch, the Garmin Connect app and the Strava app to track my progress.
Here's a screenshot from the Garmin Connect app showing the increase in my VO2 Max which gives an indication of my fitness levels.
Parkrun is also a brilliant way to keep track of my running progress. You can see how my running progressed in What it Feels like to Challenge Yourself.
The apps and parkrun times tell me when I've got a new personal best for a specific route or distance which proves I'm improving and increases motivation.
Tip: If you haven't got a fancy watch and can't be bothered with apps, just time yourself on set routes.
I find that I set new records even when I'm not trying and the post-exercise glow is amplified as I eat breakfast, check my phone and see Strava has awarded me with a new cup for a record time.
All of these things create an upward spiral of positive energy that helps you learn to believe in yourself and stay motivated in the long term.
How would you stay motivated for a long term challenge?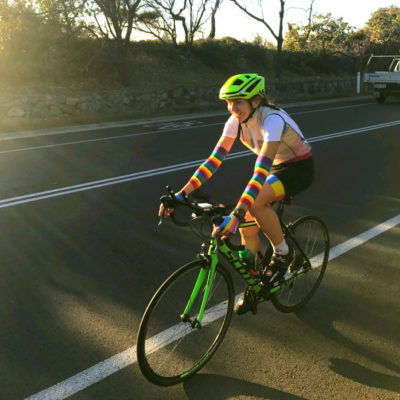 Stay tuned
The Noosa Triathlon is less than two weeks away. Get the FREE weekly newsletter for a full report on my experience. Click here to subscribe now.
Share This Story, Choose Your Platform!