7 Best Waterfalls and Swimming Holes on the Sunshine Coast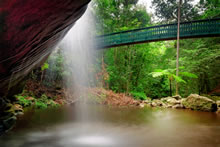 I love waterfalls. I have a theory that water is the secret to happiness because nothing lifts my mood like the sight and sound of falling water. I've been lucky to live in places like Costa Rica and New Zealand which have some beautiful, secluded waterfalls but I seek out waterfalls wherever I go.
The Sunshine Coast hinterland has a few good waterfalls so when it gets too hot and crowded in the beach resort of Noosa where I live I love heading to the hills to find a waterfall, preferably one with a swimming hole to cool down in.
There are several waterfalls on the Sunshine Coast not mentioned here but these are my pick of the best waterfalls and swimming holes in the area.
1. Gardner Falls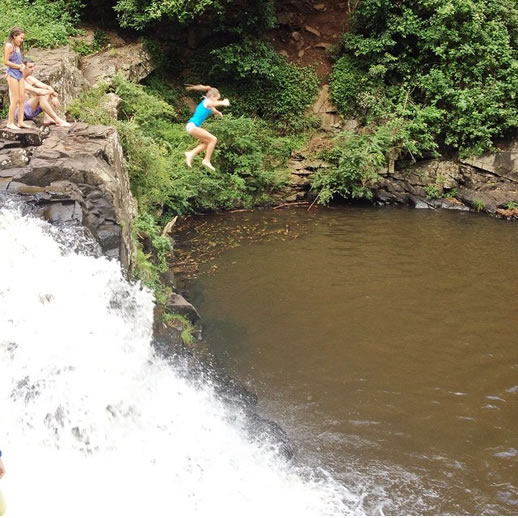 I can't believe I only discovered Gardner Falls in Maleny this year. As well as a beautiful waterfall in a bush setting there's a wide and deep swimming hole with two rope swings for adventure seekers and crazy kids.
It's only a short walk to the waterfall and there's a small grassy area where you can have a picnic.
Gardner Falls is popular with Sunshine Coast locals and young people so it gets busy. It's best to get there early in the morning so you can park nearby and enjoy the waterfall before it gets too crowded.
You can swim in the big natural swimming pool, have a go on the little rope swim at the bottom end of Gardner Falls or wade across the stream upriver of the falls to try the big rope swing.
My 13 year old son loved the big rope swing and there were some very daring (or crazy) young men doing somersaults and climbing the trees for an even higher jump into the pool.
That scared me senseless as did jumping off the top of the waterfall into the pools but I overcame my fear and did it anyway. That's my daughter jumping off Gardner Falls in the photo above.
2. Kondalilla Falls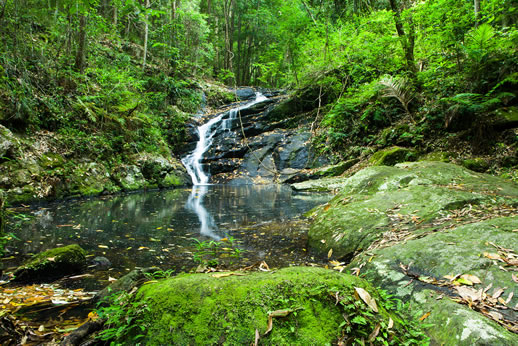 Not too far from Montville in the Blackall Ranges, Kondalilla Falls National Park has some beautiful bush walks as well as a small but perfectly formed waterfall.
There's a walking track to Kondalilla Falls from the carpark which is a 5km circuit. It's downhill all the way there but be prepared to tackle a lot of steps on the way back to the car park.
If you want to make a day of it you can take a picnic and feast al fresco in the grassy area at just by the car park. There are sheltered picnic tables and loos there too.
Kondalilla Falls is too small for a proper swim but you can take a plunge and cool down on a hot day.
Just watch out for leeches during wet winter months. They're perfectly harmless but having a leech sucking your blood does detract from that relaxing waterfall experience!
3. Booloumba Falls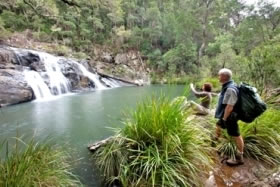 Located in Kenilworth State Forest you can reach these Booloumba Falls by following Sunday Creek Road 7Km past Kenilworth and turning right at the Booloumba Creek picnic and camping areas.
This is one of our favourite Sunshine Coast hinterland camping spots in Conondale National Park although Booloumba Falls is a fair walk from the camping area. We usually drive to the falls parking area which is closer and less of a trek for the kids.
Booloumba Falls are a 3Km walk from the top parking area and there's a big rock pool above the falls which is great for swimming.
Booloumba Falls is popular with the locals and can get busy on weekends but it's no where near as popular as Gardner Falls.
4. Buderim Forest Waterfall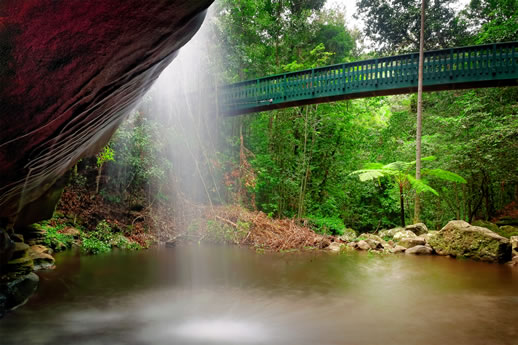 The Buderim State Forest Park has some great walks with a small waterfall and pool where you could have a quick dip or paddle.
Buderim State Forest Park is only 1km from Buderim Village but it's a good spot for bird spotting, a green fix and time out from the hustle and bustle of the coast.
There are two ways to get to the Buderim Falls. The lower entry is off Lindsay Road with another entrance at Quorn Close, either of which will give you a lovely short walk to the falls.
5. Mapleton Falls
Mapleton Falls National Park is part of the Sunshine Coast Hinterland Great Walk, a 58 km walking track with overnight campsites, but don't let that put you off.
Couch potatoes can still enjoy Mapleton Falls because there's a great look out just 50m from the Mapleton Falls National Park carpark.
6. Wappa Falls
Like Gardner Falls, Wappa Falls has a nice big waterfall and swimming hole. It's only a short walk round the rocks from the Wappa Dam car park.
There are all kinds of warning signs about swimming at Wappa Falls because people have died here jumping off high rocks or swimming when the river is in flood.
Exercise caution and you'll have lots of good clean fun at Wappa Falls as we did. The video below shows you what to avoid.
7. Artists Cascades
Also in the Conondale National Park just outside Kennilworth, Artists Cascades is one of my secret spots and a favorite Sunshine Coast waterfall. It's a 11km walk to get to the falls which keeps out the crowds but the rainforest is lush and the walk is mostly shady.
Make sure you take the side track leads to see the Strangler Cairn sculpture on the way to Artists Cascades and allow four hours to visit the falls so you can enjoy the walk and your time there.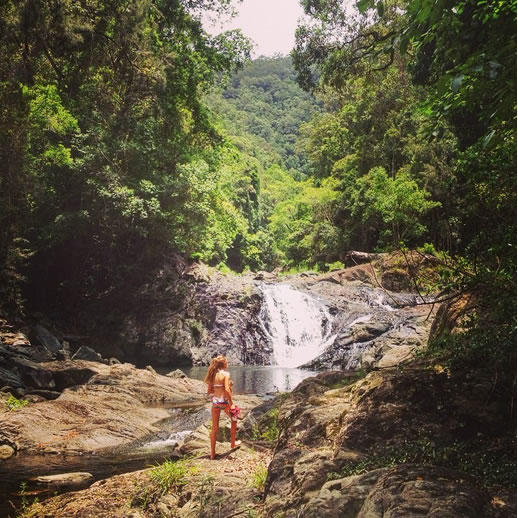 Do you have a favourite waterfall on the Sunshine Coast?
——————————————————————
Want More Sunshine Coast Travel Tips and Ideas?
Get free email updates from Get In the Hot Spot – it's a weekly injection of tips to help you be more adventurous and have more fun that includes the Noosa Local's Guide with Sunshine Coast travel and food tips. Sounds good? Click here now to get free weekly email updates.
——————————————————————
Share This Story, Choose Your Platform!