5 Unexpected Life Lessons Learned Camping in Australia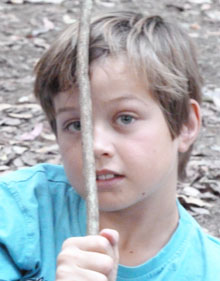 Have you ever put off doing something only to find, when you finally took the plunge, it wasn't nearly as bad as you thought it would be?
I hate camping. The idea of it makes my skin crawl. I'd rather stay somewhere proper, not that I need solid walls (an open air hut in Mike's Camp is my idea of heaven) but a comfy bed and good food are essential for a good travel experience.
Now I've learned that, just because you're camping, it doesn't mean you have to forgo those things.
In June the Mucho Man and the Candy kids went camping and I stayed home alone. I couldn't stand the thought of camping.
It was mid winter here in Australia and rainy too. But they all bought wellington boots (or gum boots as they call them in New Zealand) and were as happy as pigs in mud as they wallowed in mud for three days and nights.
At least that's what it looked like when I saw the dirty laundry they brought back with them.
I was happier at home.
The last school holiday were in September, spring time in Australia. The air had warmed a little, the earth dried and my kids wanted their mummy to go camping too. So, with much wailing and gnashing of teeth, I did.
As a parent I do a lot of things I don't want to out of guilt but in the end I had fun camping in the Conondale National Park in the Sunshine Coast hinterland in Queensland, Australia.
The days flew by. I spent them with the kids, with the other family we camped with and with the wildlife.
I love nature. I love wildlife and especially birds.
Many times I crept off alone to sit by the creek and see what birds came to see me. It was exciting and I learnt a few things too.
Camping in Australia: 5 Lessons Learned
1. Life's better when you pare it back to the essentials
Food, a bed and warmth are all you need but if you have good food, a comfy bed and real warmth, you're laughing.
My best camping meal is creamy, garlicky tuna pasta. As a bonus I discovered I could palm off the grunt work of chopping onions and garlic onto willing children. They're keen to wield a big knife and proud of their ability to provide.
As long as you don't overcook the pasta and use real, freshly grated Parmesan you can't go wrong.
I also insist on a big salad to go with the pasta. Fresh tomatoes, cucumber and red onion with olive oil and freshly ground pepper will create a gourmet experience for fastidious fresh food eaters.
For a bed we use Oz Trail self-inflating King single mattresses. They're big – you couldn't take them backpacking – but if you have a car they're just as comfy as a really good bed. I take my own 100% cotton bedding including feather duvet and latex pillows. Call me a princess but if you get a good night's sleep you can put up with anything.
Between the camp fires outside and the feather duvet inside I stayed toasty warm with all the essentials to keep me happy.
2. Simple pleasures are best
As I sloped off to watch the birds by the creek the kids played as kids should.
Forget Gameboys, Wiis, PlayStations and their ilk. Sticks are way better.
The nine children we took camping (only three are mine!) spent three days playing with sticks. They used them for creative play, for drawing, for whittling.
Of course, they fought over them too.
Who'd taken whose stick was a cause of endless debate but fortunately there were endless sticks to be found with the perfect stick around every corner. Sticks for cooking damper, sticks for toasting marshmallows and sticks for poking things.
Forget plastic toys and bring on the sticks.
3. Nature and your environment is everything
I'm proud to be a country bumpkin.
My kids are country kids too. They climb trees, they play with bugs, they dig holes.
Sure the city is sophisticated but it's an unnatural environment. If you're surrounded by nature, by trees, by natural waterways and by all the creatures that live there you will feel happy.
We spent our days chasing giant goannas away from our camp, marveling at the old eel who lives in the creek and defending our tucker from hungry kookaburras who will swoop down and even snatch food out of a kid's mouth.
That's what life is all about. Surviving in nature. Do that and you come away feeling happy.
4. People first
It's not where you are but who you're with that counts. The people you spend your time with are all important so choose them wisely. The most abject surroundings are irrelevant if you're with people who are positive, smart and fun to be with.
We had a fun camping crowd so a good time was had by all.
5. Productivity is over-rated
Doing nothing rules.
Life isn't about achieving, reaching newer heights, earning more or being respected for what you do. It's about being at one with who you are, being able to do nothing and being happy doing nothing.
That's what we should all aspire too. That's where true happiness lies. If you can spend 30 minutes sitting on a log just watching flowers blowing in the breeze, wondering what's playing in the tree tops and trying to get a glimpse of the bird that calling then you're winning.
You're on top of the world.
I hope you are.
I'm always putting off things I don't want to do but when you get round to them either they only take a few minutes to achieve, or they're not nearly as bad as you thought they'd be.
Sometimes they're even fun.
Time whizzed passed when we were camping and when we left I knew I'd be back.
I won't miss any other camping trips. Except the ones in mid winter when it's raining.
Have you learned any lessons in unexpected places lately?
Share This Story, Choose Your Platform!