11 Micro-Adventures Ideas to Make You Happy and Successful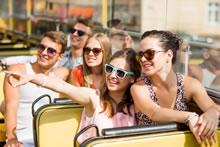 Ever wondered how successful people spend their weekends? A recent Forbes article says that, along with a plethora of other good habits like taking a break from work, practicing self-care and exercising, successful people schedule micro-adventures at the weekends.
Micro-adventures is a term that's popping up a lot recently.
Sarah Wilson has covered 18 of her favourite micro-adventures but it all started with National Geographic Adventurer of the Year Alistair Humphreys who coined the term micro-adventures  and shares micro-adventure ideas to encourage people to get outside and get out of their comfort zone.
It's a concept I embrace too. The 52 Exercises Quest saw me try a different group fitness activity every week for the whole year but way before that, and especially now that quest is over, I love planning micro-adventures for all those times when we just can't go away no matter how much we love to travel.
You may have already read about some of my micro-adventures here like climbing a mountain or taking up running but I wanted to talk more about the concept of micro-adventures here and suggest some micro-adventure ideas to get you started.
What is a micro-adventure?
A micro-adventure means doing something new or going somewhere you've never done before. It's an adventure that you can have close to home and on any budget. To create a micro-adventure Forbes suggests you:
"Buy tickets to a concert or play, or get reservations for that cool new hotel that just opened downtown. Instead of running on a treadmill, plan a hike. Try something you haven't done before or perhaps something you haven't done in a long time."
Two reasons you should make time for micro-adventures
1. You'll feel happier
Studies show that looking forward to an event or holiday is a significant part of what makes the activity pleasurable. Knowing that you have something interesting planned for the weekend will guarantee you have fun at the weekend and improve your mood throughout the week too.
2. You'll grow your brain
Better still doing new things is a great way to create new neural paths in your brain and stop it from stagnating as you age. The new science of neoroplasticity has proven that ageing brains are not fixed and can be trained to form new connections and grow.
One of the best ways to retrain and improve your brain is to do new things which is why micro-adventures are so powerful.
Easy Micro-adventure Ideas
1. Try a new sport, group activity or exercise
You know, what I'm talking about don't you? Maybe that thing you've always wanted to try but never have. Or you could try a new craze like cardio-tennis, Bikram Yoga or slacklining. Do it. Most organised exercise classes offer one free session so your micro-adventure could well be free.
2. Take public transport
You get a different outlook on life and scenery when you go by bus or train. You'll be forced to slow down, you'll notice things you've never noticed before and you'll have the chance to talk with people you've never met before and wouldn't normally talk with.
3. Have an electricity free night
The Candy kids love this! Get the candles out, grab your torches and have a light free evening and bedtime.
It's a sure way to give you some precious unplugged time with your loved ones then make sure you get to bed on time and sleep well with no distractions keeping you awake.
4. Eat something you've never eaten before
You could get out of your routine and order a food or drink you've never tried before at your favourite restaurant.
Or visit a local farmer's market to try some free samples and buy something unusual like a custard apple, dragon fruit or finger lime which I tried recently for the first time and loved.
5. See what people near you are doing on Meetup
Meetup is a website that allows like-minded people to connect. Near me there are groups for hiking, running, photography and more.
Some groups have an educational element if you want to learn something new or are a good way to find some company for your micro-adventure if your family and friends can't join you.
6. Walk around your neighborhood or from the last public transport spot
You'll see things from a fresh perspective on foot. If you need to improve your fitness and you're starting at a low pace introducing a walking fitness program's the best way to do it.
7. Go to a full or new moon party
They have them almost everywhere or, if you don't feel like going to an event, then just go out for a night walk under the new or full moon. Take a friend to make sure you're safe.
8. Go for a sleepover
Alone at a nearby hotel, inn or backpackers or go to stay with a friend like you used to do when you were a kid. If you can't manage a night away (really?!) then make your own retreat at home.
9. Make like a tourist
There are almost certainly tourist attractions you've never done before on your doorstep. Museums, natural beauty spots or tours. Check them out.
10. Seek out a new body of water you've never visited before
I reckon water is one of the secrets to happiness so the more you're near water the happier you be. So if you combine water into your next micro-adventure your happiness levels should soar.
11. Be curious about yourself and other people
Micro-adventures are about helping you to shake up your life and feel energized. If you're not sure where to begin learn how to meditate to get in touch with yourself or start learning about mindfulness.
If you're anything like me learning how to do nothing will be a micro-adventure too.
The greatest of adventure of all is self-awareness and micro-adventures create a fun setting and precious time for you learn about yourself.
Even if your idea of success wouldn't get you into Forbes magazine, creating regular micro-adventures will make you happier and more successful on your own terms.
What are your micro-adventure ideas? Please share them in the comments below. 
Want More HOT Travel and Wellbeing Tips and Ideas?
Get In the Hot Spot's free newsletter is a weekly injection of tips to help you be more adventurous, have more fun and feel fabulous. Click here now to get free weekly email updates.
Share This Story, Choose Your Platform!