Catalunya Experience: Secret Travel Diary Day 6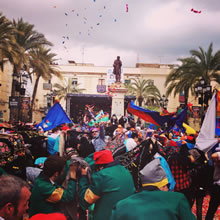 This will be a very short post about the last day filming my Catalunya Experience TV travel show episode. Not because there's not much to say but because you had to be there. Carnival time in Vilanova i La Geltru is amazing!
——————————————————
Have you seen the Catalunya Experience video yet? It showed on TV3 in Catalonia on October 28th. You can watch it here now.
Have you seen the photos in my Catalunya Experience secret travel diaries day one, two, thre, four and five?
——————————————————
Carnival time in the beautiful Catalonian Mediterranean town Vilanova i La Geltru lasts a whole week. It's one of Catalonia's most historic, symbolic and famous carnivals which dates back over 2oo years. Heck even the former Spanish dictator Franco's prohibition the carnival still took place because nothing will stop these people from partying. Nothing will stop them from enjoying the strange, funny carnival traditions that have been going on for generations.
Vilanova's Carnival centers around food fights with meringues and the 'candy wars' where 80 tons of hard candy are thrown around.
Having seen the masked street processions, special dances and the naked feather-coated Moixó Foguer yesterday (see secret diary day 5) I'm not sure what to expect today.
First Ivana and I get dressed up in traditional costumes – a red or black dress and a shawl. I love my red dress.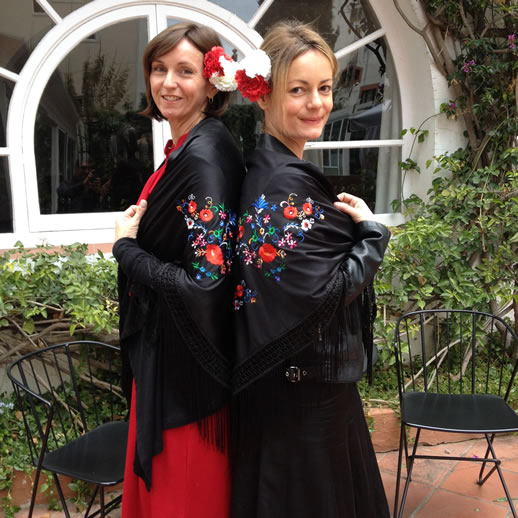 Then we're surprised by the arrival of two local men (none other than the famous comedians Toni Alba and Jordi Rio) with a red and white rose for us to tuck behind out ears.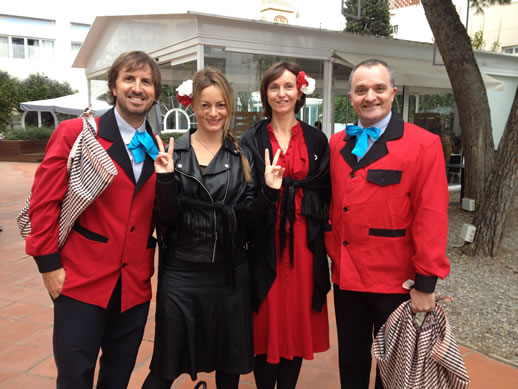 The men are traditionally dressed too and proceeded to fill their checked table cloth bags with candy. Then we take to the streets which were already strewn with candy and walk to the town hall. There are bands playing all around town.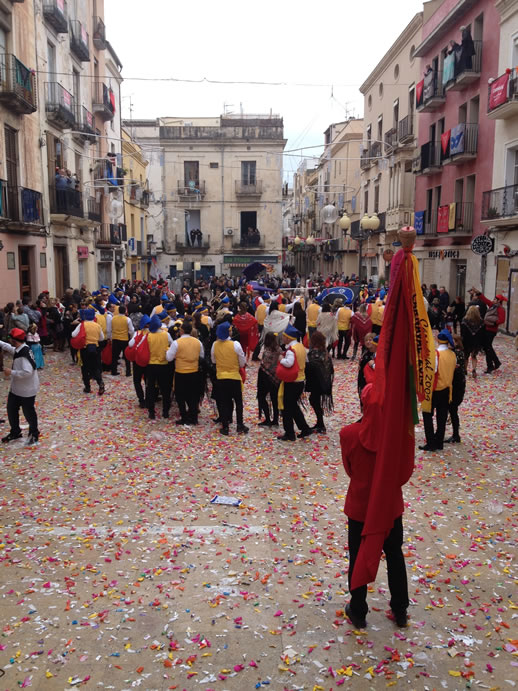 Toni and Jordi are recognised and greeted everywhere we go and Toni's imitation of the King of Spain turns out to be hilarious, even if you wouldn't recognise the real king.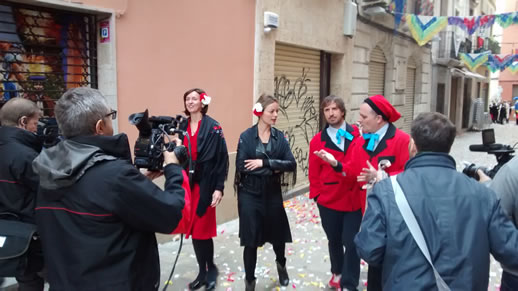 Everyone wants their photo taken with us!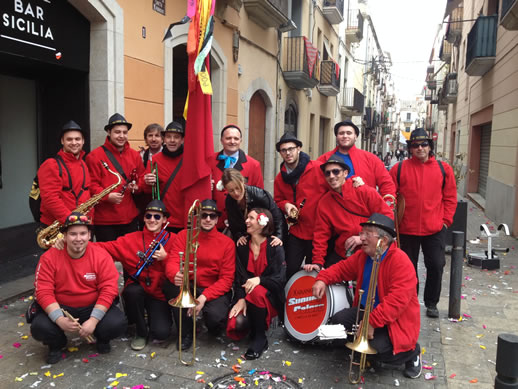 Toni teaches me how to drink wine the Catalan way. He's an expert.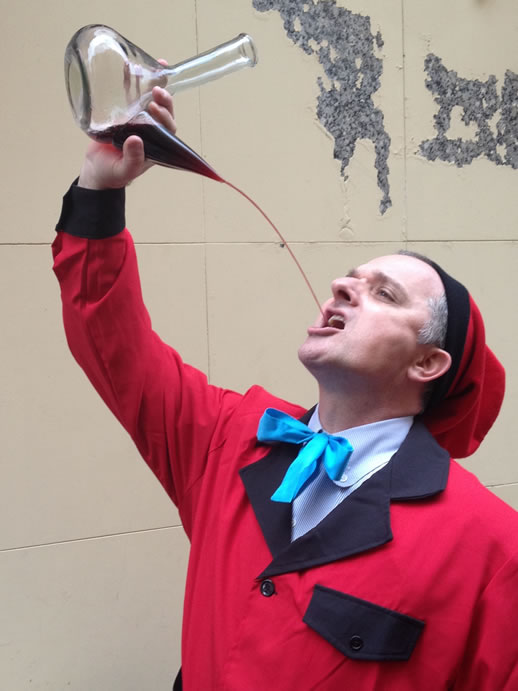 Me, not so much!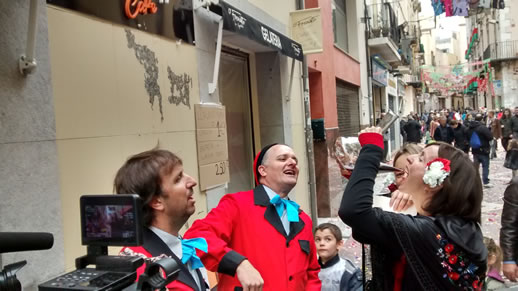 Today is the most central and symbolic day of Carnival so we go to the town hall where the traditional parades will take place. Of course everything is kept secret from me until the last minute.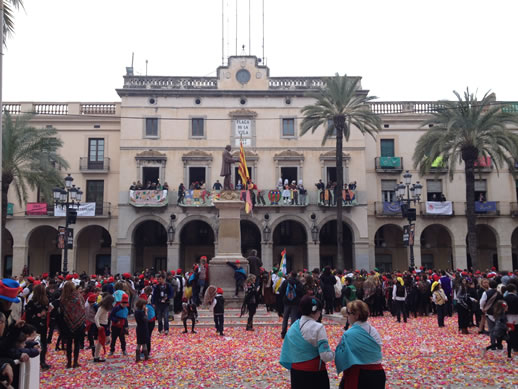 At the town hall meet the local big wigs including the Major and political figures as well as the carnival king and his queens.
The lecherous carnival king is hilarious too. He is regarded as the embodiment of the Carnival, a satirical figure who makes us laugh at ourselves and our society.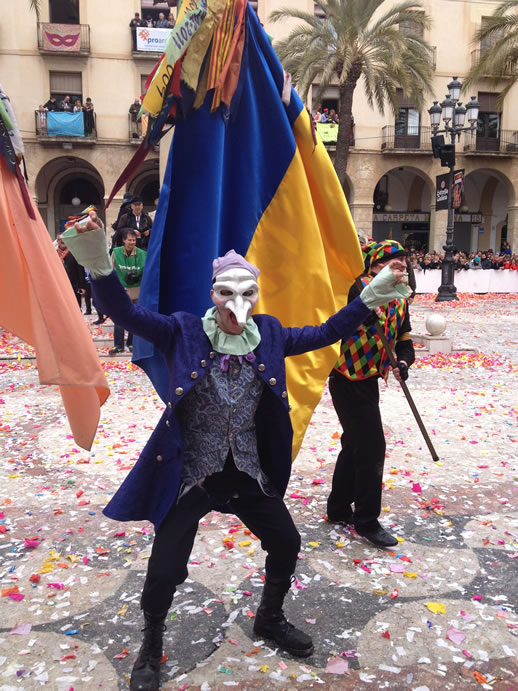 We get a bird's eye view of the parade and candy war from the balcony. The parades (called comparses) are made up of dancing couples from local associations. The couples line up behind their respective association flags, march around the town hall square to a military march played by the band and then throw candy at each other in the candy battles. Over the course of the day 6,000 people will take part in the candy wars.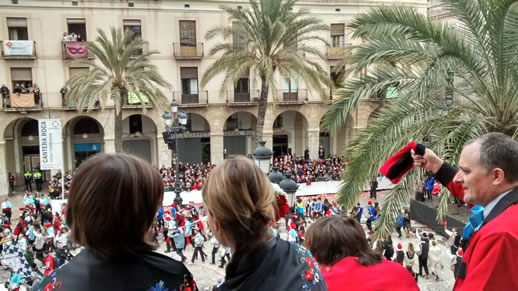 There's a heavy duty team of cleaners sweeping up the candy. 80 tons of candy!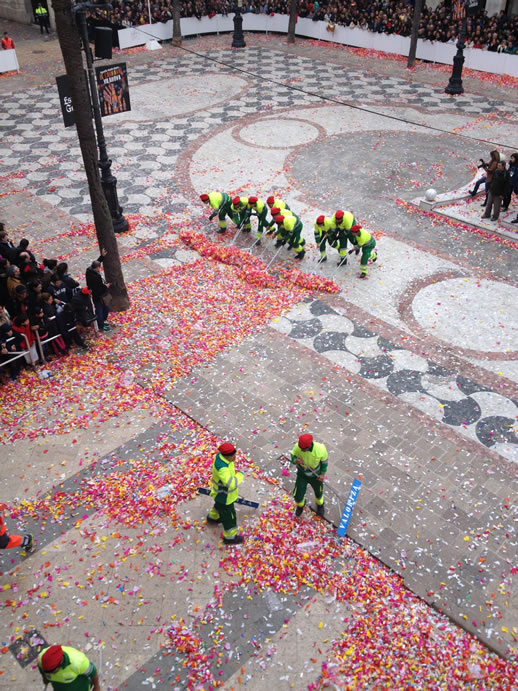 Then it's our turn. We troop downstairs and dance around the town hall laughing and waving our shawls like everyone else. Then silence falls. It lasts a moment before a horn blares and suddenly it's pandemonium. Everyone is shouting and cheering, laughing and jeering while the men throw candy wildly.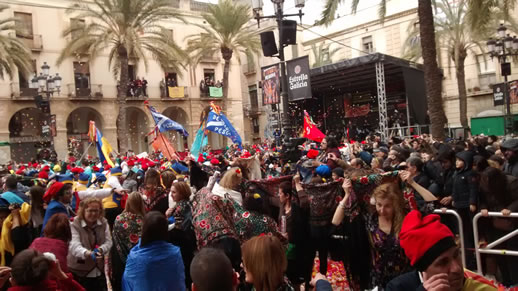 The candy wars last about five minutes and Ivana and I huddle under our shawls with the other women to protect ourselves from the hard candy. Meanwhile the crowd cheers loudly.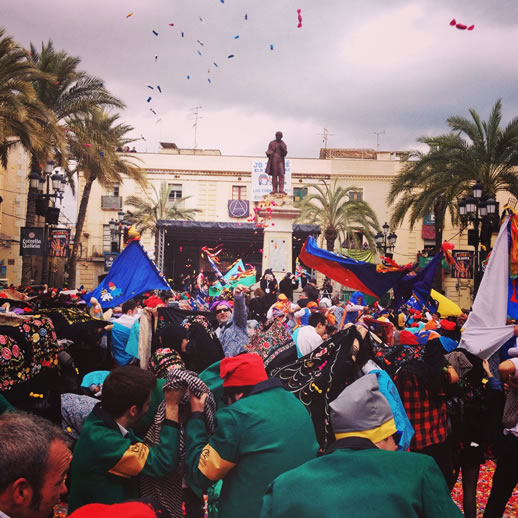 Then just as quickly as it started it's all over.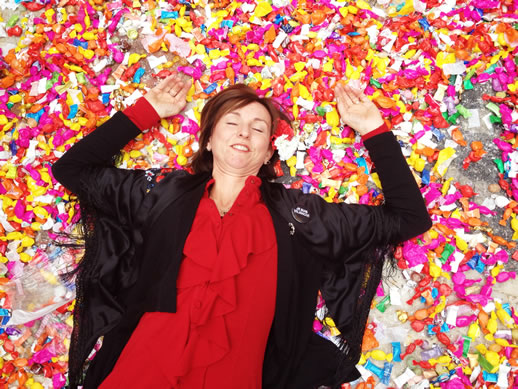 The streets are thick and sticky with candy and my face aches from laughing.
That's the Vilanova carnival. It's crazy. Really crazy. Crazy in a good way. You have to go.
Can you picture yourself there?!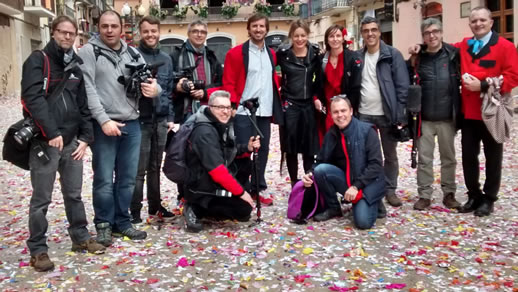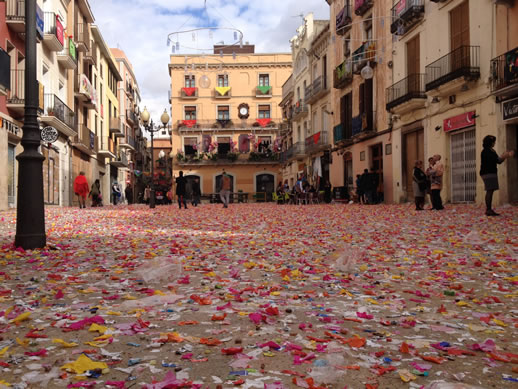 I was a guest of the Catalan Tourist Board and TV3 during my stay in Catalonia. Follow the #CatalunyaExperience hashtag on Instagram for amazing photos from all over Catalonia. Or find out more about visiting Catalonia on the Catalunya website.
Special thanks to Xavi Brichs the amazing director for asking me to take part and to his amazing film crew. I miss you all.
Read more and see more photos in Barcelona: My New Favorite City in the World! Or check out my secret travel diaries for inside information:
Catalunya Experience: Secret Travel Diary Day 1
Catalunya Experience: Secret Travel Diary Day 2
Catalunya Experience: Secret Travel Diary Day 3
Catalunya Experience: Secret Travel Diary Day 4
Catalunya Experience: Secret Travel Diary Day 5
Don't miss more travel stories on Get In the Hot Spot
Get the free email newsletter – a weekly injection of tips for midlife adventure to help you travel well, feel fabulous and live your dream. Get updates by email now.
Share This Story, Choose Your Platform!