Catalunya Experience: Secret Travel Diary Day 1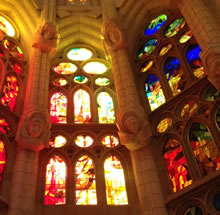 It's a 36 hour journey door to door from my home in Queensland, Australia  to my apartment in Barcelona. The journey from Australia to Europe is always tough but I'm feeling the pressure because this time I'm going to be met at Barcelona airport by a film crew.
I've been invited to Catalonia by the Agència Catalana de Turisme and Catalan TV3 (see my amazing Catalunya Experience) to take part in a new TV travel show called the Catalunya Experience.
The idea is simple. Every month they'll invite one overseas influencer (usually a photographer, videographer or blogger) to experience Catalunya.
The show is presented by Ivana Miño, a beautiful Catalan actress, who acts as host, showing the overseas visitors the best Catalonia has to offer.
The Catalunya Experience producers have designed a unique tour for me based on my interests. Our itinerary is top secret but I'm hoping for lots of action and outdoor adventures.
Catalonia has fabulous architecture, a rich creative and cultural heritage as well as beautiful scenery. I'm keen to experience all of that and would especially like to see the Pyrenees which will be deep in snow in February.
Coming from an Australian summer to a European winter will be interesting. I'm hoping to do some winter sports and get out there in the snow. My children, whose greatest dream is to see snow, will be jealous. I'll throw a snowball for them and maybe even build a snowman.
The hardest part is knowing what to wear. Ivana has been friendly and helpful, emailing me with guidelines and teaching me a few Catalonia phrases.
But getting ready for the trip has been foremost in my mind since I was invited. Never having been on TV before I've undertaken some serious maintenance. Note the new hair do and manicure.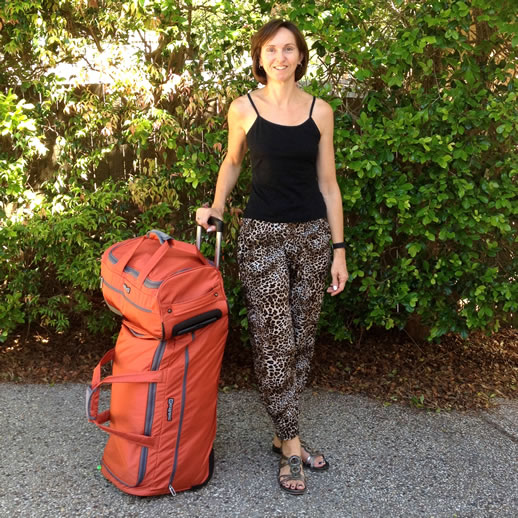 As I board my window seat in Brisbane for the 14 hour flight to Dubai it seems as if the two seats next to me will be free. But at the last minute an older woman plonks herself in the aisle seat and shatters my dream.
Across the aisle from my new neighbour her friend puffs, pants and cries in what appears to be a combines asthma and anxiety attack after having to run to catch the flight.
Having arrived at the airport three hours before take off I inwardly roll my eyes. I guess I'm a pretty experienced travelled these days and I enjoy a brief feeling of superiority.
There's a free seat in between my and my neighbour. She tries to claim it with a bag and scarf. I counter lifting my armrest and curling my feet on to it. She moves her bag and does the same.In the end we both sleep a little, me curled up awkwardly in a ball or with my feet on the seat. But we keep waking each other by accidentally poking the other in our futile attempts to get comfy.
Soon my neck, back and bum are aching. I attempt to counter that with endless trips to the loo or just to stand up, stretch or walk around the plane. This journey is not fun but it has to be done. It's an amazing opportunity and one I couldn't miss no matter, how guilty I feel about leaving behind my husband and our three kids.
When we finally arrive at Dubai I shower and people watch. The flight to Barcelona leaves an hour late. I'm seated next to a young Catalan couple on their way home from Thailand. They're lovely and help me with my pronunciation but I keep looking for a row of free seats. There  are none.
Instead I move one row back to sit next to a handsome young Iraqi although I'm only interested in the spare seat in between us.
He's a charming young man and kindly gives me his window seat so I'm embarrassed when I reward him by flopping around, snoring, drooling and fidgeting non stop. Worse still, a nagging and frequent urge to pee seems to have developed into a bladder infection.
Sitting down makes me want to pee urgently and when I go to the toilet my urine seems to have blood on it. It's bad timing for me, the Iraqi who I have to disturb constantly with my urgent toilet breaks and the film crew who've gone to considerable expense to bring me over.
Suddenly feverish and pale I explain my problem to an air-hostess who kindly gets me two small bottles of cranberry juice from business class. I glug them down although, after seeing the blood in the toilet bowl, I have a feeling that juice won't fix this.
Nevertheless, as I step off the plane with my newly cut and colored hair, tweezed eyebrows, blackened eyelashes, painted nails and freshly applied make up I feel as ready as I'll ever be.
The film crew train their cameras on me as I step through the doors, one of them kneeling awkwardly on a baggage trolley.Ivana greets me and we chat on camera. I'm hot and can feel a blush rise. I just hope it's not visible under all my face powder and blusher.
Filming stops and I meet the film crew, exchanging a double kiss, one on each cheek. I've met some of them before on Skype and Elena from the tourism board is also there. It's such a warm, friendly welcome I immediately feel as if I'm part of a fun, loving Catalonian family.
Ivana and I walk around the airport being filmed from all sides. I try to ignore my feelings of self-consciousness and the cameras as instructed.No matter how friendly and kind everyone is my throat is dry and aching, my bladder is tingling and I'm keen to get to the privacy of my apartment and bathroom.
Elena takes me to the apartment and I realise how tired I am because my first observation about Barcelona city is that it looks very European! Well duh.
After unpacking, peeing and checking my email I head straight to a pharmacy. My Spanish is sorely tested as I try to explain about the blood in my urine and my urgent need for the bathroom. But the pharmacist is lovely and sells me antibiotics you'd need a prescription for in Australia plus probiotics to keep my stomach calm. I pray I don't end up with a bladder infection and an upset tummy for the Catalunya tour and filming.
I take my medicine straight away then walk to Barcelona's most visited tourist attraction. Just 15 minutes away from my apartment there's an impressive church on the way there.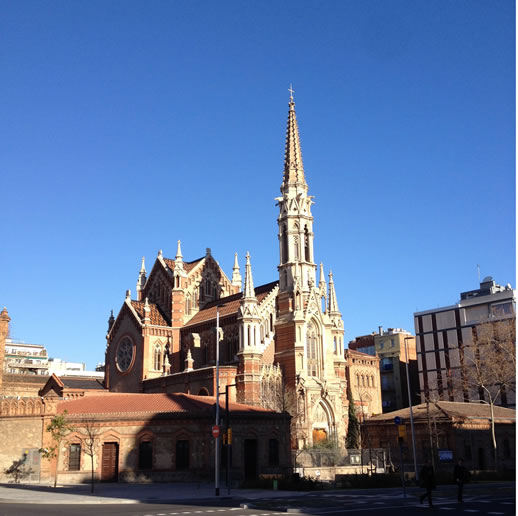 But the Sagrada Familia is far bigger and looks imposing from the outside with its queue of tourists, soaring towers, scaffolding and cranes.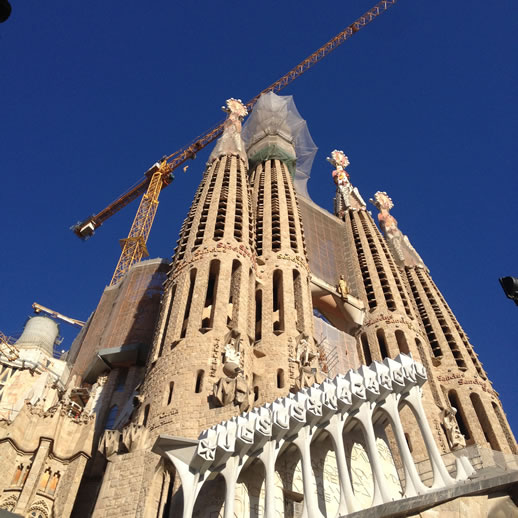 The detail of the design and themes of nature are mesmerizing.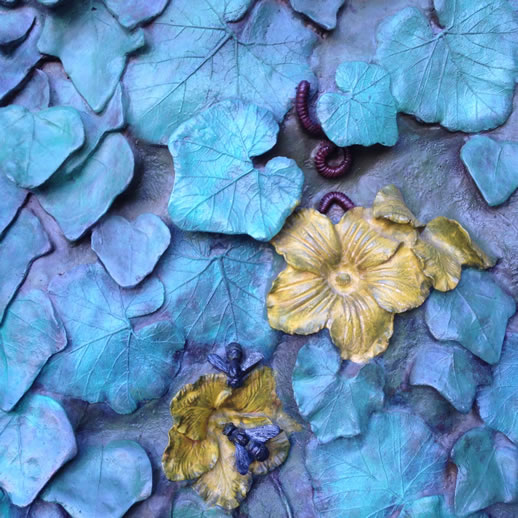 Inside its like being cocooned in a giant, colorful womb. The spaces are cavernous but the stained glass windows give the Sagrada Familia intimacy and vibrancy. Light flows through the multicolored windows and you can't help feeling closer to God here, even if you don't believe he exists.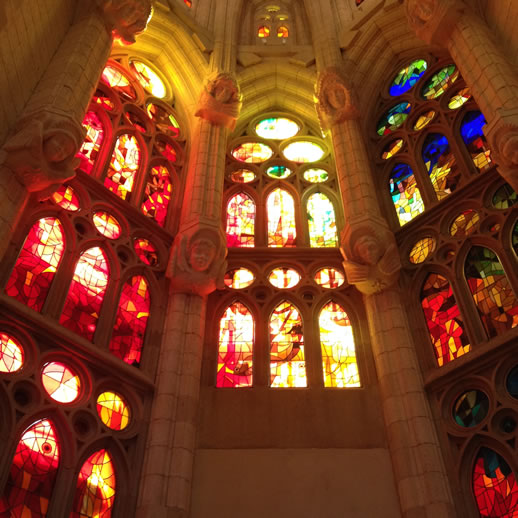 Designed by the Catalan father of modern architecture Antoni Gaudi, building started in 1882 and is still in progress over one hundred years later.
A lift whizzes me 60 meters up the Tour de la Passion. I snap photos of the views across the city to the ocean and spy on tourists in the square, the rush of buses, taxis and motorbikes through the city and the builders in their hard hats still toiling to finish Gaudi's grand dream. His creation of heaven on earth.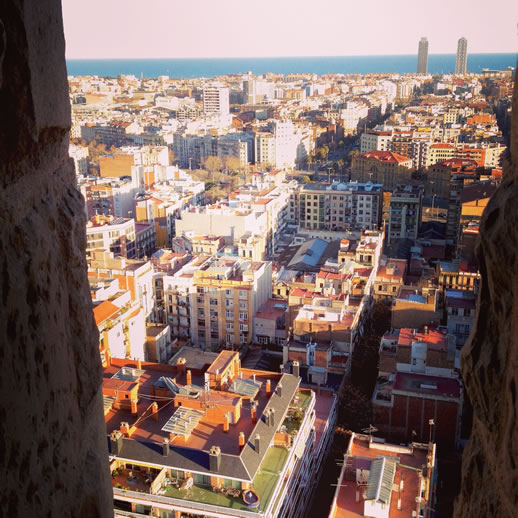 Then I walk back down to earth via a spiral staircase.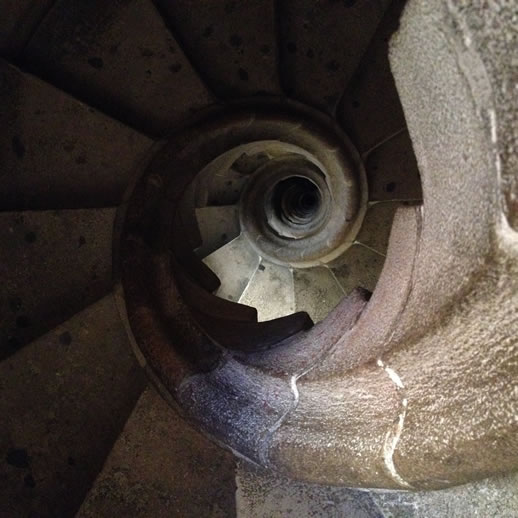 The Sagrada Familia and Barcelona city are dedicated to passion for a higher being, nature and the human urge to create something greater than us. It's a passion that seems to reign unbridled here, almost to the point of madness. But nonetheless it's a passion I want to be part of.
My last stop before bed is to the Pink Peony beauty parlour where a Phillipino therapist gives me a deep, cleansing facial. At first I almost fall asleep only to be woken by the sound of my snores. But then she starts squeezing the spots, blackheads and many blemishes on my chin, nose and cheeks and there's no danger of sleep. It hurts!
I tell her it hurts but she's obviously passionate about skin cleansing and carries on with her work. When it's over my face is glowing and pink.
I hurry back to my Angla Boutique apartment in the most prestigious avenue of Barcelona: Paseo de Gracia where I gorge myself on fresh sushi and strawberries from a nearby market.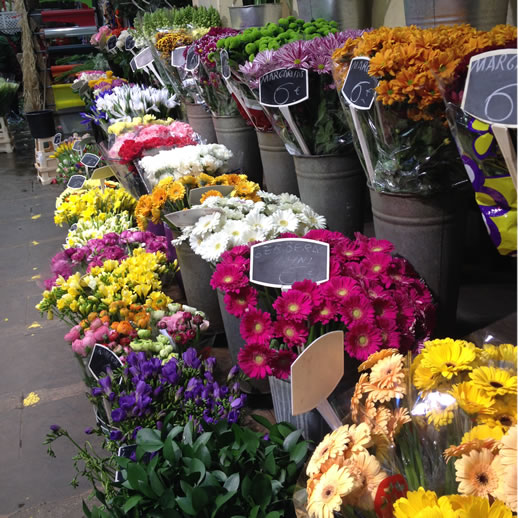 Then I flop into my wonderful bed. It's cold outside but I'm snug and warm under a feather duvet and thrilled to be lying down at last.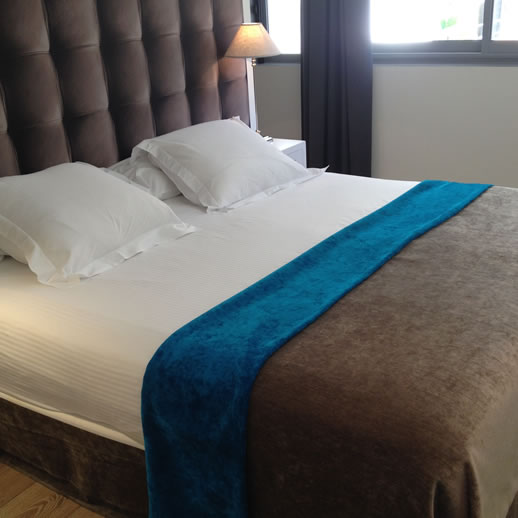 Tonight I'll sleep well. Tomorrow my real Catalunya Experience will begin.
—————-
I was a guest of the Catalan Tourist Board and TV3 during my stay in Catalonia. Follow the #CatalunyaExperience hashtag on Instagram for amazing photos from all over Catalonia. Or find out more about visiting Catalonia on the Catalunya website.
—————-
Don't miss more secret travel diary posts about my Catalunya Experience!
Get the free email newsletter – a weekly injection of tips for midlife adventure to help you travel well, feel fabulous and live your dream. Get updates by email now.
That way you'll be the first to read more stories from my Catalunya Experience.
UPDATE!
My Catalunya Experience episode is now live. Watch it here now.
Share This Story, Choose Your Platform!