Catalunya Experience: Secret Travel Diary Day 2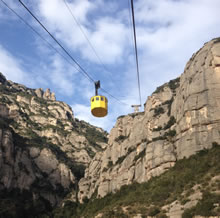 In the morning my face is still tingling. My nose in particular is feeling the effects of the most rigorous cleansing/spot squeezing session it's ever endured.
With annoying regularity I wake at 4.30am. I am not on Catalan time.
My mind immediately starts churning, rehashing how I came to be here for my amazing Catalunya Experience, the journey and my first day in Barcelona then wondering what today will hold. Feeling inspired and knowing I won't get back to sleep otherwise, I write my travel diary for an hour then doze again until 7.30am.
See Secret Travel Diary Day 1 in case you missed it.
My Fitbit records a paltry 5.5 hours sleep but I leapt into action because there's no time to spare. Still, I've underestimated how long it will take me to wash, blow dry hair and apply makeup (two steps I normally skip) not to mention pack, eat and get out of the hotel room without forgetting anything. There is no time to call home but I feel guilty as I know my daughter would like to hear from me every day.
A taxi has been ordered but there are ten taxis outside. I don't know which one is mine, so I head towards the most likely candidate but the taxi driver just ignores me. I wait on the pavement accompanied by my hand luggage, a large duffel bag, my handbag and a carrier bag with water and apples, hoping a driver will claim me.
I'm obviously waiting to go somewhere. But no one wants me. I go back to the first taxi driver and ask if he's waiting for someone.
"Si," he consults a piece of paper, "Annabel".
Relived I hop in. We're only five minutes late. Barcelona whizzes by outside, a whirl of traffic, fine buildings and Catalonian faces.
It's rush hour so traffic is heavy and when we wait at traffic lights The taxi driver checks his phone and click through it.
"In Australia it's illegal to use your mobile phone in the car," I comment conversationally, always keen to practice my bad Spanish and learn about local ways.
"Si. In Barcelona too. When you're driving."
"Ah, but it's okay when you're stopped at the traffic lights?" I ask.
"No," he admits. Glancing back down at his screen and putting the phone down as the traffic starts moving again.
15 minutes later, we pull up outside the TV3 building. My old film crew friends from the airport are there and many new more. I kiss them all on both cheeks knowing I will have trouble remembering their names later.
This is a big TV production with a team of 12 people:
Producer
Director
Screenwriter
Cameraman
Cameraman
Sound technician
Production assistant
Director's assistant
Director's assistant
Presenter (Ivana!)
Drone men
Me!
Back at TV3 offices four more people are researching and planning the Catalunya Experience show.
We throw my bags in the car and hit the road straightaway.
Some distance outside the city, a mountain appears on our left, light grey against the blue sky and covered in giant rocky fingers reaching to the heavens. I immediately want to there.
What I most want to visit in Catalonia is a mountain called Monseratt but it didn't look anything like that in the pictures I saw on the Internet. Ivana tells me we are heading inland and I feel disappointed. I'd prefer to go to that mountain.
Then I see a road sign for Montseratt. I feel excited again, and when is Ivana asks if I can guess where we're going I tentatively reply "Monseratt?"
"That's right," she says.
We soon pull up at the cable car and immediately have to run because they're holding other passengers back so we can get on. Ivana and I stand at the front while the film crew crouches at the back. I'm overwhelmed by the cold morning air, my every moment and sound  being caught on camera and the views as we rise slowly to 1,236 meters (4,055 feet) above sea-level.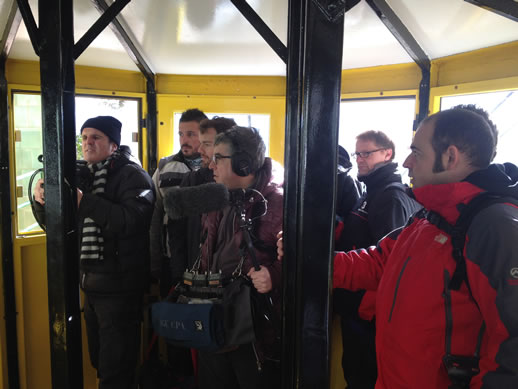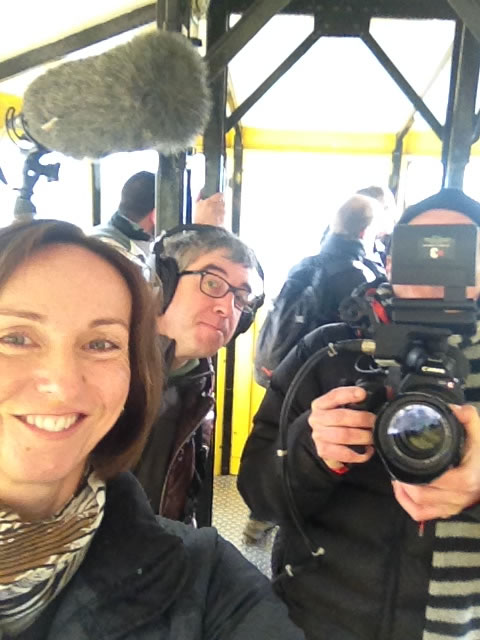 The craggy mountain, with it's multiple peaks, is breathtaking but the outside of the basilica looks dull and forbidding.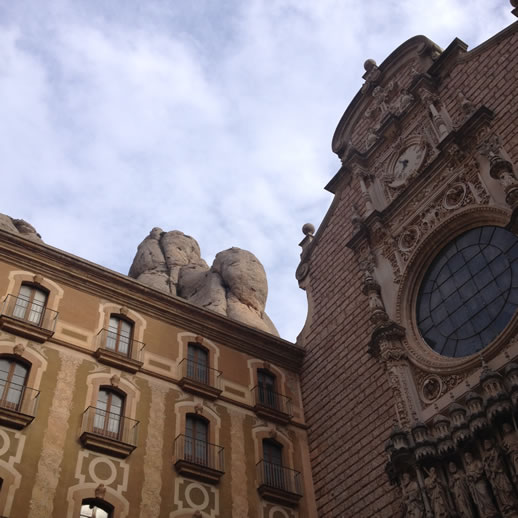 Only once you get inside, can you appreciate the intricacy and beauty of this historical building and its testament to the passion for God, or in this case the Virgin Mary, who is honoured here.
Giant carved wood panelled doors, marbled floors and fonts, golden statues of saints and soaring ceilings catch my eye. I drink it in, fingers lingering on smooth surfaces, my mind thinking about the vast team of people who created it, the passion that drew them to build this monument in this place and the many millions of visitors who've journeyed here for thousands of years.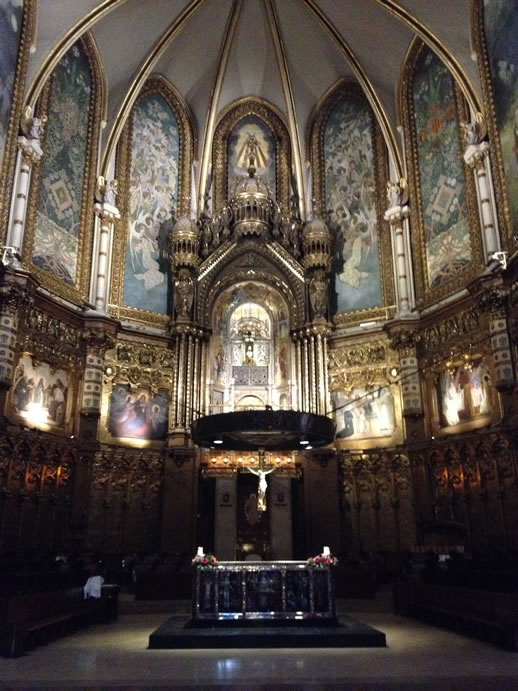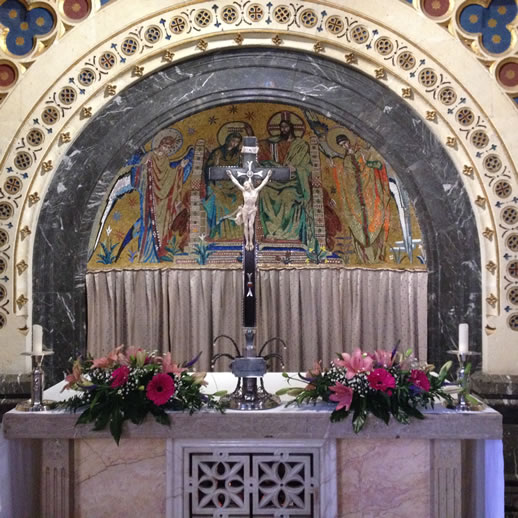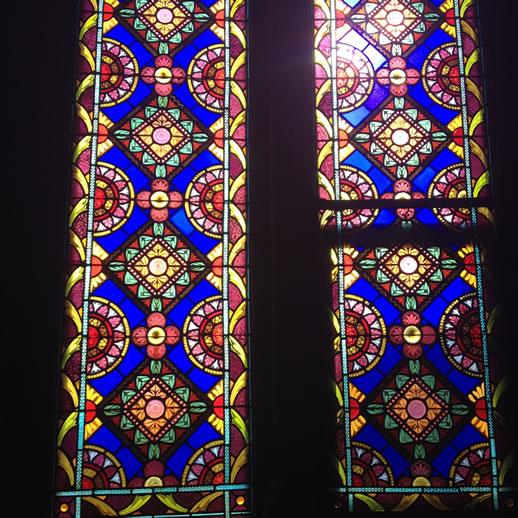 We film from 9am until 8pm. We repeat the same walk, conversation and actions again and again to make sure they are captured on camera. We touch the Virgin Mary and say a prayer.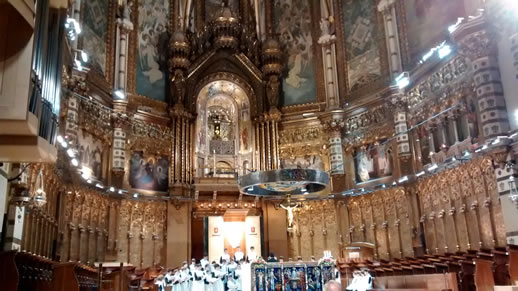 We light a candle in the Ave Maria walk. The choirboys sing, our hearts humming too as their sweet voices fill the cavernous space.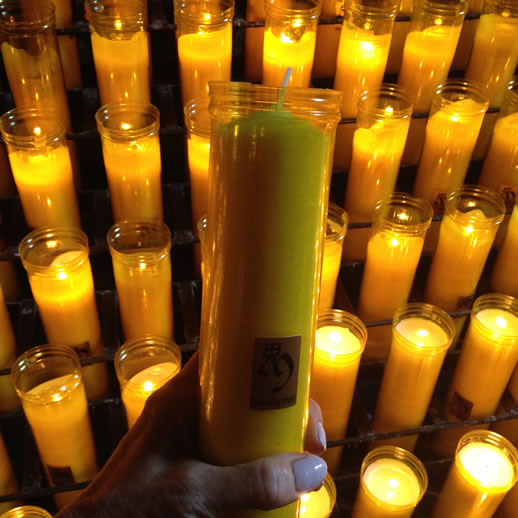 Finally we break for lunch at 1:30pm. The all-man film crew have been so kind, getting my microphone in place, holding my bag, bringing me tea.
Lunch includes goat cheese salad, spinach and chicken, bread and olive oil accompanied by red wine or beer. It's good stuff. Ivana and I are the only women on the table with 12 men. I've never travelled with so many guys before.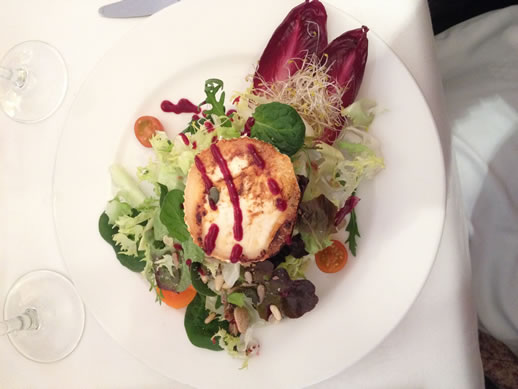 Two more men with a drone arrive to film us from above. The square outside the Basilica is closed for us and a small army of men in neon jackets blow whistles at anyone who tries to pass through.
We're not supposed to look up at the drone as it buzzes around our heads, but it's hard not to. I think about my son crashing his toy remote control helicopter into walls and tables and hope these guys have better control of their toy. In any case, the shots will be spectacular. I wish I could jump on board the drone for a birds eye view.
After lunch I'm told to sit on a step while the cameras train themselves on me. Ivana is deep in conversation with someone and, all alone, I feel suddenly self-conscious.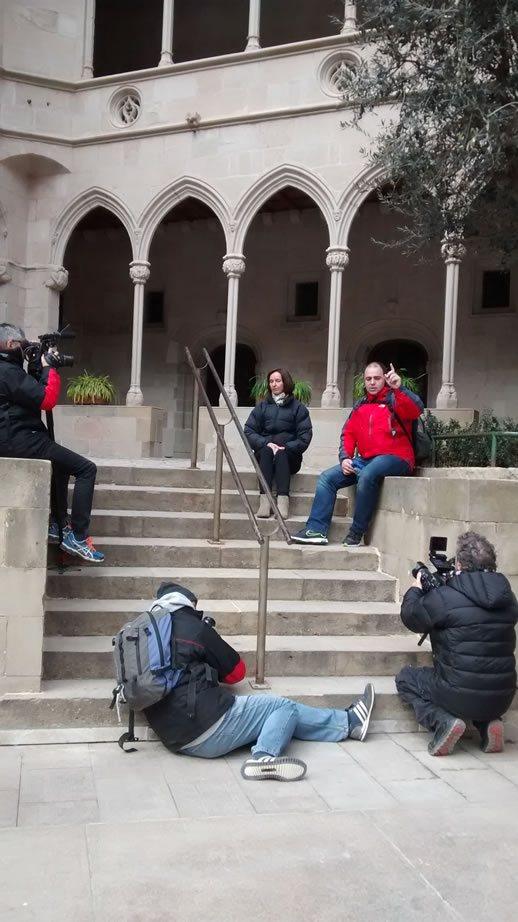 Someone calls action and claps hands then suddenly Ivana sits next to me with two small pots of what looks like icecream.
"Sorry to keep you waiting, Annabel", she says "I've just been to the farmers market to buy some mató for us.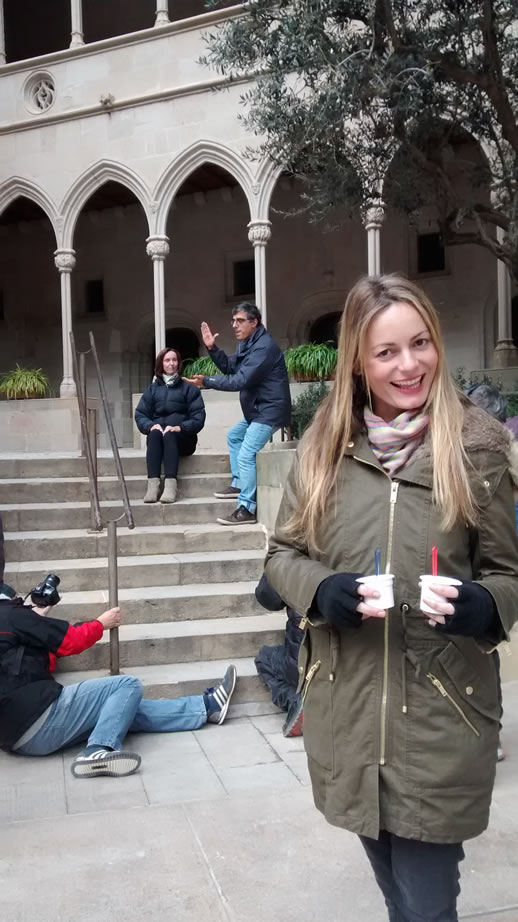 "Really?" I say, surprised and laughing about her brazen fib.
"Yes. It's a local speciality of soft cheese which we eat with rosemary honey. It's delicious." That much is true and we tuck in. Yum! I'd eat melo for breakfast every day if I could.
But the best is yet to come; a private tour with Prior Ignacie to areas of the monastery gardens which are usually out of bounds to the public.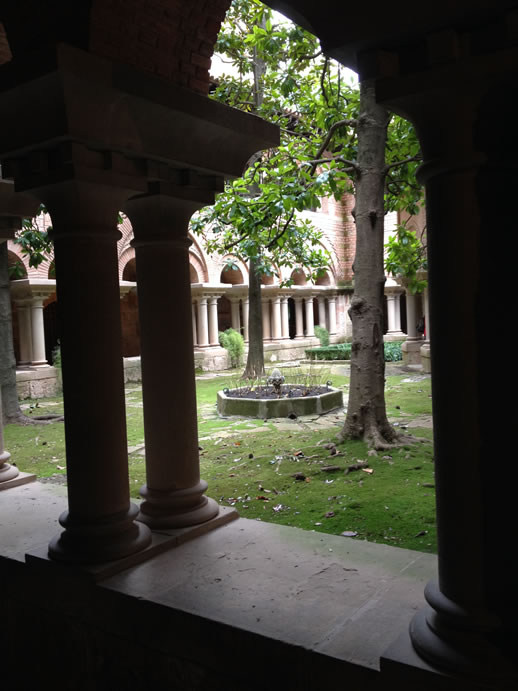 The cloisters and library with its 350,000 ancient books are sublime and I feel privileged to be there.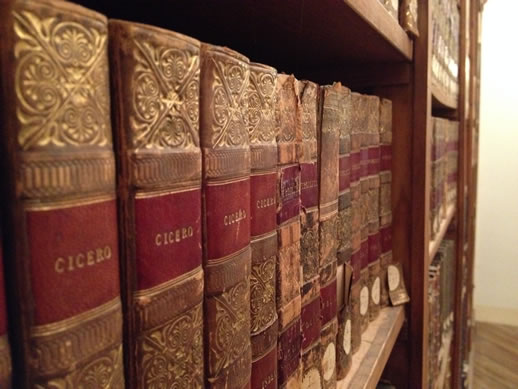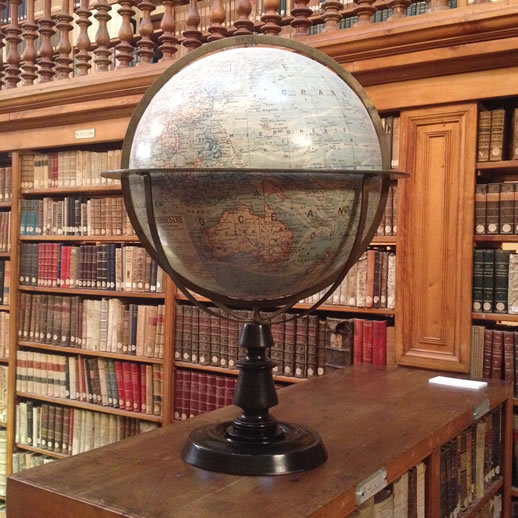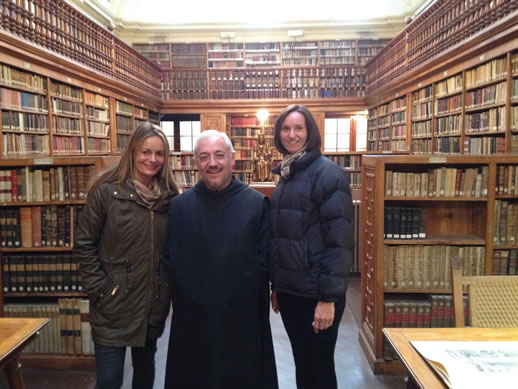 The Prior is funny, kind and intelligent. I pick his brains about Internet addiction, modern problems and the importance of silence. He explains that:
"Without silence you cannot find your inner."
His English is imperfect but I know exactly what he means. It's a great quote.
"Do you think we are afraid of silence? Of Stillness?" I ask because I'm addicted to busy-ness, yet constantly trying to slow down.
"When you are still you find your inner self. In silence you find the best of yourself, but also the worst of yourself. And that is hard."
We take a moment to practice being silent, listening to the sound of snow melt dripping from the roof and the quiet beating of our perfectly flawed hearts.
As darkness falls, I add extra layers of clothing and go back into the Basilica to hear the monks chant and the choir sing. We are spending the night in a hotel on Montserrat.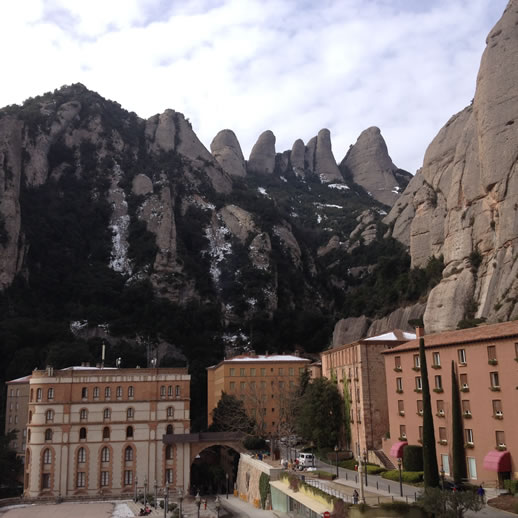 The sunset view is divine.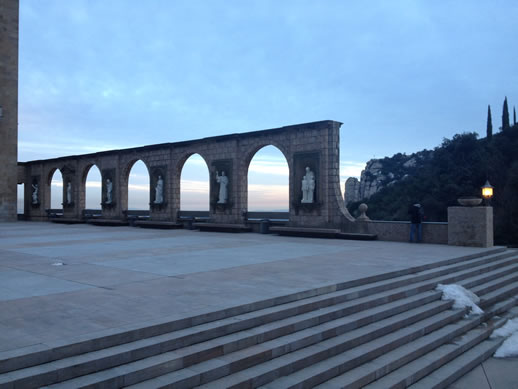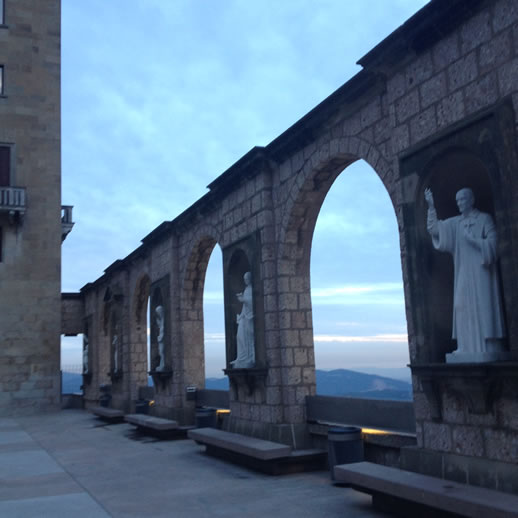 We film a final interview segment at 7.30pm and eat at eight. I'm over-tired. My feet, back and head all ache but as I fall asleep to the sound of deep mountain silence I feel content. Compete.
I wonder what awaits me tomorrow…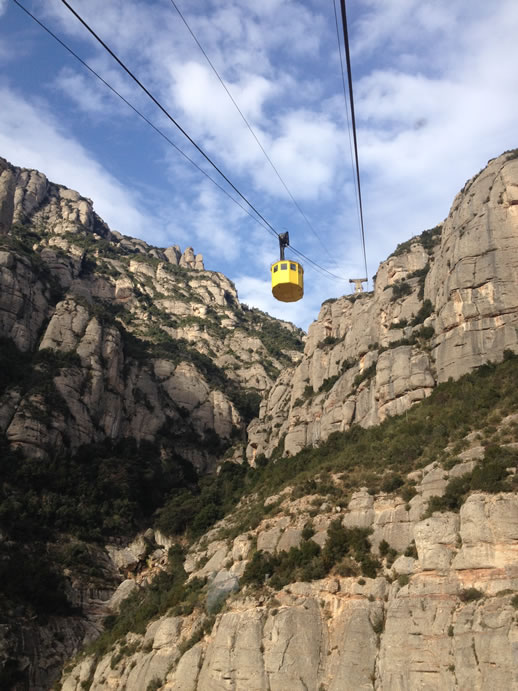 Don't miss more secret travel diary posts about my Catalunya Experience!
Get the free email newsletter – a weekly injection of tips for midlife adventure to help you travel well, feel fabulous and live your dream. Get updates by email now.
That way you'll be the first to read more stories from my Catalunya Experience.
In the meantime check out my Secret Travel Diary Day 1 in case you missed it.
UPDATE!
My Catalunya Experience episode is now live. Watch it here now.
Share This Story, Choose Your Platform!