Catalunya Experience: Secret Travel Diary Day 5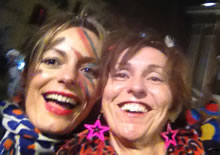 Finally I sleep from 11.30pm until 6.30am with no interruptions. Yay! We've packed so much into my four days in Catalonia and the last three days of filming (see day one, two, three and four) but there are still two days left.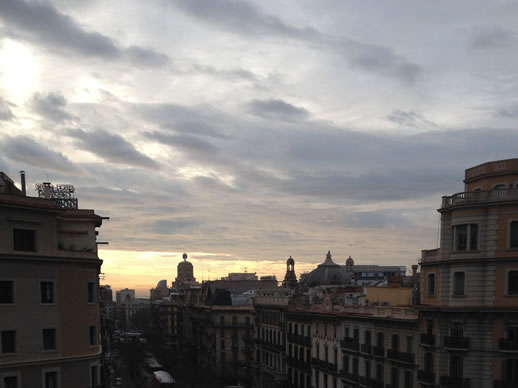 The rooftops of Barcelona fade away into dawn and I walk the streets to find breakfast and prepare for whatever may await me!
———————-
Have you seen  my Catalunya Experience episode yet? It showed on TV3 in Catalonia on October 28th. You can watch it here now.
———————-
The TV3 crew arrive at my apartment at La Rambla de Catalunya where we film my interview and me blogging.
The TV3 team have a new outfit for me to wear today: black leggings, a white thermal long-sleeve top and a purple zip up sleeveless jacket. It's not the kind of thing I normally would normally wear but I quite like it and it makes me look super sporty!
When I'm dressed we hop in the TV3 van and drive to the next great filming opportunity. What will it be?
It's not long before we arrive at Montjuic Hill and Castle. The views are spectacular. Even though the day is overcast it's great to have a bird's eye view of Barcelona, hemmed in by hills, the sea and the port.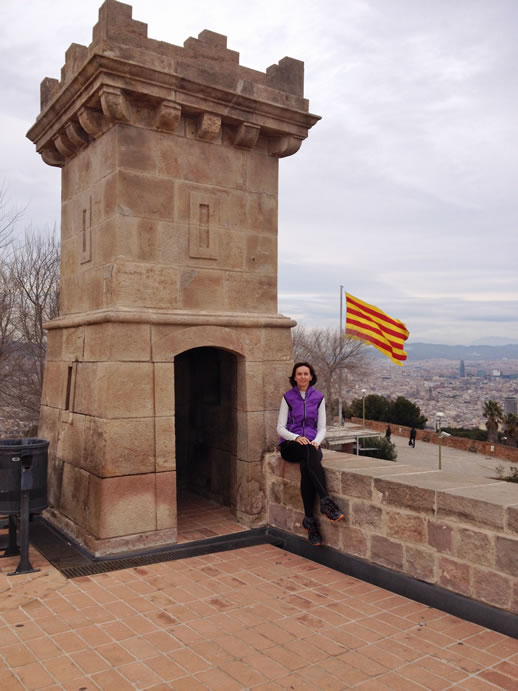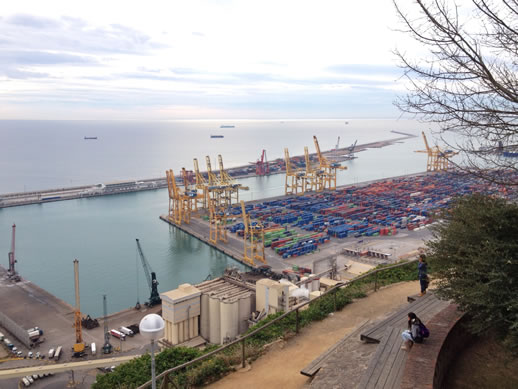 Ivana and I film a few segments with us looking out at the view then we go downstairs to meet the morning's guest. I've been slightly worried that we were going to go paragliding or something crazy, so I'm quite relieved to discover it's a jogging tour.
I can't help feeling amused that I am being portrayed in such a sporty light. I never felt I was any good at sport at school in England and now I'll be portrayed on TV3 in Catalonia as an Australian sporty spice!
Joan Brull, our jogging tour guide works by day as an archivist at TV3 but in his spare time he trains for and runs in ultra marathons. He recently setup his own company 360° Running to take visitors on jogging tours of Barcelona.
We set off from Montjuic Castle and I'm glad we're running downhill. Once again the film crew are amazing. One of the camera men drives a scooter in front of us while another perches precariously on the back filming.
I can't believe I'm being filmed for TV jogging! I've reinvented myself so well as a healthy person I don't even recognise myself!
Historically, I've never liked jogging but I'm getting used to it and this is actually fun. We have great views of the city and Joan points out landmarks like the outdoor swimming pool where the highly successful Barcelona synchronised swimming team performed at the Olympics with a spectacular backdrop of the city.
We pass the Sports Museum and stop at the Olympic Stadium which was used for the 1992 Barcelona Olympics. The drones are buzzing around and I try not to get distracted by them as Joan talks about the Olympics. It's obviously a huge point of pride for Barcelona and one of the highlights of the last century in Barcelona's history.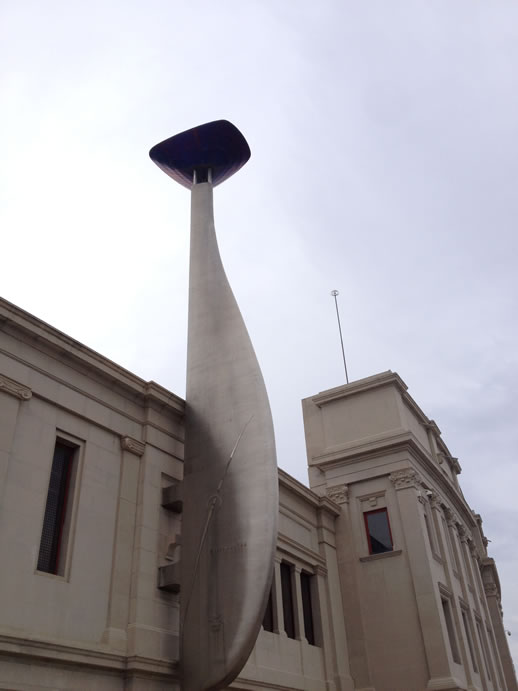 We jog round the side of the stadium and enter the arena. Joan points out the place where a Para-Olympian fired an arrow to light the Olympic flame.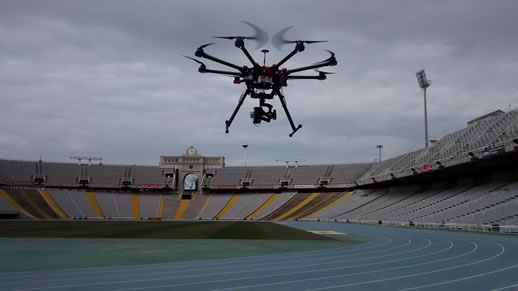 We jog round the stadium three times for the cameras imagining the atmosphere when the stadium is filled with cheering people. When the filming is over we take some team photos. There I am in my purple jacket inbetween Ivana and Catalunya Experience director Xavi Brichs who dreamed up this project and invited me along.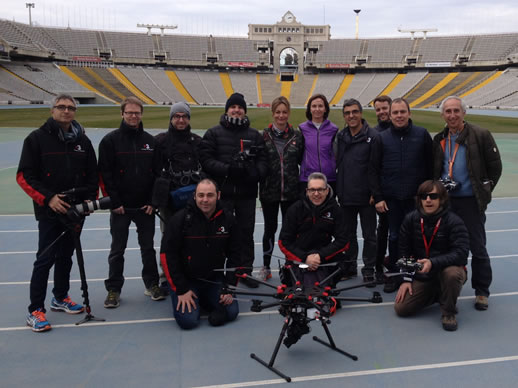 By now it's 2:30 PM and time for lunch! Ivana and I jog with Joan past the Torre Calatrava and the Palau St Jordi then towards the national museum. It's a beautiful old domed building and the views from the front steps are fabulous.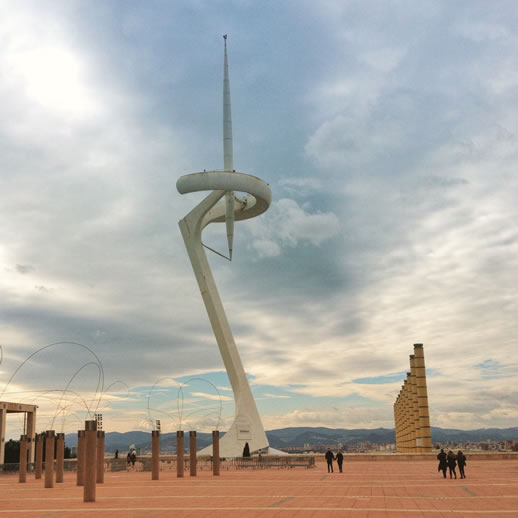 We enjoy a buffet lunch with cheese, chickpea salad, paella and cream caramel for desert. Then it's time to get back in the van for the next adventure.
First stop is the TV3 offices because we need to shower and change. It's dead quiet being Saturday, but we find a dressing room which is already laid out with a fancy dress outfit.
There's a red net skirt for me, leopard print tights, a lacy top and a black leather biker jacket. Accessories include big pink star earrings, a studded black leather cuff, a pink bandana. It looks as if the studded black leather collar Ivana gave me at the airport will come in useful at last.
It seems like we are going back to the eighties and I feel a Madonna moment coming on!
I'm a bit skeptical though. I've heard we are going to a Carnival but I thought carnival was about watching other people parade around town in costume. I'm worried I'll stick out like a sore thumb.
Still I shower and get changed, making sure I wear layers to ward off the cold as I have a feeling we'll be outside half the night.
We hit the road and drive to Vilanova i la Geltrú (Vilanova) about 40 minutes north of Barcelona. We drive straight to what I think is the city center but there's not a lot going on. The streets are strewn with confetti already and there are a few people dressed up, most notably a group of merry senior citizens who appear to be dressed as babies in long white nighties and fringed masks. It's odd.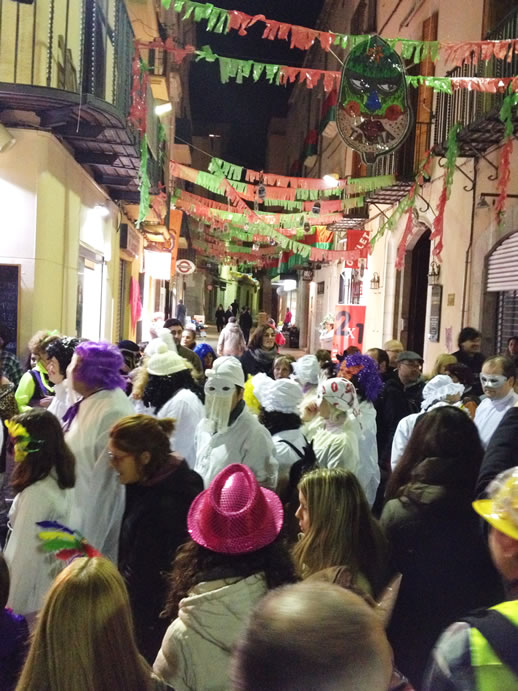 We walk through the streets and Ivana points out the balconies with flags and masks hanging off them to celebrate Carnival time. It's 8pm and the temperature is dropping but soon things heat up.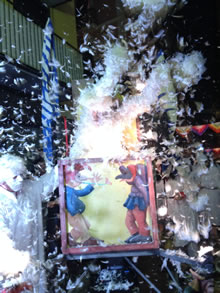 The oldies appear pushing and pulling a large box. Suddenly it pops open and a figure appears wearing a headdress made of rooster feathers and not much else! He starts throwing huge torrents of soft white feathers and seems to be wearing a feathery costume himself.
But apparently he is completely naked, just covered in honey so that the feathers stick to him. I can't believe that he's really naked and keep my beady eye on him to see if I can see any naughty bits.
In Australia they arrest naked men who appear in public! They definitely don't parade them around the streets for all to see and have a party to celebrate!
But anything goes at the Vilanova Carnaval and I love it.
The parade continues and Ivana and I try to keep up while the cameramen force their way between the ever thickening crowds of people and clouds of feathers.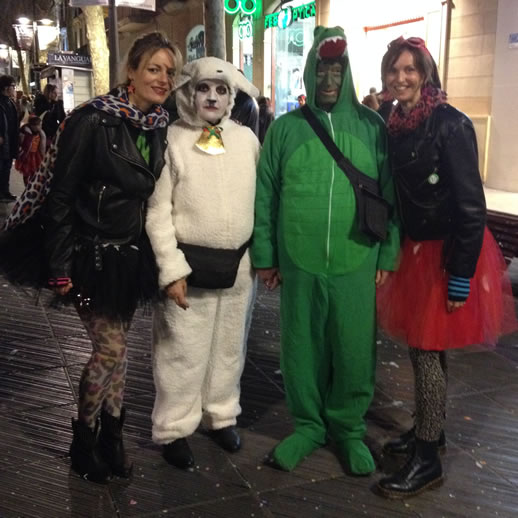 I learn that the naked feathered man in the box is a satirical character called the Moixó Foguer. As the evening wears on and the effort gets to him, it seems as if the honey is dripping off him and the feathers sticking less. More and more human skin, hair and worse is now on display but no one bats an eyelid except me!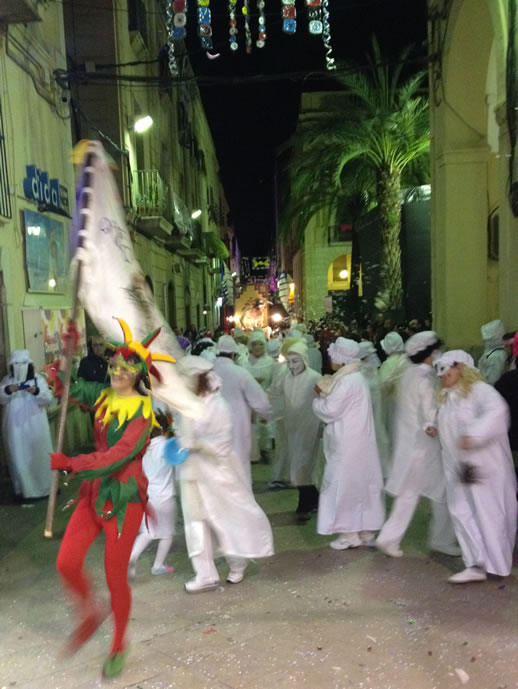 The streets, our hair and clothes are soon covered in feathers. It's been a fun evening and the celebrations will go on much longer but we need to head back to the hotel and rest up for tomorrow.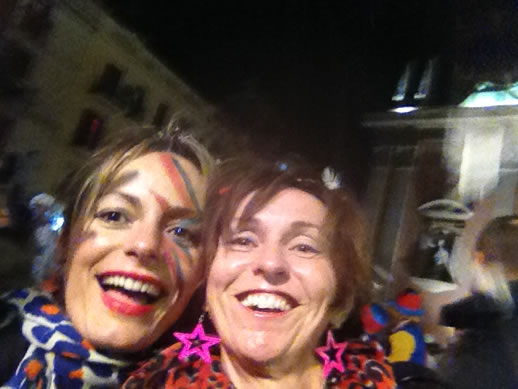 We eat supper at 10pm and get to bed around 11.30pm. I'm pooped but I can only imagine how the people of Villanova feel. This is just another day at the Carnaval de Vilanova i la Geltrú for them and it's been going on all week!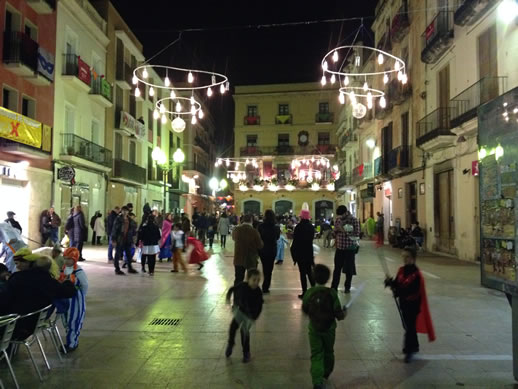 Don't miss more secret travel diary posts about my Catalunya Experience!
Get the free email newsletter – a weekly injection of tips for midlife adventure to help you travel well, feel fabulous and live your dream. Get updates by email now.
That way you'll be the first to read more stories from my Catalunya Experience.
———————-
Have you seen  my Catalunya Experience episode yet? It showed on TV3 in Catalonia on October 28th. You can watch it here now.
———————-
Share This Story, Choose Your Platform!