Catalunya Experience: Secret Travel Diary Day 4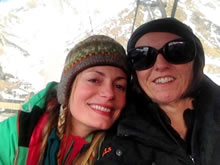 Once again the excitement of day one, two and three in Catalonia prove too much and I can't sleep. I wake in the night, my mind churning for what seems like hours. Finally I fall back to sleep and oversleep.
In my tiredness I set my alarm for 7pm, not 7am so I only have half an hour to get ready. I eat a speedy breakfast before being interviewed on camera about my experiences yesterday. More tears of emotion are caught on film.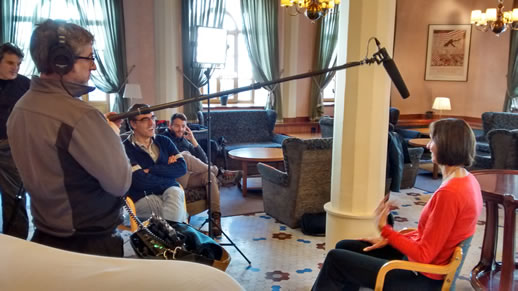 Then I'm thrilled to find I'll be going skiing. I've only been a couple of times before, once when I was 13 and once about 20 years ago. I'm looking forward to skiing again, hopefully with a teacher as I'm sure I need some lessons!
———————-
Have you seen  my Catalunya Experience episode yet? It showed on TV3 in Catalonia on October 28th. You can watch it here now.
———————-
We get kitted up in our snow gear, boots and carry out skis outside. But as Ivana and I take the cable car to the top of a blue ski piste I see there is no teacher. It's just us and the cameramen.
It takes time to get everything ready for filming but at last we're ready and take off down the mountain. The first part of the slope is steep and I ski so fast I'm ten times more afraid than when I was climbing. That's no safety rope when you're skiing. If I lose control I will fall over and it will hurt.
But miraculously I stay upright, the steepness levels out and I start to enjoy skiing. I try to remember to keep my arms in and legs bent but I'm conscious that it's all being filmed because there are three cameramen whizzing around me.
It's like being in a James Bond movie with three villains trying to catch me.  I'm totally impressed by the TV3 crew and their incredible action men, who can climb and ski while filming me.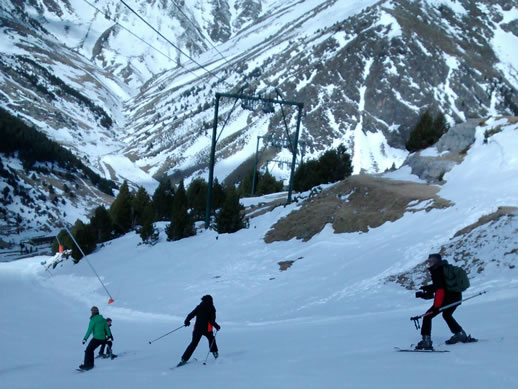 My legs are already aching after one run, but I'm ready to go back up the mountain for another turn.
The second run is much better. I start to think I'm actually quite good at skiing. I've surprised myself.
By now it's midday and I'm thirsty. A shot is being set up and I drink two bottles of Vichy Catalan sparkling water while I wait. It's delicious, sparkly and almost salty in flavour.
Then we go to a viewpoint where the TV3 film crew is waiting and mountain man Joan tells us a bit more about the Val de Nuria and its mountains. Then we have time for one more ski run before we have to leave. By the time I get to the bottom of the piste I'm convinced I'm the greatest skier in the world.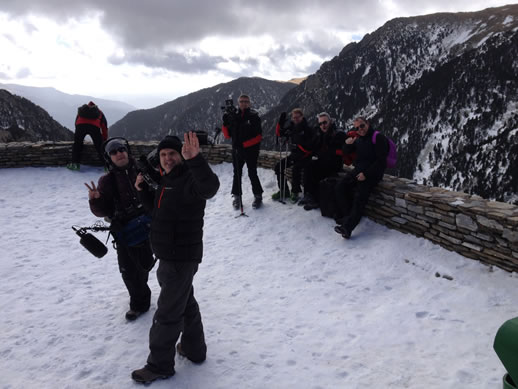 Then Ivana and I hear that they forgot to get a shot of us walking into the sanctuary yesterday so we have to do that now. We change back into the clothes we were wearing yesterday and pack our bags before catching the 1pm rack train back down the mountain. It's a rush but we get it done.
It's a beautiful 40 minute ride, past gushing mountain rivers, huge icicles, and melting snow. Soon the snow is behind us, the train arrives in the town of Ribes and we head to a local restaurant for a huge lunch.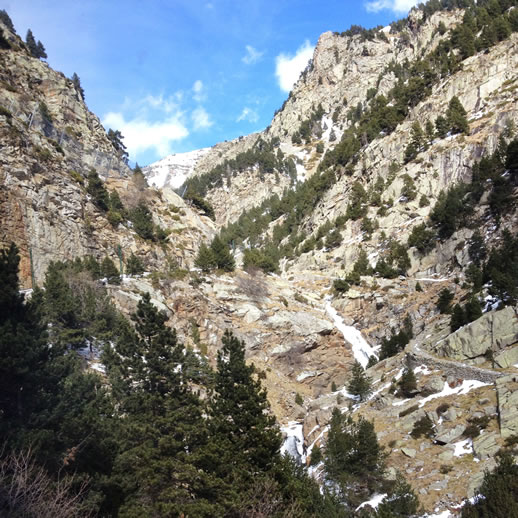 After lunch we drive back to Barcelona. No helicopter this time! It's a 90 minute car journey and I close my eyes for half an hour.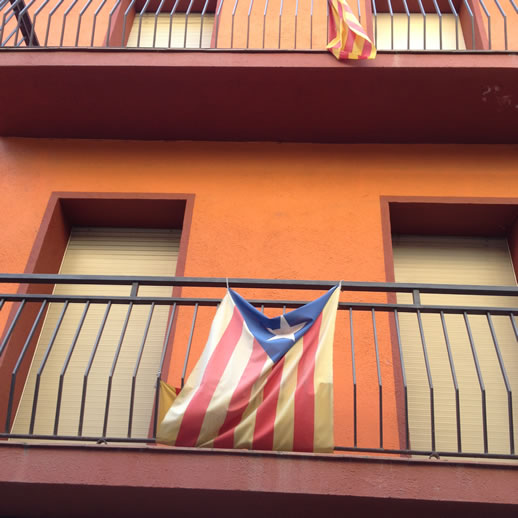 Back in Barcelona we visit La Pedrera or Casa Pedrera, one of Gaudi's gorgeous buildings.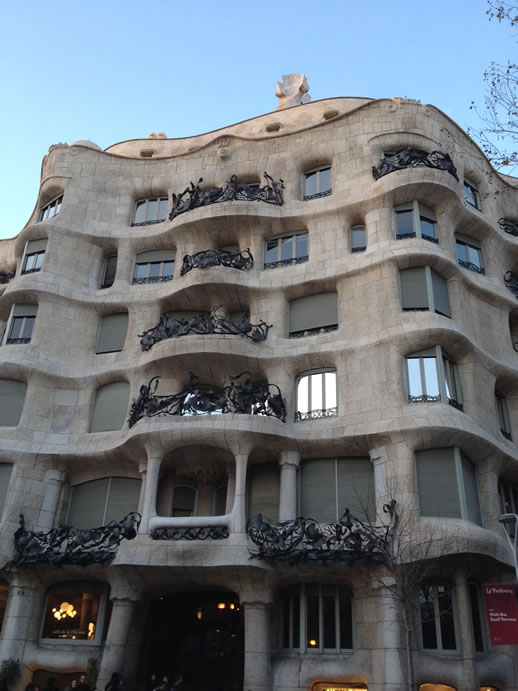 Of course I've been dying to visit it and I'm not disappointed, but the tour and filming takes almost four hours. I'm exhausted, I think we all are. But we're professionals and the TV3 Catalunya Experience team are truly incredible.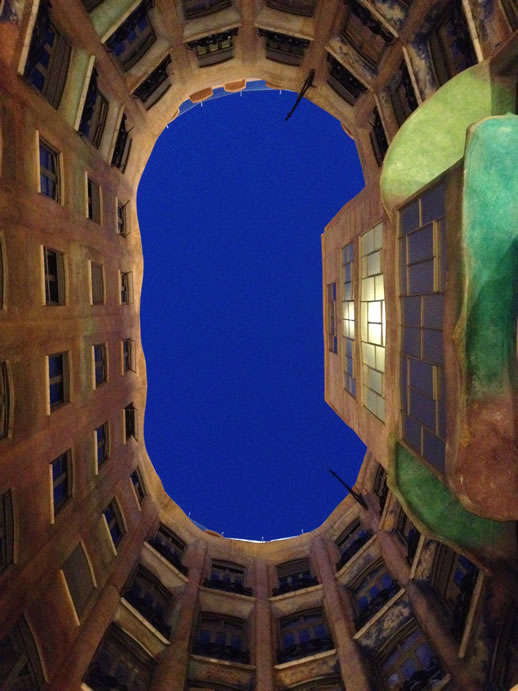 Highlights are the rooftop and the apartment where we get to see how people lived in this building after it was first completed. Everything has a specific function. It's a haven of good design and tranquility in the city. I love the simplicity of everything, especially the bathroom and am worried about all the visitors wearing away the beautiful tile flooring.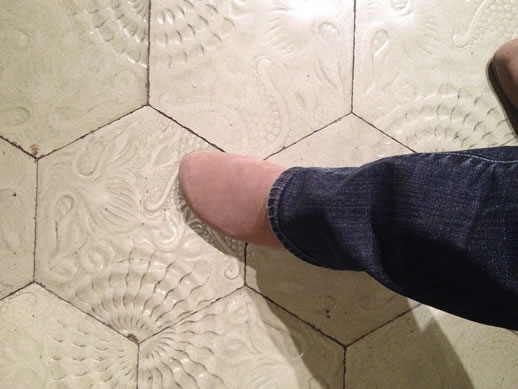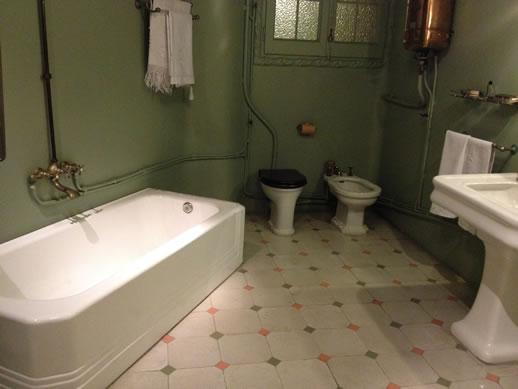 The glittering chandelier contrasts sharply with the simple design.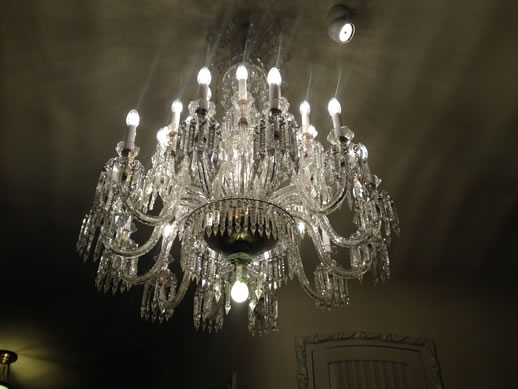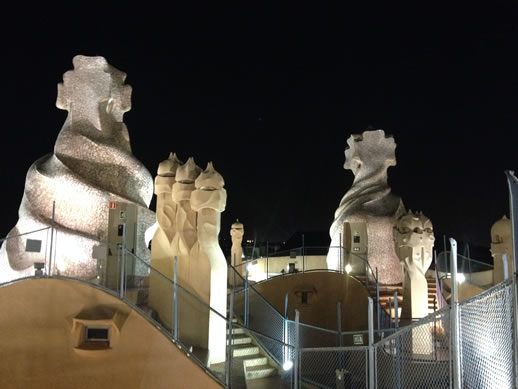 Santi, one of the cameramen, drops me at my apartment 10pm. Once again I'm overtired and underfed. I wish I was staying in a hotel where I could order room service but the apartment is beautiful and truly luxurious. It even has a heated toilet for Japanese visitors.
I don't want to go out so I have a shower and go to bed with no supper. That's life for a TV film crew on the road. It's a tough life but somebody has to do it and I wouldn't give up my Catalunya Experience for anything.
It was just another amazing day in Catalunya.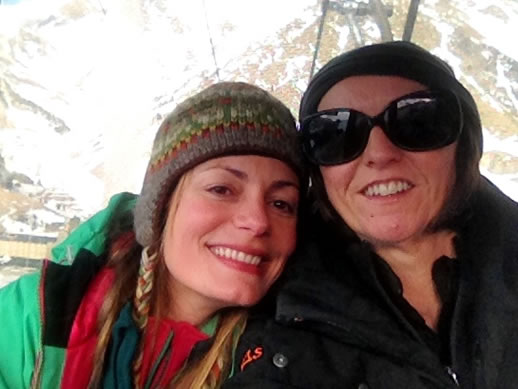 Don't miss more secret travel diary posts about my Catalunya Experience!
Get the free email newsletter – a weekly injection of tips for midlife adventure to help you travel well, feel fabulous and live your dream. Get updates by email now.
That way you'll be the first to read more stories from my Catalunya Experience.
———————-
Have you seen  my Catalunya Experience episode yet? It showed on TV3 in Catalonia on October 28th. You can watch it here now.
———————-
Share This Story, Choose Your Platform!