The wait was worth it! My Catalunya Experience TV Travel show episode has aired and you can watch it here.
There are two versions: Catalan and English. The English version still has a bit of Catalan spoken but even if you can't understand every word you'll probably enjoy the beautiful scenery and grow as curious and excited about Catalonia as me through watching it.
ENGLISH VERSION:
CATALAN VERSION:
In this episode of the Catalunya Experience TV show I travel with presenter Ivana Miño to:
Montserrat – where we visit the monastery, talk about the value of silence and go climbing;
Val de Núria to learn about Saint Gils and go skiing;
Barcelona to visit Casa Pedrera and enjoy Antoni Gaudi's timeless architecture and visit Montjuic Castle and the Olympic Stadium;
Vilanova i la Geltrú for the grand finale to experience the carnival with hilarious Catalan comedians Toni Alba and Jordi.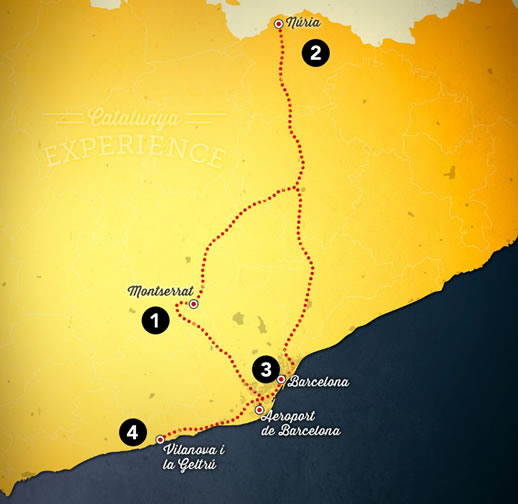 It was a spectacular journey, made all the more special because I traveled with a highly talented and  super fun Catalan film crew. A huge thank you to all my friends on the team including director Xavi Brichs, beautiful Ivana Miño and every one who worked so hard to organise the trip and make me feel so welcome during my stay in Catalonia.
I was a guest of the Catalan Tourist Board and TV3 during my stay in Catalonia. Follow the #CatalunyaExperience hashtag on Instagram for amazing photos from all over Catalonia. Or find out more about visiting Catalonia on the Catalunya website.
Read more and see more photos in Barcelona: My New Favorite City in the World! Or check out my secret travel diaries for inside information:
Catalunya Experience: Secret Travel Diary Day 1
Catalunya Experience: Secret Travel Diary Day 2
Catalunya Experience: Secret Travel Diary Day 3
Catalunya Experience: Secret Travel Diary Day 4
Catalunya Experience: Secret Travel Diary Day 5
Don't miss more secret travel diary posts about my Catalunya Experience!
Get the free email newsletter – a weekly injection of tips for midlife adventure to help you travel well, feel fabulous and live your dream. Get updates by email now.
That way you'll be the first to read more stories from my Catalunya Experience.