7 Canada Travel Stories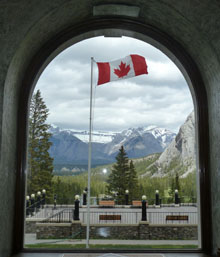 Canada's a huge place and you'd need to travel there many times or stay there forever to see it all.
I wouldn't mind repeat visits at all. Late spring, summer and autumn would be my favourite times to visit but if you love winter sports then winter is perfect for ski-ing, snow-boarding, snowball fights and all that fun stuff.
While I didn't experience all of Canada by a long shot in my 10 day trip I did get up close and personal with some Canadian highlights including the Yukon, Kluane National Park and Banff National Park.
In case you missed any of the posts here's a round-up of my Canada stories with the highlights being the wild, majestic scenery and the wildlife including moose, elk and BEARS. Apparently autumn is a great time for bear spotting as they're very active, filling up on food before the long winter hibernation so if you  haven't visited Canada before now's a good time to start planning your trip.
The photo up top was taken from the The Fairmont Banff Springs Hotel – even if you don't stay there drop by to use their wonderful spa pools, drink herbal teas and enjoy the views.
Where would you start when traveling to Canada?
Share This Story, Choose Your Platform!