Going on a Bear Hunt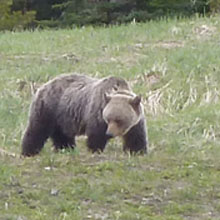 I was off my bike before the man finished saying:
"There are baby ducks crossing the path. Stop please!"
We were right by Beaver Lake in Stanley Park, Vancouver on my first day in Canada. I'd come to Beaver Lake looking for beavers, and to Canada looking for any type of wildlife, because I'm a nature lover and a sucker for just about any kind of wild animal.
Kindred spirits it seemed, my new friend and his wife were armed with bread and nuts so we were soon surrounded by ducks, geese and a sweet little black squirrel. After exchanging small talk about where we were from, where we'd been and where we were going I confided:
"I'm going on a bear hunt in the Yukon."

"Are you shooting them with a handgun or a rifle?" the man asked.
I faltered wondering if it was a joke. Apparently shooting bears is a legal in some areas of Canada but why anyone would want to shoot a bear remains a mystery to me.
"I'm just shooting them with  my camera." I replied and we both laughed with relief.
The next day I got to Whitehorse in the Yukon where I planned to launch my bear hunting activities with a 17 kilometer (10.5 mile) hike along the Yukon River.
"Is it safe to hike alone?" I asked the Parks Canada employee who greeted me at Whitehorse airport.
After all, I wanted to spot a bear, not be eaten by one.
"Oh yes! Just make sure you make plenty of noise, clap your hands when you go round blind corners and call out in a deep voice:

"Yo, bear!""
She wasn't joking.
At the deli where I picked up a picnic lunch I spotted a man from the Canadian Wildlife Service and couldn't resist seeking a second opinion. I wished I hadn't.
"You need to buy some bear spray before you leave." he said.
He then proceeded to tell me how to spray bear spray, how it would only work if I was very close to the bear and how it wouldn't work at all if the bear spray (also known as pepper spray) blew back in my face rather than at the bear.
I proceeded to walk all over Whitehorse looking for bear spray before finally realising that, as it was Sunday, all the usual places you go to buy bear spray were shut tight.
Now I could either go back to my hotel room and watch the National Geographic channel, or go for the walk anyway but without any bear spray.
I went for the walk and didn't need the bear spray that day because I didn't see any bears. In fact I didn't see a bear the next day or any day soon after that either.
This is a rough overview of the phone calls I had with my kids while I was in Canada:
Day 1
"Did you see any bears Mummy?"

"No darling, but I saw some ducks, some geese and a black squirrel."
Day 2
"Did you see any bears Mummy?"

"No darling, but I saw a big black bird with a red tummy."
Day 3
"Did you see any bears Mummy?"

"No darling, but I saw a moose."
And so it went on with days 4, 5, 6, 7, 8, and 9 sadly free of all bears.
Finally on day 10, my last day in Banff National Park, we saw a bear. In fact, not one, not two but three grizzly bears – a mother bear and her two cubs – who were grazing on a grassy clearing near the Bow Valley Parkway in between Banff and Lake Louise.
The area had been cordoned off for safety as mother bears with cubs are grumpy beasts. Being a solo mum with two hungry cubs to feed will do that to you.
We stopped, got out, took photos and created a small bear jam as other cars and drivers stopped to spot the bears too. It was a bear sighting but it didn't satisfy my bear cravings. Although I'd seen bears they was so far away I still wanted to see more.
Ten minutes down the road I squealed in excitement:
"There's another bear."
Sure enough a shaggy grizzly bear was grazing right by the roadside. We stopped and watched as long as we could while trying to avoid causing another bear jam.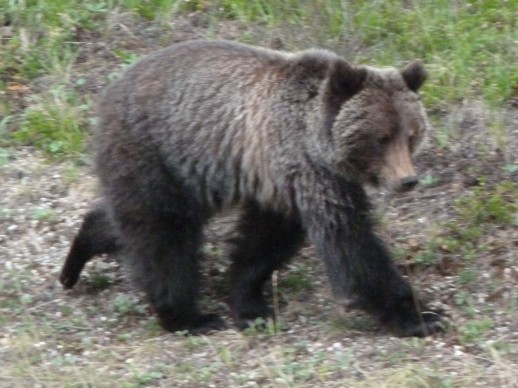 Because many of the bears in Banff National park are tagged and numbered we later found out the bear above is a two year old bear who was orphaned when his mum was run over by a train last year. It's unusual for an orphaned bear cub to survive as they are preyed on by coyote and cougar or simply unable to look after themselves but this bear is a survivor.
He was a beautiful sight too and only meters away from our van. I'll never get my fill of seeing grizzly bears in the wild but I was satisfied I'd had a close encouter with one and got some photos to prove it.
And where there's one bear to be spotted there are more.
Setting off again we saw a black bear walking through the woods about 20 meters from the road. He or she was partly hidden in the woods but looked glossy, healthy and happy doing what bears do in the spring and summer. Eat, eat and eat some more until they have enough fat laid down to keep them alive during their winter hibernation.
So on Day 10 when I spoke to the Candy kids there was exciting news to report:
"Did you see any bears  mummy?"

"Yes darling, I did. I saw four grizzly bears and a black bear. They're big and beautiful but you mustn't get too close.  I was in a van when I saw them but you wouldn't want to run into one while you were on foot or on a bike."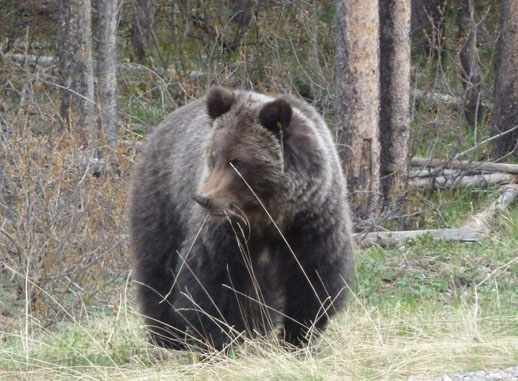 Find out more about spotting bears and other wildlife in Canada
For more information about beautiful Banff National Park visit the Banff and Lake Louise Tourism website. To find out more about the Alberta region visit Travel Alberta.com.
I was a guest of the Canadian Tourism Commission and Travel Alberta.
Are you a wildlife lover? What animal would you most like to spot in the wild?
Share This Story, Choose Your Platform!