A Travel Dream Comes True in Lake Louise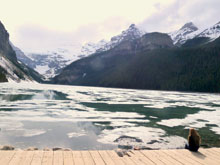 In 1999 the Mucho Man and I were in New Zealand, where we'd just given birth to a new web design business and our first baby.
After travelling round the world for 12 years I was trying to settle down and do the sensible, grown up family thing. But it was tough for a travel fiend like me to stay in one place so whenever I had a spare moment I could be found reading travel books, talking about travel and covertly planning my next trip.
My armchair travels got a shot in the arm when the Mucho Man and I scored a web design job for a major wholesale travel agency. Now I could pore over their travel brochures and photos for hours on end and call it work.
Travel brochures always have the best photos, way better than any snap I could take, so all the travel photos were amazing and I was soon dreaming of traveling to just about every destination they covered.
But one travel destination grabbed my attention like no other – a photo of Lake Louise in the Rocky Mountains of Canada.
Lake Louise and its mountain setting looked so ethereal, mystical and peaceful. It seemed to offer the perfect antidote to my hectic life as a start up business owner and new mum.
I vowed then and there that one day I'd visit Canada and see Lake Louise with my own eyes. I knew I had to make it happen, I just didn't know how or when.
Fast forward 13 years. My baby was now a teenager with a brother and a sister who conspired to keep me busy and keep me at our home in Australia where we now lived.
My life had changed a bit over the years but my love of travel had never abated. I still dreamed of making it to the Canadian Rockies one day and visiting Lake Louise.
So when I was invited to visit Canada I jumped at the chance and seeing Lake Louise was top of my wish list.
When I visited Lake Louise in early June the lake was still partially frozen, the water not yet completely opaque blue.
While it didn't look exactly the same as that travel brochure picture it was still magical, and riding on horseback through the forest to the far side of the lake on horseback let me see a side of the Lake Louise many don't.
I waited a long time to see Lake Louise and traveled a long way to get there.
Lake Louise was named after Queen Victoria's fourth daughter but she never saw the lovely lake that bore her name. Now I have and I hope you get to see it too.
Find out more about traveling to and around Lake Louise
I was a guest of the Canadian Tourism Commission and Travel Alberta during my trip to Banff and Lake Louise. You can find out more about visiting Alberta and Lake Louise on the Travel Alberta website.
Are Lake Louise and the Canadian Rocky Mountains on your travel wish list?
Share This Story, Choose Your Platform!