Why I Jetted off to Canada and a Vancouver Video I Love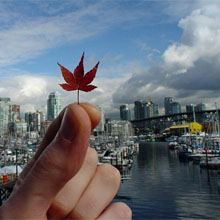 As you read this I'll be squished into an economy class plane seat for 13 hours somewhere between Brisbane and or milling around at Los Angeles International Airport for five hours.
I'm winging my way to Canada as a guest of the Canadian Tourism Commission so that I can write all about it, share my photos and entice you off to the wilds of Canada too.
I know what you're thinking and yes, it is a tough job, but somebody's got to do it. I must have been a very good girl lately because this year that somebody is me.
The trip includes the Go Media Canada event in Whitehorse where I'll be meeting 150 other travel writers from around the world, including representatives from the big guns like National Geographic and the BBC, as well as other humble, independent travel writers and bloggers like me, all united in the same mission: to find out more about and experience Canada.
I'll be heading to the Yukon, which borders Alaska, and to Banff in the Rocky Mountains of Alberta, where I'll be keeping an eye out for bears, beavers and other beasties as I canoe, horseride and hike through the stunning scenery.
But first I'm visiting Vancouver and, although I only have one evening there, I wanted to share this Dear Vancouver video I discovered on YouTube so you can get a taste of Vancouver City because many international visitors to Canada will arrive there first.
The 60 second video is both a beautiful love letter to the city and a fun peek into what makes Vancouver special. I love how it shares the seedy, gritty side of Vancouver too because that's part of the appeal of cities which I'm sheltered from in my cosy little resort town of Noosa in Australia.
Reading by email or RSS feed? Click here to visit the blog post and watch the video.
If you're chomping at the bit and can't wait to read more about Canada here are links to some of the official tourism sites for the places I'll be visiting:
The Canadian Tourism Commission has gorgeous photos as does Tourism Vancouver.
White Horse is the biggest city in the Yukon.
Banff and Calgary are both in Alberta.
I've got some hot posts scheduled so you have something to read while I'm enjoying Canada and no doubt there will be plenty of stories to share when I get back.
Until then, happy travels wherever you are.
Where are you now and where are you planning to visit next?
Photo credit: JMV
Share This Story, Choose Your Platform!