Hiking the Yukon River Loop in Whitehorse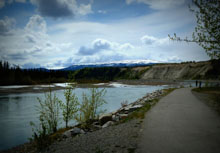 The Yukon, Canada's westernmost and smallest territory, is still larger than California and it has a big heart too.
Bordering Alaska, the Yukon is a vast wilderness with long, frozen winters offering five hours of daylight, endless opportunities for winter sports and the northern lights dancing on clear nights between October to April.
Come June, when I visited, and during the summer months the land of the midnight sun barely gets dark at all. On my first evening I needed sunglasses coming out of a restaurant at 10pm. Check out the photo proof on Instagram here.
That sunny Sunday afternoon I'd had time to explore the Yukon's capital of Whitehorse, where most visitors to the Yukon arrive by plane.
Whitehorse doesn't show its best side in an aerial photo but downtown Whitehorse is offbeat and funky with some quirky old buildings and fun shopping.
But if you want to get out of town and enjoy the wilderness all around you there are many hikes including two easy trails along the Yukon River:
The Millenium Trail – A 5km interpreted loop trail with signs and information about the local history.
The Yukon River Loop Trail – A longer 17km to Miles Canyon and back to Whitehorse on the other river bank.
After an epic journey from Australia to Canada I needed to stretch my legs. A lot. So I opted for the Yukon River Loop Trail which starts from town, heads north of the river at the SS Klondike and leads through the woods to Miles Canyon. After checking up on the possibility of bumping into a bear and trying but failing to buy some bear spray to arm myself with I gave up and set off with multiple layers of clothing, a hat, gloves, several cameras, water and a gigantic cookie to keep the wolf from the door.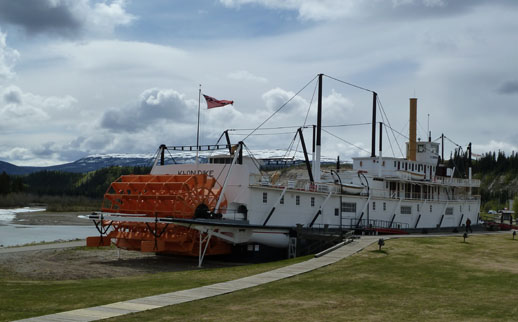 At one time Miles Canyon and White Horse Rapids were 10 kilometers of white water. First Nations people wisely chose to walk round this stretch of the Yukon River and early prospectors did the same.
But during the Klondike Gold Rush of 1897-98 many impatient prospectors braved the rapids and many lives were lost. While a hydro-dam has tamed the rapids the Yukon River is still a force of nature flowing through stunning scenery in a harsh environment.
The Yukon River Loop Trail walk takes about four hours including plenty of stops to take photos, have a snack or catch your breath. When you get to Miles Canyon there's a little white suspension footbridge and the trail continues on the other side.
I whimped out at the Tramway Trail which runs right along the edge of the Schwatka Lake and flakes away to the lake in a flurry of white shingle. Not keen to end up in the lake I opted to return along the road, although I soon got back to the river track at the Robert Service Campground where many intrepid campers were enjoying a peaceful afternoon by the river.
Soon I was back in Whitehorse, a little bit sad I hadn't seen a bear but very glad I hadn't been eaten by one.
While I'd only seen a tiny part of the Yukon's stunning scenery I'd made a start and I was looking forward to exploring more the next day when I'd be leaving the Yukon's heart of Whitehorse and taking a road trip down the Alaska Highway to Kluane National Park.
When's the best time to visit the Yukon?
Many visitors enjoy the summer from late May to September for outdoor adventure including hiking, canoeing,  kayaking and fishing. Local wildlife is abundant including bear, moose, wolves, coyote, elk and many other creatures .
Others prefer the Yukon's winter sports like dog sledding and cross-country skiing and natural phenomenon such as the northern lights from October to April.
Where to stay?
I stayed at the High Country Inn while I was in Whitehorse and soaked in the lovely big spa bath in my room after my hike.
Find out more about the Yukon
For more information about traveling to Whitehorse and visiting the Yukon see Travel Yukon.
I was a guest of the Canadian Tourism Commission and Travel Yukon.
When I travel somewhere new I always try to explore by foot. Do you like to take a hike when you travel?
Share This Story, Choose Your Platform!