A Short Walk in the Rocky Mountains of Banff, Canada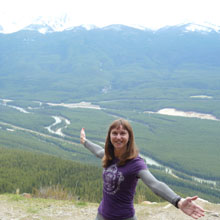 If you like nature, walking and chocolate then you'll love Joel Hagen and Nadine Fletcher from Great Divide Nature Interpretation who organise guided walks in the Rocky Mountains near Banff in Canada.
They've hit upon the inspired idea of organising interpreted hikes to some of Banff National Parks most spectacular viewing points then cooking up a chocolate fondue served with fresh fruit for their guests when they get to the top.
I joined Joel on the Castle Mountain Lookout trail, a seven kilometer (four mile) walk rising 500 meters (1,640 feet), and kindly agreed to carry some of the fruit to lighten Joel's load and help me burn off a few extra calories in anticipation of my chocolate fondue lunch.
On the trail we:
talked and talked about the grizzly bears and black bear we'd spotted on the drive from Lake Louise to the trail head;
saw golden-mantled ground squirrels hustling for food;
learnt that grizzly bears have a large trapezium muscle which creates the distinctive hump behind their neck and can run as fast as a race horse;
heard that black bears have a different claw composition from grizzlies so they aren't such good diggers;
pondered the marvels of modern science and research on bear scat (aka poo) which has shown that bears can eat 200,000 berries every day;
admired the Calypso orchids, one of the first wild spring flowers to bloom on the Rocky Mountains which are popular with bees;
pondered how we can balance the human desire to see wildlife and the needs of wildlife to be wild and safe from human intervention;
found out that male bears can weigh almost 700lbs and females 225lbs;
smelt purple juniper berries which are used to flavour gin;
drank in the stunning views from the look out;
watched Joel slave away preparing our chocolate fondue while we posed for photos;
feasted on fresh fruit in hot chocolate sauce while admiring spectacular views of the Rocky Mountains.
Our little group of travel writers was accompanied by Jeff from Real Banff Tourism who filmed us and created a wonderful video of our morning. Can you spot me?
Check it out here. If you're reading by email or in your RSS feed you'll need to visit the post on the blog – just click here now.
Find out more about guided walks in the Rocky Mountains around Banff
Great Divide Nature Interpretation offer a range of guided walks in the Rocky Mountains around Banff or can organize tailored tours to suit your wishes.
Check out their website here to find out more or book a guided walk. But make sure you get the chocolate fondue. It's divine, especially with fresh raspberries.
What's not to love about a guided walk in Banff? Nothing at all.
Life doesn't get much better than taking a long hike through stunning natural surroundings with a hot chocolate fondue at the end of it. Especially if someone else is cooking it.
I was a guest of Travel Alberta and the Canadian Tourism Commission.
Have you ever eaten a great meal in a stunning place?
Share This Story, Choose Your Platform!