My Flying Visit to Vancouver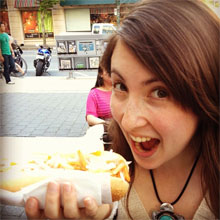 Canadian people are famously friendly but Vancouverites exceeded themselves on the friendliness rating when I swung into town.
Arriving at Vancouver Airport I whizzed through passport and customs control, availed myself of the lovely free wifi to video call the Candy family back home in Australia then hopped on the Skytrain to downtown Vancouver.
I'd hardly sat down when two local ladies got on the train, plonked themselves next to me and started chatting away. Strangers striking up conversation just doesn't happen on the tube in London but it seemed that they were as excited as me about a night out in Vancouver.
When I got to Burrard Station I asked an innocent passerby for directions to my hotel. He took so much time to explain it to me I thought I was never going to get away. But I still got confused and had to ask another passerby for directions. This time I was guided along the street practically to the door of my hotel.
So far, after just 45 minutes in Vancouver, I'd met three Vancouverites all of whom were ridiculously friendly and helpful. That's an impressive 100% friendliness rating, especially amazing in a city and obvious proof that everyone in Vancouver is friendly. Probably everyone in Canada.
It took 28 hours to get from my home in Queensland, Australia to my hotel in Vancouver so I was more than pleased to see my lovely comfy bed at the Coast Coal Harbour Hotel.
But there's no rest for the wicked.
It was 4pm and I only had one night to explore Vancouver so, after admiring the harbour views from my hotel room, I had a quick shower to make me feel semi-human again, cast one more longing glance at the bed, then I stepped out into the bright Vancouver sunshine.
It was a glorious spring day. You could feel the good vibes in the air and see them bouncing off the buildings, zinging off the snow-capped moutains across Vancouver harbour and whizzing off the sparkling water.
I planned to visit Stanley Park, just a ten minute walk from my hotel so I grabbed a bike from Spokes Bicycle Rentals and pedalled through the park stopping every few meters to take photos, admire the wildlife and watch the locals enjoying the sunshine.
I could have hung out in Stanley Park until dusk but I had to keep moving as two bloggy friends and Vancouver locals were meeting me at the hotel at 6pm.
Writer and editor Sue Chambers (pictured below on the left) and travel writer in crime Lori Henry (on the right below and up top with her Japa Dog) had kindly agreed to give me a mini tour of downtown Vancouver and we were keen to try the food vans. These have sprung up around downtown Vancouver like mushrooms selling good, fast and cheap food that people tweet up a storm about.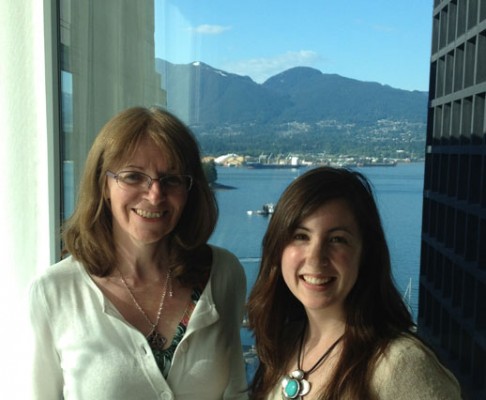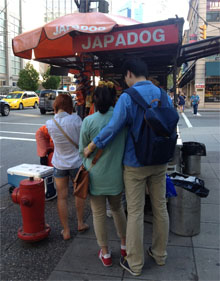 But the food vans cater to the after work crowd so they weren't around on a Saturday night but for a typical Vancouver foodie experience lovely Lori (pictured up top) recommended a Japadog which is a popular Japanese style hot dog. No, I didn't know there was such a thing either.
The Japadog food stalls have become so popular in Vancouver that there's even a restaurant now and they've spread as far as New York. Best of all you can enjoy a Japadog even if, like me, you wouldn't let a regular meaty hot dog pass your lips because there are four vegetarian options.
I opted for the veggie terimayo loaded with shredded seaweed for only $5.25 and a Canadian Dry ginger ale to wash it down with all of which we enjoyed in a nearby park.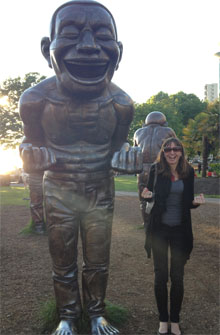 Then Sue, Lori and I walked and talked our way around Vancouver. We ended up admiring the giant bronze laughing man scupltures by Beijing-based artist Yue Minjun, then watching a busker at English Bay.
English Bay is a popular evening hang out and a great place to watch the locals playing frisbee, football or just hanging out with friends and enjoying the sunset.
Finally it was time for me to say bye bye to Lori and Sue, slide between those crisp white sheets at the Coast Coal Harbour Hotel and sleep.
I rested easy knowing that the famed Canadian friendliness is very much alive and kicking inVancouver.
My trip to Canada was organised by the Canadian Tourism Commission with many thanks to Tourism Vancouver for organising my night in Vancouver and my stay at the Coast Coal Harbour Hotel.
Special thanks go to Sue and Lori for a fun evening and your hot company.
Stanley Park, English Bay and a Japadog sampling was all I had time for during my one night in Vancouver but I'd love to go back. Next time I'm in Vancouver I'd like to visit:
Grouse Mountain;
Wreck Bay beach;
Gas Town;
Capilano suspension bridge;
Granville Island;
Vancouver Harbour and get out on the water;
Nearby Whistler and Vancouver Island which are only a short drive or boat ride from Vancouver.
What would you do with a free afternoon or evening in Vancouver?
Share This Story, Choose Your Platform!