Kluane National Park Glacier Tour: Coolest Yukon Day Trip Ever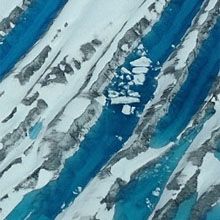 If you want to get off the beaten path, pack your bag and head to Kluane National Park in Canada's remote Yukon Territory.
Most visitors fly into the Yukon's capital Whitehorse and you can take a day trip to glacier-filled Kluane National Park from there.
There are plenty of places things to see and do on a day trip from Whitehorse including:
A train trip to Skagway in Alaska;
Yukon Wildlife Preserve;
Takhini Hotsprings;
Carcross and the Southern Lakes;
Dog sledding, ice-skating and cross-country skiing in winter
Hiking, kayaking and white water rafting over the summer;
Dawson City – if you can fly there and back in a day it sounds amazing.
I was offered opportunities like those above when I visited Whitehorse for the Canadian Tourism Commission's Go Media Conference, but after much umming and ahhing I finally chose to visit remote Kluane National Park which lured me with it's unbeatable combination of glaciers, wilderness and wildlife.
Kluane National Park is located in the south-west corner of the Yukon in Canada and covers an area of 22,016 square kilometres.  Mountains and glaciers dominate the park's surface, covering 82% of its landscape and Kluane National Park is home to the highest mountain in Canada, Mount Logan.
Kluane National Park is truly remote, untouched and wild so this was a unique opportunity I couldn't resist.
Getting to Kluane National Park
Driving to Kluane National Park is half the fun. Just  hit the Alaska Highway from Whitehorse to Haines Junction keeping an eye out for wild elk, moose and of course BEARS!
Check out the small pine trees lining the roadside. Stunted by the harsh climate and long winters they grow minutely each year so even ancient trees are almost bonsai-sized. In spring the sprouting aspen trees are a pale new green and in autumn they are a sea of red, gold and yellow.
The snow-capped mountains will flank your path all year round.
Don't miss Haines Junction
Someone in my tour group  described Haines Junction as a "blink and you miss it" kind of place. It might be small but do take time for a pitstop in Haines Junction.
The Haines Junction Bakery has a massive selection of savoury and sweet treats which you can enjoy outside while keeping an eye out for bears.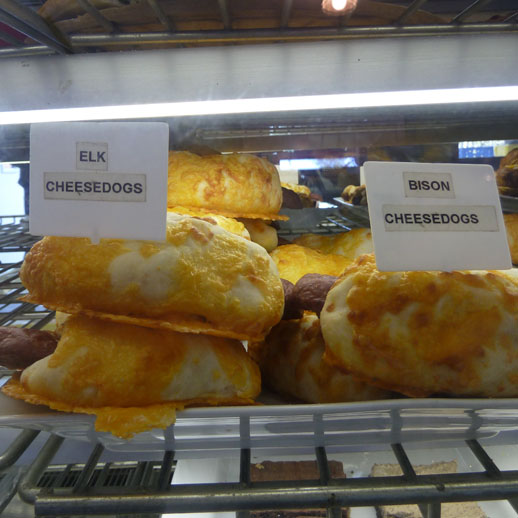 Then there's the brand new Da Ku Cultural Center which celebrates the culture and way of life of the Champagne and Aishihik First Nations. The stunning building opened in June 2012 and will be a place where traditions, language and arts are practiced and performed, and where travelers and young people can learn the wisdom of the First Nations Elders and hear their stories and legends.
Once the center has been established it promises to be a thriving hub for First Nations culture with artists working in the center and demonstrations such as moose smoking or jam making taking place.
Camp fire stories will be told too with local guides on hand to share their cultural, historical and wilderness knowledge.
Kluane National Park Glacier Flight-Seeing Tour

If you have time you can hike, kayak, bike or horse ride in Kluane National Park but the best way to see the glaciers and take in the full splendour of the park is from the air.
My trip was organised with Kluane Glacier Tours who took me on their one hour Kaskawulsh Glacier and South Arm tour.
Their little Cesna 206 or 207 planes hold up to four people and from the air we could take in the grandeur of the glaciers as well as Pinnacle Peak and Mt Kennedy before flying over the surging Lowell Glacier where the river is infested with icebergs that slide continually down the glacier front.
Many peaks in Kluane National Park remain unclimbed which is why much of the park remains an untouched and inaccessible wilderness you can only see by plane.
Mount Kennedy soars 4,250 meters (13,944 feet) and Mount Logan, which was hiding in the clouds when I visited, reaches 5,959 meters (19,551 feet) and has the largest base circumference of any non-volcanic mountain on earth. Greater even than Mount Everest it takes an hour to fly all the way round Mount Logan's base.
As well as the stunning icy blue glaciers and mountains you can also spot wildlife including bears and dall mountain sheep when you fly over Kluane National Park.
Like Mount Logan the wildlife also went into hiding when they saw me coming, but I did spot two moose and a couple of white-tailed deer on the Alaska Highway during our drive so the wildlife and glaciers that lured me to Kluane National Park made good.
I only had time for one day trip while I was staying in Whitehorse but I couldn't pass up a tour of Kluane National Park.
It's definitely worth the trip so if you like to get off the beaten track beat a path to Kluane as soon as you can.
More Information About Seeing Kluane National Park

Kluane National Park flight-seeing tours start from Haines Junction Airport, a two hour drive north from Whitehorse on the Alaska Highway.
Call Kluane Glacier Tours to book your flight-seeing tour. The one hour flight-seeing tour costs from $150 depending on petrol rates but there are longer or shorter tours to choose from. Flight-seeing tours operates for May 1 to September 30.
Paddle wheel adventure have cabins in Haines Junction, rent mountain bikes and canoes for your day trips and organise tours into Kluane National Park.
I was a guest of the Canadian Tourism Commission and Travel Yukon.
Have you seen any natural marvels on your travels?
Share This Story, Choose Your Platform!