52 Exercises: #25 Cardio Tennis, a Lesson in Fantasy Versus Reality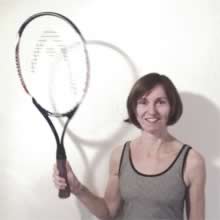 I had a major crush on Steve Cloke which I'm sure wasn't reciprocated. I was a skinny nine year old and he was the English tennis coach with a perma-tan and lean legs who helped me get to grips with the double-handed backhand.
Steve Cloke was old but not ancient like my mum and dad. Probably in his early thirties he was fair haired, bronzed and possibly even mustached but don't hold that against him, it was the seventies after all.
It may have been my over active imagination but I really though Steve Cloke look like my other childhood crush, the bionic, heroic Steve Austin from the TV show The Six Million Dollar Man. Sigh.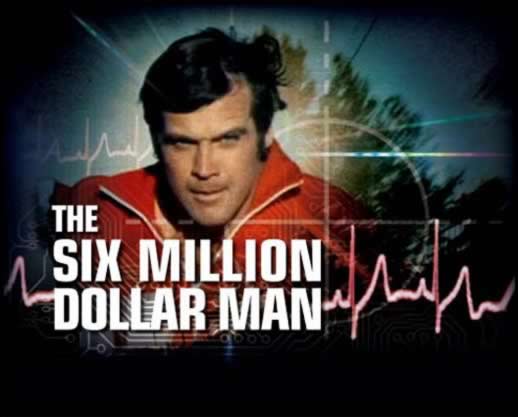 Suffice to say I enjoyed those childhood tennis lessons even though I wasn't very good.
Thirty years later tennis is one of those activities like horse-riding that I enjoy but never do so after seeing an ad for Cardio Tennis in the local paper I had to check it out.
When I spoke to the Cardio Tennis coach Rob my fervid imagination was already running away with me, imagining him being hotter than Steve Cloke and Steve Austin combined . I was excited about the prospect of frolicking round on the tennis court bashing a few balls around with him.
But, as is so often the case, the reality turned out to be a bit different from my fantasy. Let's just say that a tennis coach who's over twenty years older than you isn't quite as appealing when you're in your mid forties.
Still, like Steve Cloke, Rob turned out to be tanned, fit and with good legs. I can't help noticing that all tennis players seem to have great legs and this was final proof that tennis would help me maintain my long, shapely pins. I still consider my legs my best feature even though these days they're adorned with thread veins, saddle bags and cellulite.
While my gorgeous tennis coach fantasy was trashed in reality Rob turned out to be kind, patient and with a good sense of humor. Definitely something you need when coaching me tennis so I've become a regular on the Noosa Cardio Tennis scene.
This isn't my first Cardio Tennis lesson and I know what to expect. First we get set up with heart rate monitors so we can keep an eye on our heart rate and try to workout in the optimum zone. It's an hour lesson and during that time we're expected to jump around continually which is the big difference between a real tennis game where you could just be standing round doing very little for most of the time.
Our Cardio Tennis hour is spent playing around, throwing and hitting balls. Rob gets his music out and blast out tracks by anyone from Lady Gaga to Van Halen. I have flash backs to aqua aerobics when Jump comes on but we laugh a lot and enjoy this fun, non-competitive play time.
I bounce around the court like Tigger with two other tennis loving ladies while Rob throws balls here, there and everywhere which we attempt to return. It's a much more engaging exercise in mindfulness than meditation but still my mind wanders to my problems both real and imagined.
Then I perk up again and enjoy dancing round the tennis court to old favorites like YMCA by the Village People and Eye of the Tiger by Survivor.
Lately I've realised how often I make up stories about people. Projecting my childhood fantasies onto a tennis coach on a different continent 35 years later may seem crazy but it's normal for me.
I'm constantly making up scenarios about why people act the way they do, imagining stories about anyone and everyone and, after a recent visit to the shrink, I even realised I'd rewritten my own past to come up with a new version which I like better. Not healthy.
Story telling's a great creative outlet, and stories are fun diversion but this rich fantasy life has been damaging my reality by helping me suppress emotions and distracting me from the fullness of the real world.
Realizing how much I blur the lines between fantasy and reality has scared me but as I trot around the court to the beat of We Are the Champions by Queen I start to feel like a champion despite my flaws and emotional baggage.
Then I feel like such a champion I start to think about playing tennis with Pat Rafter and beating  him. But I soon catch myself off in fantasy land again. With new found awareness I gently turn my attention away from Steve Cloke, Steve Austin and Pat Rafter back to Rob and the other lovely people who I'm actually playing tennis with right here, right now.
And suddenly I feel like a champion again. It may be another fantasy but Cardio Tennis is fun and it makes me feel good about myself. I'm done with fantasy, I'm ready to face reality. I'm over having crushes on other people. I'm finally ready to start loving myself.
Cardio Tennis Exercise Review
Cost: $50 for five sessions or you can get a free trial at the Cardio Tennis site here. While you're there you can also find out where to play near you. I think it's happening all over the world.
Time Exercising: 60 minutes
Calories Burned: 322 cals
Average Heart Rate: 159 bpm.
Peak Heart Rate: 181 bpm.
Fun Factor: 7/10
Fear Factor: 0/10 I'm an old hat.
Post-exercise Glow: 8/10.
—————————————————————————————————–
Thank You for Reading
If you're enjoying Get In the Hot Spot and the 52 Exercises series check out more from the 52 Exercise quest here and take a moment to share this post on Facebook, Twitter, by email or wherever you please. Thank you.
Get the weekly newsletter – If you'd like email updates from Get In the Hot Spot click here to subscribe now. I'll email you weekly with the best stories.
Share This Story, Choose Your Platform!