52 Exercises: #47 Slacklining Makes Failure Fun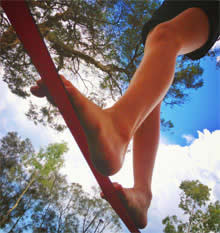 Slacklining's been described as a cross between tightrope walking and trampolining which makes it sound impossibly hard. But when I saw someone slacklining a few months ago it looked like such fun I forgot about the fear of failure and just wanted to try it out.
When I got in touch with Dom Jack from the Slackline Academy in Brisbane he kindly offered to come up to Noosa to give me and the Candy kids a slacklining lesson.
We met down at Gympie Terrace on a sunny Sunday morning. Dom wore his Slackline Academy t-shirt and, as soon as he arrived, he started pacing around looking for trees to suspend the slackline between which made him easy to recognise.
Dom is a mathematician and ex-climber who fell in love with slacklining a few years ago and has been passionate about it ever since. He set up the Slackline Academy to help build the slacklining community in Brisbane and show people that slacklining's not just a novelty sport but a fun, active and challenging activity that almost anyone can enjoy.
But Dom has taken slacklining to the next level doing tricks like butt bounces, chest bounces, flips and (almost) 360s. Here's a video of him and some other Queensland slackliners doing some amazing tricks. Don't try this at home folks!
Needless to say I won't be trying any of those shenanigans and am setting the bar (or should I say slackline) a bit lower, by aiming merely to take a few steps unaided.
At the moment slacklining's reaching quite a niche audience of climbers, surfers, dancers, free runners, skateboarders and gymnasts but what I like about slacklining is that it's a physical activity which you don't have to be super fit to enjoy. Best of all it takes huge focus and concentration so it seems to me that slacklining is mindfulness and meditation in motion.
Dom agrees that slackling is a form of meditation. He tells me about the total focus involved in doing long line slacklining, where you can spend 30 minutes walking across a long slackline. The mental distractions and constant need to refocus he mentions sound similar to a meditation session.
But I'm not ready for longline slacklining yet. First I need to learn how to balance on the slackline without falling off.
Dom slings the slackline between two trees with a little cape in between the slackline and the tree trunk to protect the tree. For the first hour we don't even try walking.
We take it in turns to stand on the slackline on one foot while Dom supports us. We all get what Dom calls the 'calf wobbles', where the slackline vibrates furiously underneath us.
"Just relax, just relax!" says Dom. Where upon I promptly fall off.
But it doesn't take long until the calf wobbling stops and we can balance on each leg for a few seconds or longer. The Candy kids are impatient and keen to start walking, running or even, in Max's case, unicycling across the slackline. We ban that.
We all get hooked on slacklining fast, waiting impatiently for our turn and wishing we had one slackline each instead of just one to share. And we start to make a bit of progress taking two, three then four steps before we fall off.
After a few hours it's time for lunch and a break. Then Dom has to drive home but we stay and play on the slackline for another hour. I just want to learn to walk on it but the kids are already enjoying its bounciness and begin boomeranging themselves across the park.
It starts to get dangerous so we take the slackline down and go home but the kids still want more.
We sling the slackline up in the garden and the neighbours come to join in the fun with quiet concentration as someone gets on the slackline and peals of laughter when they fall off.
We can't keep our balance for long yet but if we stay patient and focused we'll get there in the end.
Until then each step on the slackline is a mini meditation, each attempt to cross it a lesson in mindfulness and every time we fall off a reminder that even failure can be fun.
Want to Try Slacklining?
If you're in Brisbane join the regular Saturday afternoon slackling sessions at Musgrave Park from 2pm onwards. There's a regular community of slackliners who go there and if you're lucky you'll be able to see Dom doing a few slacklining tricks.
If you're not close to Brisbane look for a slacklining group near you on the Meet up website or Facebook.
Or Why Not Buy a Slackline? They're great gifts!
We learnt on an Elephant Rookie 15 meter slackline which sells for AU$109. They come in hot pink and fluro yellow and make a great gift for kids of all shapes and sizes including the teenagers you want to get off the computer and into the great outdoors.
To get a slackline check out the Slackline Academy website or email Dom who might just be able to get you a special deal or even throw in a pair of tree protectors if you mention Get In the Hot Spot.
Slacklining Benefits
As well as improving concentration, focus and balance a study published in 2011 (Hüfner et. al, 2011) found that slacklining led to an increase in the structural and functional plasticity of the hippocampus, an area of the brain responsible for navigation and memory.
Dom says his arms, shoulders and butt often aches after a long slackling session so it's probably great for toning those areas too.
—————————————————————————————————–
Slacklining Exercise Review
Cost: Just find someone with a slackline and give it a go. Or splash out and get your own line from $109.
Time Exercising: It only takes five minutes to sling the line and you can practice for as little or as long as you want. We found slacklining quite addictive though.
Fun Factor: 8/10
Fear Factor: 4/10 – The slackline is slung very low so you can't hurt yourself when you fall off.
Post-exercise Glow: 9/10.
—————————————————————————————————–
What's the 52 Exercises Quest About?
It's an idea I dreamed up to try a different exercise each week in the hope it would fix a pesky midlife crisis that crept upon me in early 2013.
Slacklining is exercise number 47 (the 47th different exercise I've tried in 2013!) and I've tried everything from body building to soccer so far. The good news is it's working – or something is – and I feel much better now.
Check out more stories from the 52 Exercise quest here.
And click here to subscribe now for free weekly updates from Get In the Hot Spot that will help you be more adventurous and have more fun.
Would you like to try slacklining?
Leave a comment below. We'd love that. And do check out the Slackline Academy website or email Dom if you'd like to get a slackline so you can get started with your slacklining adventures.
Share This Story, Choose Your Platform!