How to Walk: an Easy Fitness Program for Midlife and Beyond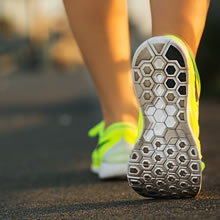 At school sports day I was once enlisted to run both the mile and the 800 yards race because my school house team needed a representative.
Having avoided vigorous activity for most of my childhood and never done any running before it's hardly surprising  I gave up half way through the second race in tears. I still feel a sense of shame and failure about that. Sorry fellow Charnwood House of Portland House School girls!
As a child sport was not my friend. When the teachers asked two classmates to pick teams for sports I was one of the kids that got picked last. That's not a good feeling either and it occurred on a weekly basis.
My mum's never done any exercise in her life and can't see the point of it, so I guess my resistance to exercise was instilled at a young age, probably before I even started school.
Labels, even those we've attached to ourselves, can be hard to change.
Although nowadays some would class me as a fitness fanatic I don't see myself as such. In my mind I'm still someone who dislikes exercise in general, and sweating and getting out of breath in particular.
No matter how much I exercise or how fit I get, I still think of myself as uncoordinated and bad at sport. An exercise drop out if you like.
When I left school I quit exercise and didn't miss it. It wasn't until I was in my thirties that I started going to a fitness class from time to time and it wasn't until my forties that I started enjoying exercise and working our regularly.
Gyms, fitness classes and group fitness or sporting activities can be scary. I get that. But there's one form of exercise that's my forever friend and that's walking.
In my twenties, as a student in London, I started walking 45 minutes to university because it was faster than sitting on the bus in a traffic jam. That was my first foray into walking and I found I enjoyed moving my body and being outside.
Today walking is still my preferred form of exercise. I love it and walk for pleasure as well as exercise.
8 Benefits of Walking in Midlife or Anytime
Walking is  low impact – so it's not likely to put pressure on your joints or cause injuries.
Almost anyone can walk – no  matter how unfit or out of shape you are, walking is still possible.
You can walk anywhere.
Walking gets you outside in nature – or if the weather's too bad you could try mall waking.
No equipment is needed for walking – you don't even need trainers. You can walk barefoot on the beach or almost anywhere in comfy clothes and a pair of comfy shoes.
No timetable – you can walk whenever you like without being stuck to a gym or exercise schedule.
Walking can be sociable – you can walk with a friend or group if you want to combine fitness and connectivity for a double health boost.
Walking is proven to be an excellent form of exercise in midlife and as we age. Unless your travel bucket list has lots of adventure-based activities like hiking in the Himalayas then walking is probably all you need to do to maintain good health in middle age and beyond.
How to Walk for Beginners
1. Walk daily
Keep things simple by making walking and improved health a part of your every day life. No excuses! Rain, hail or shine make sure you get out there and walk. I have one rest day a week on Sundays but most Sundays I still go for a walk because I love it.
If you hate exercise turn walking into a mindfulness exercise. Use your walking time to tune into your body, give yourself some positive attention and restore your inner peace.
2. Pick a time for walking and stick with it
For me exercise has to happen in the early morning or it doesn't happen at all. Before I had kids I went for a walk every day after work and often walked to work too.
Some of you may prefer to walk after lunch when many of us experience low energy. That can be a great time to go for a walk and rev things up.
Whatever time works best for you add walking to your calendar and stick to it.
3. Walk for 45 minutes
The longer you walk the better. Break your walking up into two sessions if you must but be aware that you may never do the second session.
Commit to 45 minutes of regular continuous walking if possible. Remember this is precious time to do something special for yourself.
Don't worry about speed, distance or anything else. Just enjoy the feeling of walking and your surroundings. Walking should be fun so you stick with it and look forward to it.
Advanced Walking Tips
Start slow if you're unfit or out of shape. You don't want to walk yourself to exhaustion and give up. When you feel like it extend your walking practice and increase your fitness levels by including one of these walking techniques. As your fitness increases you can add another one and then another until you're including all of them.
1. Increase your walking pace
Pumping my arms helps me walk much faster. Bend your elbows at a 90° angle and swing your arms. You'll probably feel a bit silly at first but pumping your arms will help you walk faster and burn more calories because you're using your arms as well as your legs.
Time a favourite walk and see if you can increase your speed each time you do it. Power walking while pumping your arms so you get out of breath is a great way to increase your fitness.
2. Include hills or steps in your walks
Once you've started enjoying your walks and making them a regular part of your life you can make things harder. Find a decent hill or staircase and go up and down it several times. I walk five sets of the killer steps once a week. Think about what you can do around where you live or work.
3. Interval train
Interval training is about alternating short periods of vigorous activity with gentler activity that acts as recovery time.
Power walk as fast as you can for as far as you can then relax back to a comfortable walking pace. When you're ready repeat that through your walking session.
If you really want to increase your fitness and you've set up a good walking  habit you could even alternate walking and running for your interval training session.
One Healthy Move Weekly Challenge
Walk every day this week. Make walking an enjoyable part of your regular routine. Don't worry about speed or distance, just enjoy your walking.
Join the #OneHealthyMove Revolution Now!
One Healthy Move is a new series to help you stay healthy in midlife and beyond so you're ever ready for adventure.
1. Subscribe now by email so you don't miss out on more in the One Healthy Move series. It's free, you can opt out anytime and your details will be kept private and never sold. You have my word for it.
2. Follow the #OneHealthyMove revolution on Facebook, Instagram and Twitter.
3. Share your own updates or photos with the #OneHealthyMove hashtag so we can cheer you on and see what you're doing today to create a fitter, happier, healthier you tomorrow.
Share This Story, Choose Your Platform!