52 Exercises: #33 Badminton – Is it Time to Quit?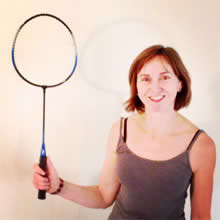 The threat of quitting is always there, before you start a project, when you've only just begun it and even when you're close to finishing.
33 weeks into the 52 exercises quest, where I do a different exercise every week and blog about it, I've been thinking about quitting, and it's not the first time.
It's the same with any project or journey, whether emotional or physical. You start off brimming with enthusiasm, fired up and looking forward to cracking on with your job. But often, if the adventure lasts longer than a week or a month, at some point you will feel as if you're walking through quick sand. Progress seems slow and you're still a long way from the finish line. That's when it's tempting to just quit.
You may actually quit when you feel that way. I could have quit the 52 Exercises quest after 10 weeks, after 16 weeks or after 25 weeks but each time when I hit that dip I decided to carry on anyway and each time I got reinvigorated after I did and started to enjoy the quest again.
Just as we go through stages of wanting to quit during the course of a project so you can get re-inspired and re-motivated to carry on with it.
So here I am at badminton but  not really wanting to be here because I'm just not into this 52 exercises quest any more. I want to quit. It's time consuming to do these exercises every week and write about them and what's more my reason for starting the quest seems to have evaporated.
The depression which made me take on the quest has all but gone, my midlife crisis is just a minor blip on the rather lengthy landscape of my life. I'm still in a period of change and development but there's no crisis involved.
The funny thing is that doing more exercise which was supposed to combat the depression wasn't what worked. I'm sure it didn't make things worse but I already did a lot of exercise, so the extra physical exercise didn't improve my mental health. Mental exercises improved my mental health, specifically meditation and mindfulness which helped me become more aware of my thoughts and know that they are just thoughts.
Looking back at posts where I write about dealing with low self esteem or anger it's hard to believe that's me. If you've never been depressed it's impossible to understand why your friends, family members are depressed and I feel the same way about myself now. So even though I know that was really me and that was how I felt back then now I feel "normal" again it's hard to believe I ever felt so bad.
So here I am, the fairly confident, happy me, at badminton in the middle of the morning on a week day when all three kids are at school and I should be working.
But my happily my mindfulness has helped me chill out. I saw this Old Zen saying on Prolific Living in a post about simplifying your life:
"You should sit in meditation for 20 minutes a day, unless you're too busy; then you should sit for an hour."
So since I'm busy and always in danger of tipping back  into feeling stressed out I decided not to stay home and work harder but to go out and play. Although not for the full two hour badminton session.
Down at the Leisure Center I'm quickly paired off and playing doubles. I've never played badminton properly before but it's a lot easier than table tennis which I just couldn't keep up with. Maybe thanks to that tennis coaching from the aging heart throb Steve Cloke I even have a few skills.
You play up to 31 points in badminton but it's not clear to me who actually wins at the end of each game. What is clear is that badminton players laugh a lot more than netball players, table tennis players or soccer players.
Even the best players here occasionally completely miss the feathered shuttlecock, whack themselves on the head or get hit them full on by a shuttlecock. We laugh a lot. It's especially funny when someone else bats at the shuttlecock ineffectually but almost as funny when it happens to you.
The game ends and we change partners but all my badminton partners are patient, explaining the game and offering tips. My game improves.
An hour goes by fast but I don't want to leave. This isn't full on exercise but I'm getting a little workout and I'm certainly not stagnating in my computer chair which has to be a good thing.
Two hour later I go home glad I went to badminton and didn't quit the 52 Exercises quest. Suddenly I'm re-inspired, re-motivated and ready to see it through to the end.
That could all change again and it probably will over the next 19 weeks. I still have to sample and write about 19 different exercises. It's a big task but today I'm not a quitter.
It's okay to think about quitting, it's even okay to quit because you have to be able to recognize when things aren't working out and be brave enough to admit that.
But now is not the time for quitting. By going to badminton I did less and played more. That's a better result than I ever imagined when I started this experiment. Yes, I'm still going strong and so is this 52 Exercises quest.
Has there ever been a time when you nearly quit but didn't and are glad you carried on?
——> Check out more episodes in the 52 Exercise quest now.
Thank You for Reading
If you're enjoying Get In the Hot Spot and 52 Exercises please take a moment to share this post on Facebook, Twitter, by email or any way you please. You can use the handy buttons below. Thank you.
Get the weekly newsletter – If you'd like email updates from Get In the Hot Spot click here to subscribe now. You won't get an email every time I update the blog but I will try to create a weekly newsletter to tell you about the best stories.
Share This Story, Choose Your Platform!