52 Exercises: #6 Soccer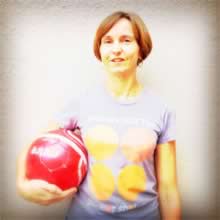 I have been in a black mood for a few months now. It's no fun at all and tricky because my aim is to write upbeat positive words that inspire and uplift you. But lately I've been in need of some uplifting myself.
Part of the reason I started the 52 Exercises series is because exercise boosts my mood and regular exercise is essential for my mental health.
My morning beach walks just aren't managing to get me to a happy place and keep me there for the rest of the day. So I thought more exercise, different forms of exercise and the company of new people might be just the jolt I needed.
Five weeks later nothing has improved. I still feel black. I'm teary and at 4.30pm today I was lying on my bed feeling depressed and even, finally, pushed by desperation, meditating for six whole minutes to see if that would help. It didn't.
There are three main reasons I'm depressed:
I've got ear-ache and a stiff jaw.
I'm middle-aged.
All my life I thought I had some special talent or would do something special but I've just realised I haven't, that I'm average. Which sucks.
And that's not all. This depression is making my other neuroses worse, in particular feelings of being a bad mother and all round loser who's crippled by low self esteem with severe psychological problems, including a refusal to seek help or take prescribed drugs for mental health problems. You get the idea.
I was cursing this new 52 Exercises series where I have to try a new exercise every week for 52 weeks because it feels like a life sentence. You'd have thought I'd learnt my lesson from last year's Blogging Tips A-Z series which nearly finished me off but no, muggins here decided to up the ante and create a series which lasts a whole bloody year.
Worst of all today I'd arranged to accompany my soccer-loving friend to women's soccer. A game which I know very little about, have never played and which, in my horrible judgemental way, I believe to be the sole preserve of mean women who like kicking anything in their vicinity and have something to prove.
So it didn't seem like soccer would be much fun.
It was a mad dash to get to pitch for the 6.30pm start time and I didn't have the right gear. No football boots, no shin pads and my one pair of exercise shorts are looking distinctly baggy and unattractive.
After a mild panic session during which I flung everything out of my wardrobe I finally found my one pair of long socks in my small stash of winter-weather gear. I was tempted to don the gloves and scarf too because I know the goalie wears gloves and soccer fans wave scarves but I took mercy on my soccer-playing mate and left them at home.
What with all that palaver finding long socks I barely had time to check out my reflection in the mirror and notice that short shorts and long socks leave knobbly knees and cellulite horribly exposed.
Driving to the soccer pitch it wasn't just my mood that was black. The sky darkened and a fierce wind picked up. After introducing myself to the other soccer players I noticed that the other women seemed to be in a bad mood too. Well, probably not as bad as mine but they certainly weren't all chipper and friendly like the women who lead gym classes.
I will spare you details of all endless jogging round the pitch and soccer drills we had to do.
It would be impossible to describe  how exhausting the mini game of four a side possession was. Then, after an hour of those strenuous activities we all played a game which is when I thought I nearly vomited.
That's the first time I've ever exercised to the point of feeling ill. But I didn't held it down and even managed to score the first goal although no one else was excited about that as me.
Despite all that it's with great regret that I now have to report that soccer is fun. Really, it is.
I thought people only played soccer because they get million dollar contracts and can shag all the big breasted Wags (Wives and Girlfriends) but now I've been educated.
I didn't know what to do with my arms half the time when playing soccer (it's so counter-intuitive not to use them), I kept giggling and squealing like a girl and someone quite heavy trod on me with their sharply pronged soccer boots. But despite all that I enjoyed myself. I did.
And so did the other women soccer players. We walked off the pitch cheerful and happy, parting ways like old friends.
It wasn't just my black mood that lifted after a game of soccer, I think we were all feeling much sunnier after kicking that ball around.
Soccer Exercise Review
Cost: $o – I got a free try out although I'm sure you have to pay if you sign up for the year and join the team.
Time Exercising: 90 minutes, for only 10 minutes of which my heart rate was below 120 bpm. In other words I got a heavy duty aerobic workout for 80 minutes.
Average Heart Rate: 137 bpm.
Peak Heart Rate: 193 – don't try that yourselves folks, I'm not sure if it's recommended and could have led to the nausea.
Calories Burned: 571 calories– A personal record.
Fun Factor: 9/10 – I was so busy keeping my eye on the ball and looking for ways to get my feet on it that all miseries melted away.
Fear Factor: 7/10 – I did feel like a bit of a berk but the soccer chicks were kind and patient in their attempts to teach me the game.
Post-exercise Glow: 10/10 – Although I got a bit over-stimulated and couldn't get to sleep for ages.
Is soccer the new prozac? Have you ever played? How do you cope when you're feeling down?
Click here for more episodes in the 52 Exercise quest.
Thank You for Reading
If you're enjoying Get In the Hot Spot and 52 Exercises please take a moment to share this post on Facebook, Twitter, by email or any way you please. You can use the handy dandy buttons below. I really appreciate that. Thank you.
Get the weekly newsletter – If you'd like email updates from Get In the Hot Spot click here to subscribe now. You won't get an email every time I update the blog but I will try to create a weekly newsletter to tell you about the best stories.
Let's stay in touch – You can also join me on Twitter, Facebook, Pinterest, Google+ and Instagram.
Share This Story, Choose Your Platform!