Self Esteem and Underwear: 3 Things Every Woman Should Know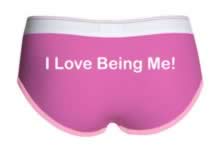 I finally have the strength and energy to do some things which are long overdue. Things that have been weighing me down for ages. Things like cleaning out my wardrobe and throwing away old clothes and underwear.
I have some success although I mainly get rid of clothes people gave me that I thought I might wear but never did, things that don't fit and clothes I haven't worn since 1998.
But I fold and put away a few items of exercise clothing I bought in 1993 and wear almost every week noting with satisfaction that sometimes it pays to buy quality.
Finally I move on to the worst area of my wardrobe, the part of my life which is the most neglected, the most shameful and the most sordid: my underwear drawer.
My underwear is in a shocking state. I don't know what the normal number of knickers and bras for a woman to own is but I probably have around 20 pairs of undies and even more bras. Sadly most of them have seen better days.
If your underwear is any reflection of your self esteem then it's no wonder my self esteem has been running low so here are three things you need to know:
1. Eliminate anything that could lower your self esteem
The wire-free cotton bras I wear just about every day for exercise are grey and saggy, the elastic as worn out as I feel. I throw away the worst offenders but only because there are so many I still have plenty left.
Meanwhile most of my knickers are throwing up their hands in surrender too. There are some baggy old things I can't bear to chuck out because I don't want to ruin good knickers when I have my period. I stuff them all back in the drawer noting that most of them were given to me by my mother. Noting how wrong it is to be in your forties and still wearing underwear your mother chose.
But some of my underwear isn't too bad. There are a few bras that are perfectly good but have never really worked for me. Black silky numbers that make my tits look even smaller than they really are and a red lace bra that creates strange bulges under everything. My mum did not buy these items. I did because I thought it was my duty as a good wife to wear sexy underwear. I put them in the charity shop bag but hang onto the red knickers I wear to bring me luck when I play poker even though I haven't played for ages.
Then there are two matching sets of underwear – a green and orange spotted set of bra and knickers I bought when we got married six years ago and have never really worn since and another green set which  is more sporty and practical. It's even older and I do wear that occasionally but never as a set. Still I keep both sets and vow to wear them more often.
Pulling out a pair of saggy, flesh coloured knickers in the morning and putting them makes me feel depressed. But I can't tell what came first – the baggy knickers or the low self esteem.
2. Notice how often you lie to yourself
Nor can I bear to spend money on something no one will see. I even entered a competition recently to win two pairs of knickers and won them, probably because I was the only person who bothered to enter.
They're a new design called Pop and Go with poppers on the side for women who travel and need to change their undies wherever they are without taking off all their clothes. The branding material mentions camping, festivals and hiking. I wish I had the need to change my knickers somewhere other than in the privacy of my bedroom.
I feel confused. I'm not sure if new knickers will help me feel better or if I'm just hoping they will because going shopping for underwear, as traumatic as that is, now seems like a fun option compared to hours of therapy and months of navel gazing.
Give me a badly lit changing room, a pushy shop assistant and a hundred bras to try on any day compared to telling people the truth about depression and a gruelling search for self esteem and self-realisation which always seems to be hiding round the next corner.
But here I am in my wardrobe looking for an easy solution that doesn't exist. Here I am duping myself into thinking new knickers are the solution to all my problems.
3. Proritise self esteem for your personal wellbeing and don't get distracted by less important issues
So I turn to my guru, my life coach, the one thing I can rely on to provide answers to all those hard life questions: Google.
It turns out I'm not the first woman who's wondered about the link between her self esteem and underwear. Of course the underwear manufacturers spin is that new knickers and bras will make us feel better about ourselves.
I agree new underwear might give me a temporary boost of self esteem but deep down I know nothing can change the way we feel about ourselves except how we feel about ourselves.
Still, we're blessed to  live in this modern age with everything we need and more available at the click of a mouse. You can even buy the knickers pictured above here with positive mantras to get your day and mentality off on the right foot for £13.50 which makes therapy seem like a royal rip off.
Best of all there's a woman in England at Leicester University (strange coincidence – Leicester's my home town)  who's written a 308 page PhD thesis called Consuming Underwear: Fashioning Female Identity all about, underwear and self esteem. Seriously. I always wanted to be a doctor but it would be phenomenal to be a doctor of underwear like Christiana Tsaousi.
Being research shy I haven't read the whole thing but the thesis argues that:
"underwear can be seen as a technology of the self and as embodied cultural capital. It functions both as a support for outerwear and the body, and as a tool for self-fashioning and self-improvement due to the intense sensations it can produce for the wearer."
Tsaousi goes on to say:
"The empirical data indicate that underwear is used for the construction and reconstruction of various feminine identities, including worker, mother, sports player and sexual partner."
I get lost at the bit where she talks about "internalised social imperatives around female identity" though.
It sounds interesting but there are too many long words for my aging brain to decipher. Still, I do understand from what I read that women are buying more underwear and being made to feel wrong for not wearing attractive underwear. That sounds dangerous.
But on the other hand taking pride in how you look is an important part of self-identity. Unfortunately one that I resent right now because getting dressed at all is a nuisance when you'd rather stay home in bed.
Still it seems like I could be right to wonder about the link between underwear and self esteem and it's good to take some pride in how you look. But I guess there's a limits to that and I know this is all just a distraction, a chance for me to think about how I look rather than the big issue of how I feel.
The real issue is this. I have low self esteem. I need more of it and you can't buy self esteem online or anywhere else.
But since there's only so much self-investigation you can do in one day I might just go and buy a new pair of knickers or two sometime soon. It's a distraction but you have to do whatever it takes to get you through hard times and low self esteem takes a heavy toll.
What do you think? Does the state of your underwear reflect the state of your self esteem? And what do you call your underwear anyway? Knickers, pants, panties, briefs or undies? Bloomers is a wonderful word but I don't suppose anyone calls them that anymore…
Update: After writing this I went to an underwear shop and a department store and spent a long time looking at the undies. There were so many gorgeous bright bras and knickers I was overwhelmed by the choice. But I did buy four brightly coloured vests (or undershirts because winter is coming here in Australia) and this lovely pair of pink fluffy bed socks because I'd like to spend a lot more time in bed.
Get the FREE weekly newsletter
Join thousands of happy readers. I'll email you weekly with news you can't find on the blog and links to the best stories. Get in the Hot Spot's newsletter is a weekly injection of tips to help you be adventurous, have more fun and feel fabulous. Click here to subscribe now.
Share This Story, Choose Your Platform!