52 Exercises: Social Netball and Making Friends Through Exercise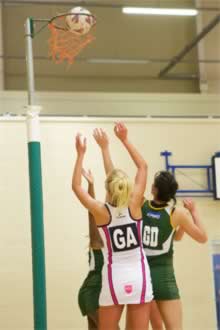 I hated netball at school but the PE teacher always made me play because they needed more players and I was tall.
So when I spot social netball in the local paper here in Australia 30 years after my last school netball match in England, I decide it's time for me to see if I like it any better now. Although the social side of it still sounds more appealing than the netball part it's perfect as exercise number 31 in the 52 Exercises Quest.
In case you're not familiar with netball it's similar to basketball but played mostly by women. Netball's popular and highly competitive in the UK, Australia and New Zealand.
Penny's in charge of the social netball morning at the local Leisure Center and we exchange texts. Then when I get there it turns out we already know each other because our youngest kids were in the same class at school a few years ago.
Penny's funny, friendly and bright. I wish I saw her more often but we both have lots of kids and we both work so it doesn't happen.
The netball ladies are friendly and it's not long before I'm donning my old Goal Shooter bib and playing netball for the first time in three decades. My game has not improved during that time.
We play five games of ten minutes swapping bibs and positions after each mini game. It's fun and a good work out but I feel incredibly uncoordinated, a feeling that I remember all too well.
I keep treading on people's feet, bumping into them and I even fall over once landing heavily on my knees. Netball seems to be more dangerous than skydiving right now and if I keep this up I could seriously injure myself.
Then there are netball rules. Lots of rules which I seem to have forgotten and which I keep breaking. The referees whistle is blowing for me a lot.
Penny has to leave early to get to work in Brisbane in the afternoon and I wish I could leave early too. I could do with a bit more of the social and less of the netball side of things.
Despite what it said on my now redundant resume, I'm not a team player. After reading Introvert Power by Laurie Helgoe it's obvious why. I'm just one of those people who values time alone.
If that sounds shocking it's because we are living in a society that celebrates being social, especially the importance of networking and being part of a team. But over 50% of people are introverts and that doesn't mean we're anti-social. It just means that we like to spend more time on our own or with one other person than we do in big groups.
I still like parties, conferences and networking events where people meet in large groups but when I go to that type of event I need to temper it by factoring in time alone so I don't get overwhelmed by the constant company. I need time to think, to write and take photos.
I cherish time alone, all the more so because I live with my husband and three kids.
Still I like the social element of social netball but less so the netball itself. I've changed a lot in the last 3o years and while I wouldn't say I hate netball now it's probably one of the sports I did as a kid that made me label myself as 'not sporty'.
What I really hate is how I've allowed work and family to take up so much of my time lately and let friendships slide.
The camaraderie when I played with the soccer team and at outrigger canoeing showed me that sport and exercise can be a great way to build friendships. Now I just need to find a sport I enjoy and do it week after week to give friendship a chance to blossom and grow.
Have you made friends through exercise or sport? Do you exercise with friends or is exercise your alone time? 
What's 52 Exercises?
It's a quest where I try a different exercise every week for a year to beat depression and my little midlife crisis. Netball is the 31st different exercise I've tried so far in 2013. Check out more from the 52 Exercise quest here.
Get the Free Weekly Newsletter
If you'd like to have more fun and be more adventurous then join thousands of happy readers of Get In the Hot Spot's weekly newsletter now.
Click here to get free email updates now. I'll email you weekly with news you can't find on the blog (secret stuff that's just between you and me) and links to the best stories.
Share This Story, Choose Your Platform!