Table Tennis – a Reminder to be Kind to Yourself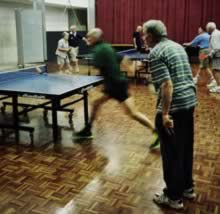 There are good days and bad days and this is a bad one. Yesterday I focused on my work and got things done. Not as much as I'd like to but some things were achieved and that felt good.
But today is not good. I can't focus on anything and, despite my best intentions, come lunchtime I haven't done any billable work. The whole morning has been frittered away replying to emails and doing jobs that were low down on the to do list leaving urgent tasks still pending and deadlines looming.
The negative drone in my head is incessant and persuasive:
"You're useless. You're always wasting time. Couldn't you just have done two hours work?" It asks.
I eat lunch but the voice is still there when I've finish cleaning up. Faced with this continued onslaught I don't make it back to the office and end up in my bedroom reading a magazine and eating five bars of chocolate. The negative voice does a happy dance and pipes up louder at this new development:
"Why did you have to eat so much chocolate? What's wrong with you? You'll never change."
Thanks to my mindfulness practice I know these are just thoughts and not the truth, but it still hurts when the voice in my head insists:
"You're a waste of time."
Then suddenly another voice chimes in:
"Be kind to yourself."
I have no idea where that came from but I decide to act on it. I decide to abandon trying to work and go to play table tennis instead.
Of course there are problems with that like the logistics of fitting in table tennis before school pick up and how I'll organise the after school activities when Kiara and Max need to be at the pool for swimming lessons and water polo while Luke has to go to the orthodontist.
My frazzled mind decides I'll bike to table tennis and walk to the pool with the kids. Meanwhile Rich agrees to do the orthodontist run.
It's been raining all day but there's a brief respite as I get on my bike and in my new optimistic mood I think this clear spell will last.
So I cycle off to the Bicentennial Hall  in Sunrise Beach where they hold social table tennis three days a week for two hours from 1pm. I know it will be all old people because no one else would be able to spend two hours playing table tennis in the middle of the day and I hope being the youngest among a group of oldies will cheer me up.
I arrive half an hour late but that doesn't seem to matter. Agi lends me a bat, Jenny tells me to put $4 in the pot and Ari agrees to be my partner for the first game even though I don't know how to play.
Ari is patient as he explains the rules of doubles table tennis but I'm slow to learn. Unlike tennis where you hit the ball if it lands on your side of the court in table tennis we have to take it in turns to hit the ball no matter where it lands. But I keep forgetting and hitting it when it's not my turn or getting in the way so Ari can't get the shot. There's a lot of nervous laughter from me and not so much laughter from the others.
We play two games in under 15 minutes and lose both of them. Agi and Jenny win but Ari and I are gracious in our defeat and everyone is smiling now the game is over.
Next I play with Margaret against Elizabeth and Alan. I feel more relaxed now. Everyone has a laugh but I lose again.
There's time for one more game and I'm partnered with Richard against Margaret and John. There's lots of winking and joking. I like these old table tennis players and wish I could give them a better game.
Richard and I do well and for a moment it almost looks like we'll win. But in the end we lose although no one really cares.
It's time for me to get the kids so I leave early having lost three times to people many years older than me. They may be older and slower than me but they know how to put a spin on the ball, hit it long and hard so it's impossible to return and play tactically by placing the ball far out of reach of their opponent.
I have a lot to learn about table tennis and these people are good teachers.
I cycle off to get the kids in the pouring rain and the voice which has been mostly quiet while I was playing table tennis despite the losses starts up again.
"You're useless. You still have to do that work you know and your poor kids having to walk in the rain now. Why do you always make bad choices?"

"Shut up," I say, "a little walk in the rain's not the end of the world."
I collect the kids and we're all drenched by the time we get to the pool. I've get the kids fed, changed and into their activities then sit down by myself and the voice comes back:
"You just don't have any self-control. You always do the wrong thing. You're an idiot," it says.
But I ignore it and remember the other voice that said:
"Be kind to yourself."
I heard that voice, I tried to follow the advice and that was a good thing. I'm not sure I chose the kindest path but at least I heard it and acted on it.
I'm going to keep tuning into that voice and keep doing what it tells me to do. I'll just keep trying to be kind to myself because maybe with practice I can work out the best way to be kind to myself and be kind to myself every moment of every day.
On reflection maybe it hasn't been such a bad day after all.
Do you remember to be kind to yourself when you're having a bad day?
Check out more episodes in the 52 Exercise quest now.
Love the 52 Exercises Quest? Please share this post on Facebook, Twitter or email it to a friend. Thank you.
————————————————————————
Table Tennis Exercise Review – #29 in the 52 Exercises Quest
Cost: $4 for two hours of social table tennis at the Bicentennial Hall in Sunshine Beach, Noosa. Join in on Mondays, Wednesdays and Fridays from 1pm until 3pm.
Peak Heart Rate: 127
Average Heart Rate: 93
Time: 56 mins
Calories: 122 calories burnt
Fear Factor: 4
Fun Factor: 8
Post-exercise Glow: 5/10. More of a semi-glow really that was quickly dampened by my bad mood and the rain.
————————————————————————
Stay Tuned! For more in the 52 Exercises Quest
Get the weekly newsletter – For free email updates from Get In the Hot Spot click here to subscribe now. You won't get an email every time I update the blog but I'll send you a weekly newsletter with the best stories.
Share This Story, Choose Your Platform!