What to Pack: Travel Essentials: the Dress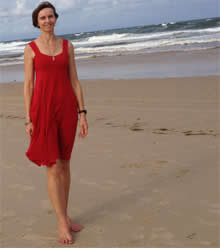 Call me an inverted snob but much as I love to travel I avoid specially designed travel clothes.
Being a good Kiwi I love the New Zealand travel and adventure Kathmandu and can be frequently found resting my head or bottom on that travel essential, the Kathmandu pillow, supping tea from a Kathmandu camp mug and hanging one of their brilliant handbags from my shoulder on my travels, but I draw the line at kitting myself out entirely in their clothes.
Not that I haven't tried it. I confess I own a pair of Kathmandu trousers but I never wear them because they're unflattering (they cling to my thighs), uncomfy (too short in the crotch) and decidedly frumpy. Likewise my Kathmandu sports top hasn't been worn much either because it's also a bit short in the body although I do wear my black Kathmandu sports shorts (as seen in the soccer post) every week and have been doing so for about six years now. Hmmm, I might be overdue for a new pair of those.
It's okay to wear the odd piece of travel clothing that you're particularly fond of because it's practical, easy to wash and dry or has so enough pockets to stash your own body weight of travel snacks and accessories in. But when you wear travel clothes from top to tail instead of making you look like a professional traveller it makes you look like a bad impression of what a new traveller thinks an experienced traveller looks like. And probably deeply unfashionable too.
Not that I am a style queen but I do try to make the best of my appearance. I understand it's important to  look good in travel photos because you'll be looking back at them for years to come and I do know the difference between being badly dressed and being a style pariah.
By which I mean nylon fast wash trousers with zip on, zip off anything, waistcoats with a zillion tiny pockets and shirts with mesh inserts which are supposed to keep you cool but make you look uncool.
So once we've gone past the packed the tavel wash bag which is THE essential item for women travelers, while some wouldn't leave home without those zip off pants which double as shorts or long trousers I recommend you pack a good dress or two.
Here's why a dress is an essential travel item whether all I'm just packing a carry on bag for a weekend away or going off an a longer adventure:
1. You can wear a dress anywhere. Really. You can go out for dinner, out dancing or even on a jungle hike in a dress. You can wear it to a business meeting, to the beach or even mountain hiking. You might need to tuck a dress in your knickers sometimes but that's part of the appeal although not suitable for business trips.
2. Dresses are cooler and comfier than any other item of clothing. It's all about having nothing clinging to your body and the breeze blowing up and around your legs.
3. Dresses are always in style. They are classic, feminine and easy to wear. Just throw on a dress and you're ready to go.
4. There's a dress style to suit everyone. I go for an empire line which I think makes my small breasts look just a tiny bit bigger and is delightfully comfy with nothing digging into my waist. Try a few dresses on and you'll soon work out what suits your body shape.
5. Dresses are great for layering to suit the climate. When it's cold just add trousers, leggings or tights underneath and a tshirt or vest on top with cardigan or shawl as required.
What to look for in a good travel dress
1. Make sure the dress is in a good easy breathing fabric that won't make you hot and doesn't need ironing. A cotton lycra mix is great or bamboo and elastene.
2. For the ultimate comfort look for stretchy fabric with no tightness around the arms, chest or waist.
3. Patterned fabrics are best to hide stains and spills but failing that any dark colour will do. I try to avoid black because it's hot and drains the color from my face but I'm a sucker for a red dress because red always makes me feel bright and cheery.
Where to find a good dress to wear at home and on your travels
I picked up most of these dresses on sale or in outlet malls. It's really just a case of keeping an eye out for a good dress and trying them on. Here's where I bought the dressed pictured from top to bottom:
Black and white cotton dress – Rockmans $29 on sale
Grey and pink cotton dress – Blue Illusion $39 on sale reduced from $199!
Red bamboo pinafore dress – Body Peace Bambo0 – $70 in Byron Bay
Multi-colored dress – Boomshankar  $75
Favourite red polka dot dress – Factory outlet store $39
Do you pack a dress when you travel? Is a dress one of your essential travel items and if not why not?
Share This Story, Choose Your Platform!