52 Exercises: #18 Mountain Hiking and Why I'm in a Bad Mood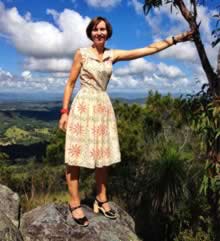 Some of my greatest ideas turn out to be idiotic when I try them out.
For example, last week I was given a beautiful dress by Leearna Saunders, the fashion designer at Blossom Betty. I think she gave it to me because she knows the truth: I've been feeling depressed.
My depression's like a bad mood that's latched onto me for no reason and won't go away but her gift cheers me up a lot.
The dress was handmade in tea-stained calico, hand-printed and has been worn just once before on the catwalk at a fashion show. It's feminine, simple and honest. The natural colours and prints are quietly stunning and it fits me perfectly.
I am especially thrilled that it fits even though it's model size 8 (probably US size 6) because I have a small upper body with teeny tiny tits and the fifties style full skirt flares out over my ample bottom. I love the modest neckline and knee-length skirt too because I'm becoming distinctly prudish now I'm over 40. These days I'm more comfortable not flaunting it, even though on a good day I sometimes think I've still got it.
I fall in love with the dress and want to write about it. It deserves a gentle lyrical poem but a blog post will have to do.
With my 52 Exercises challenge for the week mountain hiking up Mount Cooroora and the dress being from the Archival Indigenous Collection an idea springs to mind.
I will take the dress on the hike, change into it on top of the mountain and photograph it with the Sunshine Coast hinterland as a backdrop. It's the kind of dramatic Australian scenery the dress deserves, a fashion photo shoot worthy of it.
I'm thrilled with the idea because I'd bet big money that no one has ever done a fashion shoot on top of Mount Cooroora, or probably any other mountain.
But I soon find out there's a reason for that.
It's Anzac Day so there's no school and we take the kids to Pomona with a couple of other families in tow. Having learnt some hard lessons about the secrets of mountain climbing and life  the first time we climbed Mount Cooroora we pack water and mandarins along with the dress and heels.
Rich doesn't get the idea of the fashion shoot and tries to talk me out of it but I won't be swayed. My mood plummets but I feel better by making him carry the bag.
I pass Kiara her hat which she promptly chucks back in the car boot, casting me a foul look and saying:
"I don't want to wear a hat."
It's 9am but this not our first argument of the day so I immediately see red, grab it out again and bang my head on the corner of the boot. A lump forms straight away and my mood goes from bad to worse.
We set off through the woods. It's cool and shady to begin with but then the trees end and the path gets steep. Very steep. We climb and climb, the sun beating down on us, sweat soaking through our shirts and dampening our hair.
Now it dawns on my why people don't do photo shoots on top of mountains; they want the model to look fresh and pretty, not red-faced and sweaty.
Still I'm committed now and determined not to give up, not to give in to my embarrassment and not to give in to Rich. And I'm enjoying the hike.
After hiking and climbing for over an hour we reach the peak. I let time pass hoping the sweat will dry and my face will go back to normal but there's not enough time for that and I can put it off no longer.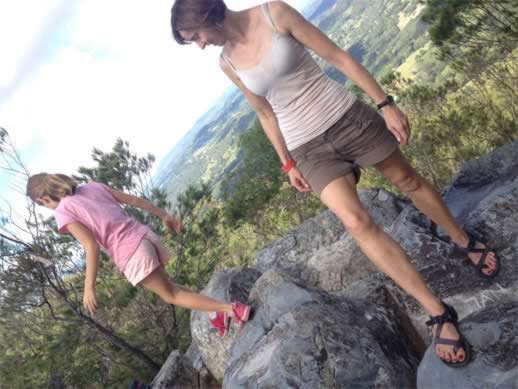 I pull the dress on over my top and shorts, change my hiking sandals for high heels, clamber on to a rock and pose. I feel ridiculous, adventurous and beautiful.
There have been many lows this year and too many bad moods but this is a high point. I feel a good mood coming on and I like that I'll have the photos to remember it by. They're special and a little bit crazy like me.
My head aches from banging it on the boot and it's overrun with an endless stream of thoughts, ideas and concerns every minute of every day. I'm trying to control that inner chatter and make it stop sometimes to give my brain a break.
Mindfulness is hard when sitting still but I can find it in nature, on walks and even when balancing on a rock on top of a mountain in the wrong outfit.
I wouldn't say I'm in a good mood now but it's not a bad mood either and anyway, I have to accept the moods both good and bad. I have to accept that sometimes there is no why. Bad moods just happen. I don't like these mood changes but being emotional is part of being human. That's just the way life is.
I want life to putter along merrily but it never does. There are mountains to climb, bad moods to deal with and petty annoyances everywhere.
I have to accept my aging body, the changing moods and the endless stream of thoughts and ideas. Accept that even though some ideas are idiotic you only know for sure when you try them out.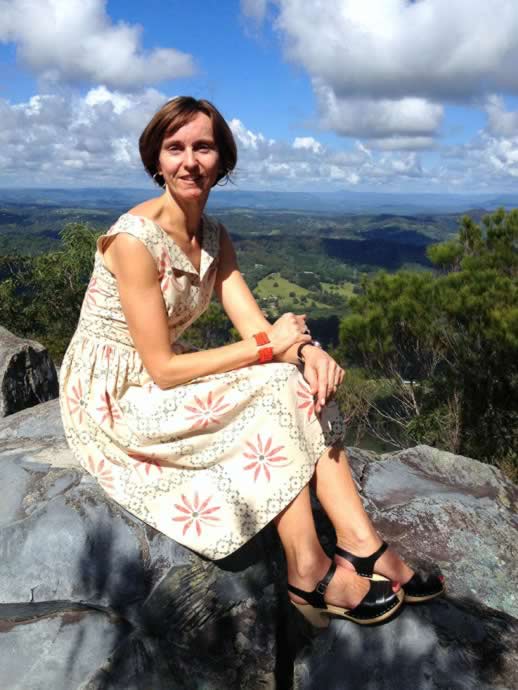 Have you ever had any bad ideas? Or been in a really bad mood?
—————————————————————————————————–
Mountain Hiking Exercise Review
Cost: $0. Though you'll need some decent trainers.
Time Exercising: 2.5 hours including about 45 mins enjoying the views.
Average Heart Rate: I got distracted by the dress and didn't wear my heart rate monitor but this is a good workout.
Fun Factor: 8/10.
Fear Factor: 5/10. It would be scarier but I've done it a few times before so I know what to expect.
Post-exercise Glow: 8/10.
Blossom Betty Dress: Priceless. Although you can check out Blosssom Betty on Facebook and, if you play your cards right, Leearna Saunders might create a special piece of clothing that will make you feel better too.
—————————————————————————————————–
Thank You for Reading
If you're enjoying Get In the Hot Spot and the 52 Exercises series check out more from the 52 Exercise quest here and take a moment to share this post on Facebook, Twitter, by email or wherever you please. Thank you.
Let's stay in touch – I'd love if you circle me on Google+. Thank you.
Get the FREE weekly newsletter
Join thousands of happy readers of Get In the Hot Spot's weekly newsletter. Click here to subscribe now. I'll email you weekly with some news you can't find on the blog and links to the best stories.
Share This Story, Choose Your Platform!